Plays to mark key author's life and work
Share - WeChat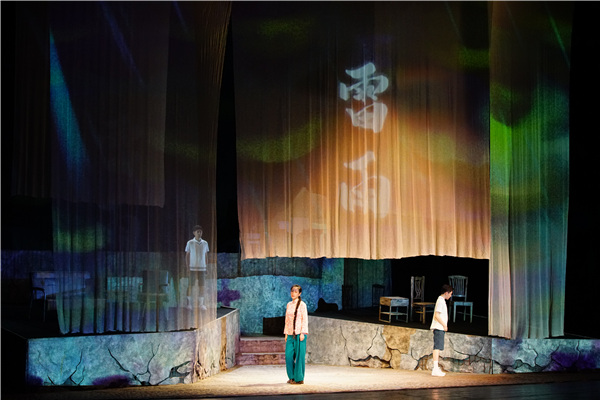 Playwright Cao Yu's debut play, Thunderstorm, was published in 1934 when he was 24. Cao, arguably China's greatest 20th century playwright, wrote the play during his final year at Tshinghua University.
It revolves around two families whose complex relationships lead to inevitable tragic consequences unfolding against the backdrop of turmoil in the 1930s.
It was critically praised both at home and abroad.
His real name was Wan Jiabao (1910-1996) but he adopted the pen name Cao Yu. He was born in Tianjin and fell in love with acting during middle school. His works, including Sunrise, Wilderness and Peking Man, have become classics.
Thunderstorm has been described as one of China's most enduring dramas of the 20th century and Cao is called "the father of the country's modern drama". He was appointed the director of the Beijing People's Art Theatre in the early 1950s and was elected the chairman of the Chinese Dramatists' Association in the early 1980s.
He died in Beijing in 1996 after being hospitalized for eight years.
As this year marks the 110th birth anniversary, his classic works will be staged again in December, the Beijing-based drama company Magnificent Culture Co announced on July 31.
Excerpts from his plays, including Thunderstorm, Sunrise and Peking Man, were staged at Poly Theater on July 31, featuring veteran actors, such as Shi Ke and Lin Lin, as well as young actors. The performances marked the reopening of the theater after it closed for about six months due to the coronavirus pandemic.
"The past six months have been devastating to theaters. The charm of watching a play inside a theater is irresistible, but we've been forced to stay at home due to the viral outbreak," says producer Wang Keran, who directed the performances on July 31.
"When we could go back to watch plays at the theater, we want to offer the audiences with classic plays by Cao Yu and contemporary works by his daughter, which is like a conversation between father and daughter and a celebration of theater from different eras."