TV show brings classic literature to life
Share - WeChat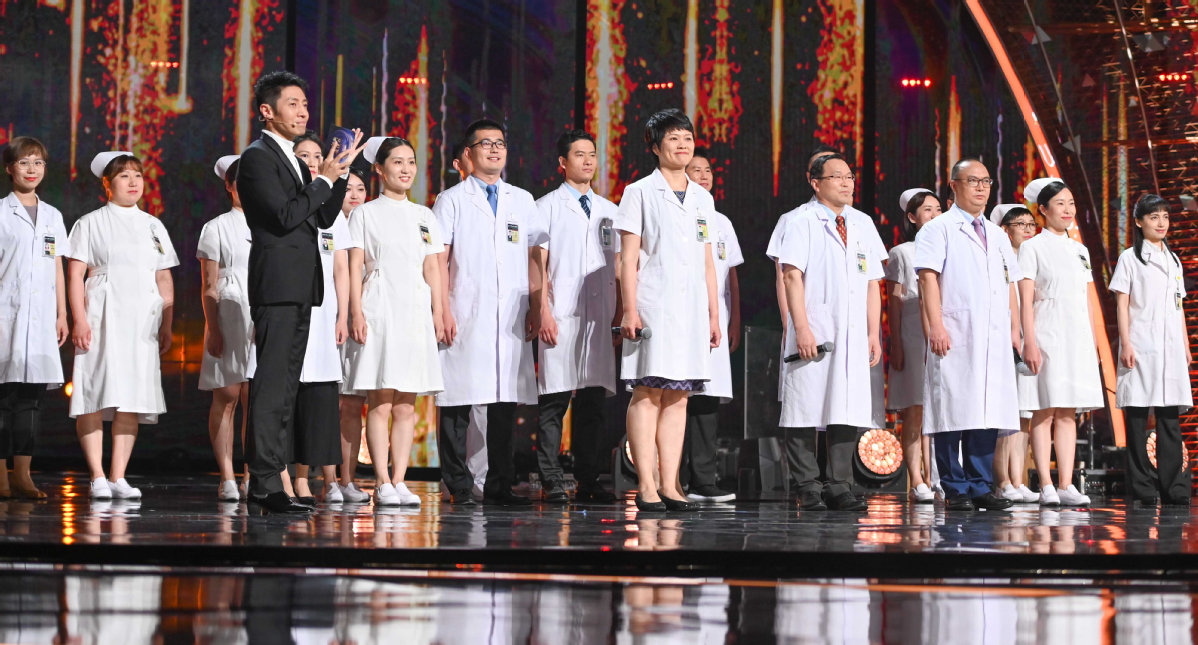 The third season of Everlasting Classics is coming to its end, but its mesmerizing melodies will probably linger long in people's memories.
When the inaugural season of this hit variety show on China Central Television was released in 2018, its unique format soon hooked viewers and received wide praise.
The show's format is appealing, educational and simple. Modern melodies are added to chapters from classic texts-mostly from ancient poems-to showcase the beauty of literature.
"We've focused on the cultural significance of the classics for modern people," Tian Mei, producer of the program, tells China Daily. "Adaption of the ancient chapters ushers traditional culture into popularity."
Participants range from the country's veteran musicians to A-list pop singers of the younger generation, and also amateurs, who amaze the audience not just through their marvelous voices but with their touching personal stories.
This season of Everlasting Classics scored 8.7 out of 10 points on Douban, China's major film and TV critic website.
Tian says the production team does not want to "borrow elements from the classics on a shallow level".
"The key is to arouse people's recognition of our fine traditional culture," she says."You have to walk into people's hearts and get down to earth. Consequently, we've tended to closely connect our program to news and hot topics."
Due to the popularity of cultural heritage in recent years, some singers present their new works as adaptations from Ming Dynasty (1368-1644) poems on the Forbidden City in Beijing. This is particularly poignant because this year marks the 600th anniversary of its establishment. Another favorite is Dunhuang, Gansu province, a crossroad of the ancient Silk Road and best known for its World Heritage site Mogao Caves. And another is The Book of Rites, the 2,500-year-old classic emphasizing the importance of ritual.
The world's biggest news, the COVID-19 outbreak, is also noted.
Premiered in January and originally planning to release a new episode every week, Everlasting Classics, like many others, was interrupted by the outbreak in February and only resumed its broadcast in late June.
After the pandemic occurred, Tian's team immediately aired those songs highlighting patriotism and family unions, like Yueyang Pavilion, the famous Northern Song Dynasty (960-1127) verse originally written by Fan Zhongyan.
Fan once wrote: "They are concerned about the country before anyone else is, and enjoy themselves only when all people find their enjoyment."
In Tian's eyes, that aptly describes the medical workers who made great contributions in tackling the virus.
However, as pre-recorded material is running out and the show has to be halted, Tian says she understands that the audience needs something more to resonate with those fighting against virus.
"When we had home quarantine, we kept looking for possible links between ancient poems to the pandemic," she recalls. "We want to salute people's bravery and strong spirits."
To highlight this approach, a group of medical workers from Beijing who went to Wuhan-the hardest-hit city in China by COVID-19-were invited onto the stage. If it were not for the show, the general public would not have a chance to realize their musical talent. They adapted a verse on battle by Wen Tianxiang, a patriotic general from the Southern Song Dynasty (1127-1279) who was eventually executed by the enemy for his loyalty to the home country, into an original song and expressed their solidarity staying on the front line and emotion toward their own families.
And a chorus from an elementary school in Wuhan also presented A Small Pond, adapted from a Southern Song Dynasty poem, through a webcam. The verse reveals the great hope ahead of these children:
"A slim lotus leaf, not yet unfurled, scarcely appears.
When on its pointed tip a dragonfly is alighted."
According to Guo Tong, executive director of Everlasting Classics, a broader global horizon is introduced into the third season. For example, Happy and Bee, two daughters of American financial investor Jim Rogers, appeared in the last season of the show and amazed the audience with their excellent Mandarin.
Their popularity ushers more foreign faces who love Chinese culture to stand on the stage and vocalize the classics. Piccolo Coro Dell'Antoniano, a renowned children's choir based in Bologna, Italy, sang a Tang Dynasty (618-907) poem by Du Fu hailing spring. And several Southeast Asian students studying in China skillfully turns The Analects of Confucius into a ballad as well.
"Philosophy, emotional reflection, and cultural cultivation of different cultures are embedded in the classics," Liao Changyong, a baritone and a commentator on the show, says."No matter from the East or the West, people share the same pursuit for beauty, and can thus break the barrier of language and time, and feel touched in the bottom of their hearts."
Consequently, an even braver hybrid includes chapters from Romeo and Juliet and The Peony Pavilion into one song, citing William Shakespeare and Tang Xianzu, two great playwrights from the same historical period.
"Classic poetry is one of the most representative genres of Chinese culture, but it's not easy for an overseas audience to understand its deeper meaning," Guo says. "However, music is a language that can easily travel across the world. And it can help to promote Chinese poems to a larger extent."
wangkaihao@chinadaily.com.cn