Freight trains play crucial role in sustaining global recovery
Share - WeChat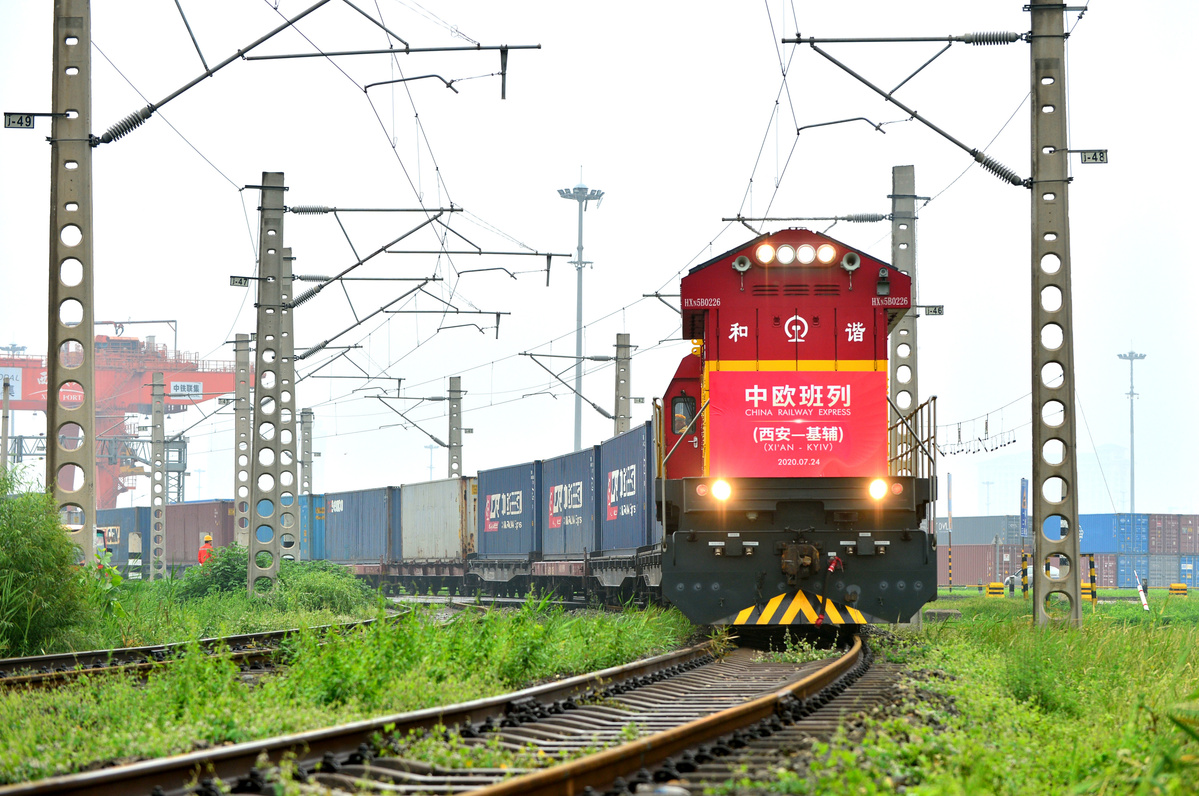 The Chinese company has shipped mail and goods to a total of 36 EU and non-EU countries, including Spain, Denmark, France, Cyprus, Switzerland and Norway, via local delivery after its trains arrived at Vilnius, Lithuania.
China Post plans to run rail cargo services on the route once or twice a week in the second half, with 50 rail containers each time, to facilitate China-EU trade activities and offer European countries confidence in resuming production and maintaining stable trade with China.
The pandemic has highlighted the rail services' strategic value in ensuring the global supply chain and the growth of BRI, Liu said.
China Merchants Group, another central SOE, also organized freight train services between Shenyang, Liaoning province, in Northeast China, and European cities such as Hamburg and Duisburg, Germany; Enns, Austria; and Malaszewicze and Warsaw, Poland, in the first half of this year.
The pandemic constraints in several countries prompted the company to come out with "plan B "solutions, such as increasing the frequency of transcontinental train services and ocean-to-rail services to assist domestic exporters as they resume production and exports, said Zhang Yi, general manager of Dalian-based Liaoning Port Group, a subsidiary of China Merchants Group.
Railroad traffic pressure at Alataw Pass, a major rail port in the Xinjiang Uygur autonomous region, and Manzhouli, the largest rail and land port on the China-Russia border, in the Inner Mongolia autonomous region, was eased last month.
Five freight assembly hubs-Zhengzhou, Chongqing, Chengdu, Xi'an and Urumqi-had 4,003 trains with 40 and 50 carriages each in the first half, accounting for 78.15 percent of the total dispatched trains in more than 50 cities in China where China-Europe freight trains operate.
The National Development and Reform Commission said in July that China has allocated 200 million yuan ($28.3 million) from the central budget to support the construction of transportation hubs in these five cities. The work is being undertaken to improve the efficiency of the transportation network for the China-Russia and China-Europe freight train services.
Dang Yingjie, deputy director-general of the National Office of Port Administration at the General Administration of Customs, said the administration will support related parties with surging rail transportation demand by building hubs along rail routes, and will help them carry out cargo grouping operations and domestic and foreign goods sorting and transportation at Customs-supervised operating sites to further optimize operational capacity on the transcontinental railroad.
China will continue to deepen its cooperation with related parties to promote the role of Authorized Economic Operator agreements and other policy tools to boost trade activities between China and Europe via rail, help companies resolve import and export issues and encourage more companies from economies related to the BRI to join AEO certification programs, Dang said.
The program was advocated by the World Customs Organization for strengthening international supply chain security and facilitating movement of goods. Under the program, Customs bureaus from various regions form partnerships to collaboratively reduce barriers to Customs procedures and enhance global trade efficiency.
The GAC said China has signed the largest number of AEO agreements worldwide to facilitate Customs clearance for companies.
The administration announced in early August that China has launched automated railway manifest and transport systems in land ports across the country to further promote paperless operations at railway ports and cut the frequency and cost of Customs declarations.
Feng Hao, a researcher at the NDRC's Institute of Comprehensive Transportation, said although the year 2020 is a period to expand clients for China-Europe freight trains, the market share contributed by these trains in China's trade with Europe accounts for just 1 percent of the total. Therefore, potential can still be explored via market expansion and international cooperation.
After all, a seaborne mega container vessel can now carry up to 20,000 ocean shipping containers on long-distance trips at cheaper rates. Cities in both China and Europe should be aware of this dynamic and adequately arrange their shipping schedules, attract more clients and add more high value-added services to rail routes in the future, Feng said.