Fun, amusement rise after COVID-19 gloom
Share - WeChat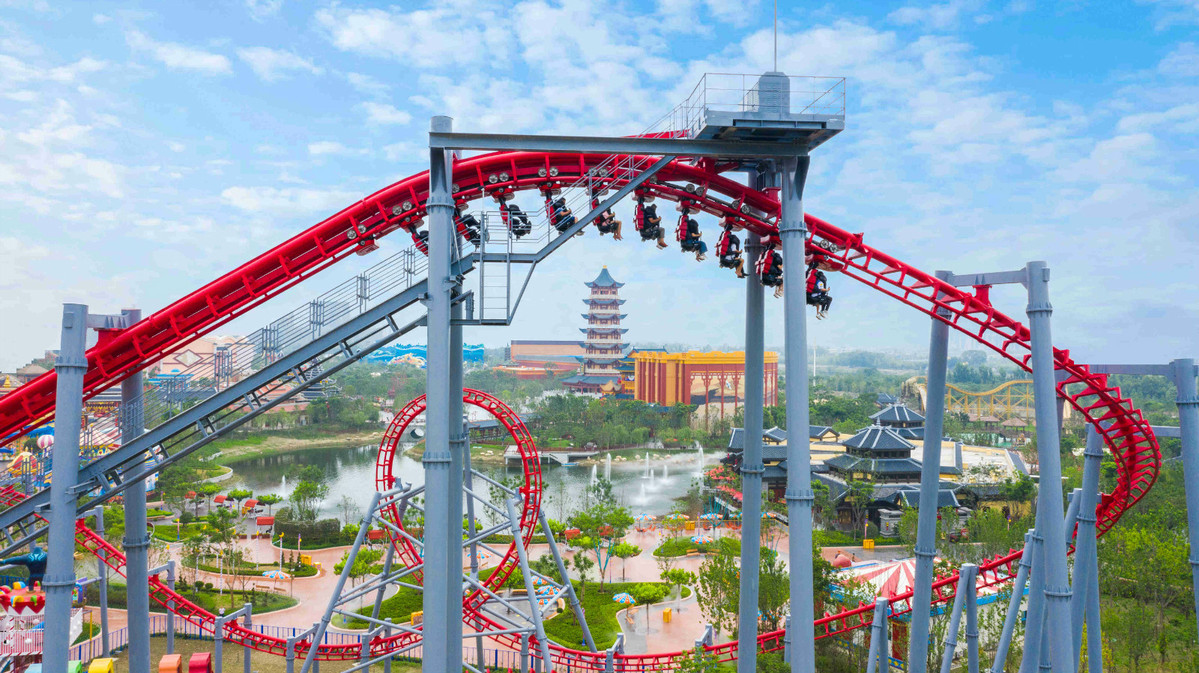 Theme parks and amusement centers in China have seen strong signs of recovery during the Dragon Boat Festival holiday period (June 25 to 27). Subsequent weekends have also boosted footfalls as short-distance travelers made inner provincial trips.
In Zhuhai, South China's Guangdong province, Lionsgate Entertainment World, Asia's first movie-themed vertical theme park, and the National Geographic Explorer Center, have seen record admissions during the holiday.
"The robust rebound in travel spending during the holiday and on weekends is a result of repressed monthly travel plans since the beginning of this year," said Rick Zeng, sales executive of Lionsgate Entertainment World.
The majority of Lionsgate visitors came from cities within the Guangdong province. Many of them drove their own or rented vehicles, he said.
"With fewer options to travel overseas at present, tourists have shifted their going-out plans to nearby tourism destinations."
Having resumed operations toward the end of June, Lionsgate has received more than 1,800 tourists daily. The daily average during the pre-epidemic time was between 800 and 1,000 visitors.
The two facilities, invested by Hong Kong Lai Sun Group on the International Recreation and Tourist Island in Hengqin, Zhuhai, are licensed to use intellectual property of Lionsgate and National Geographic Partners. They are hoping to attract more nearby tourists this summer, focusing on corporate team-building, students' learning and sightseeing groups.
The local government in Zhuhai has taken supportive measures to keep the tourism sector afloat, Zeng said.
The government has also supported resorts and park operators by subsidizing 25 percent of their ticket prices. This has helped halve ticket prices or pushed them even lower, which is expected to stimulate consumption and reduce park operators' costs.
During the Dragon Boat Festival period, domestic tourists traveled 48.8 million times. Revenue generated from tourism during the holiday reached 12.2 billion yuan ($1.73 billion), according to the Ministry of Tourism and Culture. The number of visitors recovered to almost 51 percent and revenue recovered to more than 31 percent of last year's festival levels.
Water parks, theme parks, amusement parks, zoos and botanical gardens are among the most popular tourist destinations this summer as cold temperatures have risen to pleasant levels in many places, according to data from Tongcheng-Elong, an online travel platform.
Theme parks and amusement parks in many cities are also the best options for a weekend getaway. In Guangdong province, leading theme parks Guangzhou Chimelong and Shenzhen OCT gained most tourists during the holiday, Tongcheng-Elong said.
Nationwide, tourists have revisited their favorite theme parks and resorts.
In June, Cirque du Soleil Entertainment Group resumed its world's first performance in Hangzhou since the pandemic broke out early this year. In China, the group halted its shows, which are also performed worldwide.
China's first Smurfs theme park opened in Shanghai on May 29. It is also the world's third Smurfs theme park. The other two are in Moscow and Dubai, according to International Merchandising, Promotion and Services, the worldwide licenser of the Smurfs' cartoon images and brand.
Shanghai Disneyland officially reopened in early May, becoming the first Walt Disney theme park worldwide to resume business following the novel coronavirus-related closures.
The theme park and amusement park sector in the country has been wrought by the global pandemic.
Since the end of January, about 330 theme parks, more than 1,700 amusement parks, over 320 water parks, and about 80 zoos nationwide were closed. Construction of theme parks and amusement parks was also halted.
According to estimates, the economic loss is said to be more than 10 billion yuan, said Jiang Yiyi, a professor of leisure sports at Beijing Sports University.
As of early August, theme parks and resorts are gradually resuming their operations but with restrictions on the number of visitors.
However, the fear of crowding and the possibility of spreading the virus in theme parks and resorts have not been completely alleviated, said Jiang. "It will take time for the theme park industry to return to the pre-epidemic level of operations."
Looking ahead, the tourism sector would face both challenges and opportunities in the second half of the year, said Zeng of Lionsgate Entertainment World.
The possibility of recurrence of the pandemic in autumn and winter this year could mean parks and tourist sites may close again.
Meanwhile, consumers' intent to spend and consumption behaviors in the first six months of this year had been significantly reshaped by COVID-related circumstances. Consumers turned to mobile devices and short video platforms, dampening the offline entertainment experiences.
However, discouraged by the global pandemic situation, domestic tourists will likely travel to destinations in China, accelerating short-distance trips.
"Lowering our costs and spending while expanding marketing access to target consumer groups will be our priority in the second half," Zeng said. The operator of Lionsgate and National Geographic centers has joined an alliance with local tourism players to work together in promoting single-ticket package for multi-destination visits, to attract more tourists.