Region makes a splash with yachting, sailing and marine tourism
Share - WeChat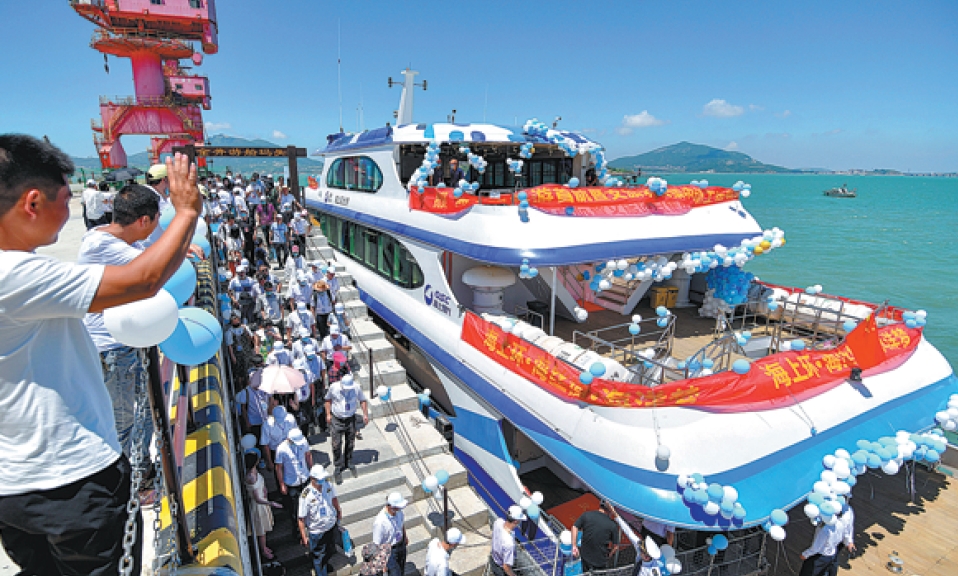 Relying on its geological advantages, good natural environment and cultural legacies, Pingtan in Fujian province is developing yachting for its marine tourism, local officials said.
Pingtan is surrounded by the sea and has outstanding air quality and hydrological conditions. This is advantageous for the development of high-end marine tourism products and can become the core competitiveness of Pingtan's marine tourism economy, said Wu Jiehua, deputy director of the experimental zone's tourism, culture and sports bureau.
"In short, Pingtan has great potential for the development of its marine tourism industry," Wu said.
Chen Feng, principal of the Pingtan Jipeng Seafarer Training Organization, said yachting is a highlight of the zone's tourism industry.
Established in 2018, Jipeng Seafarer Training is the first yacht training institution in Pingtan. It has trained more than 200 students. Those who pass the exam can obtain a national yacht driver's license.
"Practitioners are the foundation for Pingtan's yacht industry development," Chen said. "Pingtan's yacht industry is very promising. We provide formal training for drivers and hope to contribute to the development of the Pingtan's yacht industry."
As the yacht industry develops, more people in Pingtan are participating in yacht training.
Shi Minghao, from the post-1990 generation, is one of the trainees.
He said he likes extreme sports and has been involved with the yacht industry since 2016.
In his eyes, the yacht industry has broad prospects and is an essential part of Pingtan's development of marine tourism, which can enrich the travel experiences of tourists.
"As an important carrier of sea travel, yachts can not only enhance tourists' travel and sightseeing experiences, but also activate the development of special catering, water sports and other tourism sectors, while helping to upgrade tourism consumption," Shi said.
Weng Xiong is a native of Pingtan as well as a senior yacht player. He is full of praise for Pingtan's marine resources. Weng believes that Pingtan's marine resources are unique from other coastal areas.
"Not only does it have superior climate conditions, but also a long coastline," he said.
"The development of marine tourism has infinite possibilities."
"There are many scenic spots along the coast of Pingtan, including bridges, Shipaiyang, windmills, and uninhabited islands," Weng added.
"These scenic spots can be connected by yachts to form a special tourist route. Yachting a good opportunity to provide visitors with unique experiences."
Like Weng Xiong, Hu Shixing, a sailing enthusiast from Zhangzhou in Fujian, also prefers Pingtan's coastal resources. He said that wind conditions in Pingtan are more suitable for sailing projects than Dongshan Island.
In 2014, he wanted to come to Pingtan to operate a sailing project. After a long period of inspection, he finally chose Tianmeiao.
"The sailing project is beautiful, environmentally friendly, and safe. It is a kind of marine leisure tourism project suitable for all ages," Hu said, "If the sailing project takes shape, I believe Tianmeiao will become a calling card for Pingtan's tourism."
People's tourism consumption needs are increasingly diversified. Visitors desire deeper experiences. In recent years, while laying a solid foundation for tourism, Pingtan has also promoted the innovation of tourism products, relying on coastal resources and marine products while developing marine leisure.
"Pingtan's coastal tourism resources are rich and unique, so we have been digging marine tourism resources and enriching coastal tourism products," said Wu Yunping, director of the industrial development division of the tourism, culture and sports bureau of the experimental zone.
"Especially in the implementation of the distinctive coastal tourism project, the experimental area has continuously improved the quality of coastal tourism products."
With the increasing popularity of tourism in Pingtan, to meet the needs of tourists and adapt to the ever-changing market competition, the experimental zone will not only improve the quality of land-based tourism products, but also continue to cultivate new forms of tourism such as yachts, sailboats and motorboats.