Coronavirus cases in US resume climb
Share - WeChat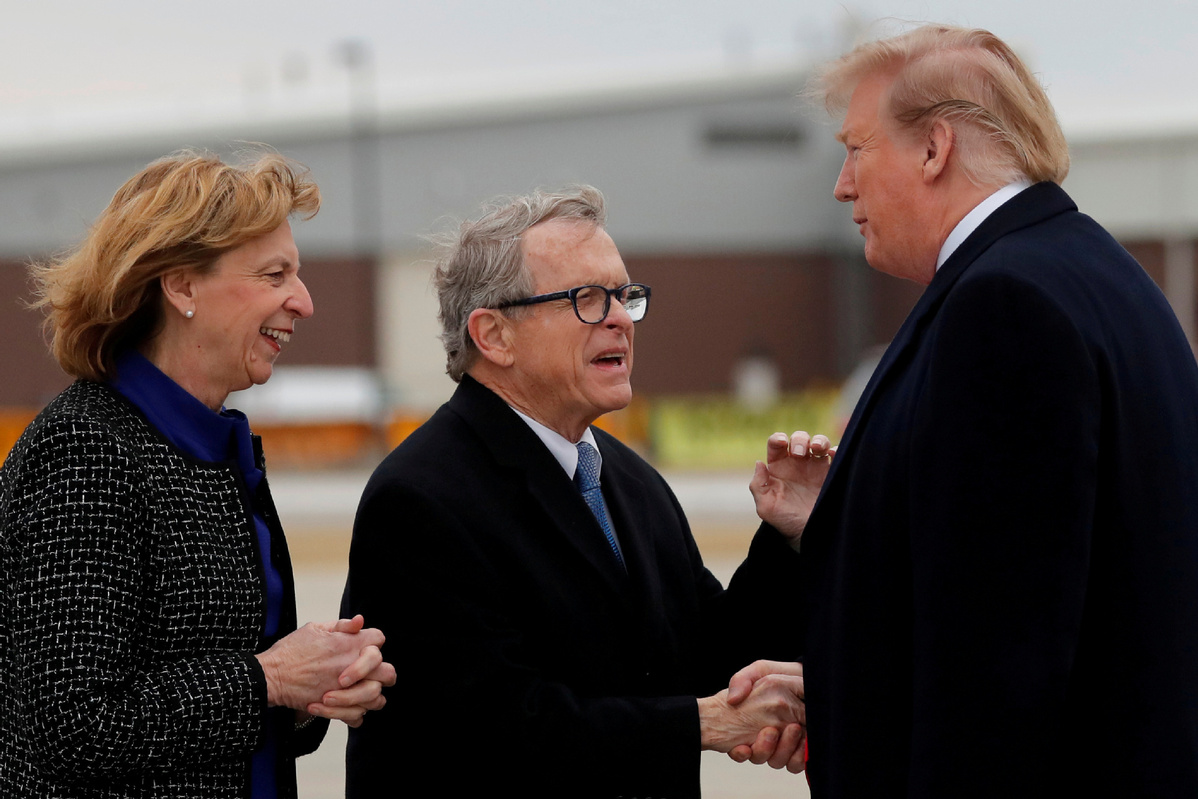 New cases of the novel coronavirus in the US passed more than 52,000 for the second consecutive day after several days of declines, as Ohio's governor tested positive for the virus shortly before President Donald Trump was set to touch down in the state Thursday to meet with him.
Republican Governor Mike DeWine was to greet Trump on the airport tarmac in Cleveland, where the president was scheduled to visit a Whirlpool plant and speak about the economy.
DeWine, 73, said he didn't have any symptoms but was heading back to Columbus, the state capital, to get tested again along with his wife. The governor plans to quarantine at his home in Cedarville for 14 days.
DeWine is the nation's second governor known to have tested positive for the virus. Last month, Republican Oklahoma Governor Kevin Stitt said he didn't know how he had become infected as he announced his test result.
Illinois Representative Rodney Davis, also a Republican, on Wednesday became the 11th House lawmaker to contract the virus. Other than a high temperature, Davis said he had no symptoms and is feeling "fine". He plans to quarantine at home. Davis said his wife's test came back negative.
At the Cleveland airport, Trump accused his Democratic opponent, former vice-president Joe Biden, of being "against God".
"No religion, no anything," Trump told supporters. "Hurt the Bible, hurt God. He's against God, he's against guns, he's against energy, our kind of energy."
Trump, who trails Biden in polls in Ohio and other swing states, has made appeals to religious conservatives by trying to link Biden to a "radical left agenda" that allegedly targets gun ownership, oil production and religion.
Biden has often talked about how his Catholic faith helped him survive the death of his first wife and their daughter in a 1972 car crash and his son dying from brain cancer in 2015.
A spokesman for Biden, Andrew Bates, responded to Trump's remarks, describing him as a hypocrite making a cynical appeal to religious conservatives.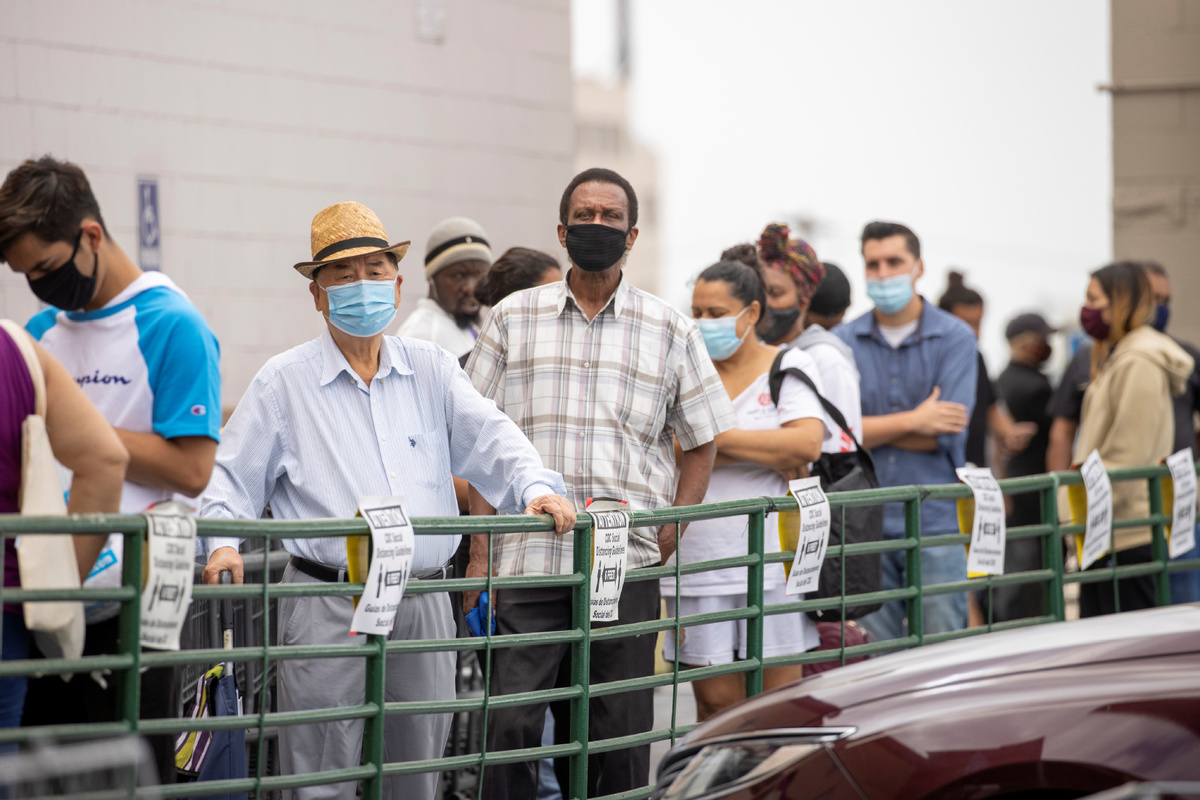 The temporary decline in coronavirus cases was driven by steep drops in Florida, where Hurricane Isaias shut down dozens of testing sites, and California, where officials said technical problems with the state's reporting system were leading to inaccurate tallies.
There are more than 4.8 million confirmed cases in the US, according to data compiled by Johns Hopkins University. The national death toll from the pandemic has surpassed 159,000.
White House Coronavirus Task Force Coordinator Dr Deborah Birx outlined concerns about increased cases in a private phone call with state and local officials Wednesday, as evidenced by a recording of the call obtained by the journalism nonprofit Center for Public Integrity.
Baltimore and Atlanta "remain at a very high level," Birx said on the call, adding that Kansas City, Missouri; Portland, Oregon; Omaha, Nebraska; and the Central Valley in California remain at elevated levels.
"This outbreak is different from the March-April outbreak in that it's in both rural and urban areas," Birx said.
Dr Anthony Fauci, Birx's colleague on the White House coronavirus advisory team and the nation's top infectious-disease expert, said COVID-19 may never be eradicated, contradicting Trump's repeated claims that the coronavirus will simply "go away".
"I don't think we're going to eradicate this from the planet because it's such a highly transmissible virus that that seems unlikely," Fauci said in an interview with Reuters on Wednesday.
Fauci also said that US regulators have assured scientists that political pressure won't determine when a coronavirus vaccine is approved, while Trump said he hopes to have one ready ahead of the November presidential election.
Coronavirus testing is dropping nationwide despite a mounting death toll averaging more than 1,000 a day, according to an analysis of data by The Associated Press.
The AP said Wednesday that some experts attribute the decline to the hours of waiting required to get a test in some areas and the days or weeks of waiting sometimes involved in obtaining test results.
The number of tests per day slid 3.6 percent over the past two weeks to 750,000, with the count falling in 22 states, AP said. That includes places where the percentage of positive tests are high, such as Alabama, Iowa, Mississippi and Missouri.
The US State Department on Thursday lifted its advisory on avoiding international travel that was put in place five months ago because of COVID-19. The agency said the move was done in coordination with the Centers for Disease Control and Prevention.
"With health and safety conditions improving in some countries and potentially deteriorating in others, the department is returning to our previous system of country-specific levels of travel advice ... in order to give travelers detailed and actionable information to make informed travel decisions," the agency said in a release.
As public school districts are preparing to reopen across the country, a National Public Radio/Ipsos poll released Thursday finds that more than eight in 10 teachers are concerned about returning to the classroom this fall and that two-thirds prefer to teach classes remotely rather than in-person because of the virus.
Facebook on Wednesday, citing its misinformation policy, took down a video from Trump's personal page of a Fox News interview in which he said that children are "almost immune" or "virtually immune" from COVID-19.
Doctors say children can catch — and pass on — the coronavirus.
It was the first time Facebook has removed a post by the president for violating its policies on COVID-19 misinformation. Twitter also took action late Wednesday on the posting.