Shipbuilding firm books rise in H1 orders
Share - WeChat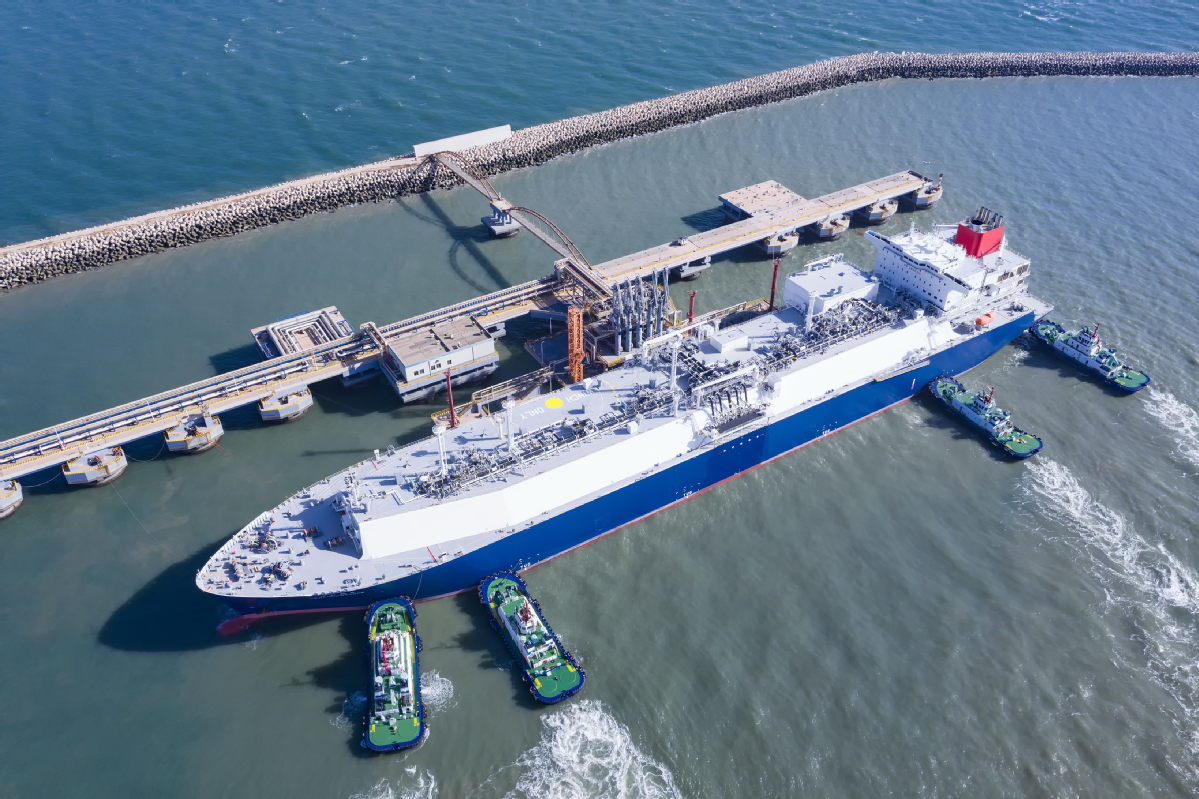 Strong demand from home, BRI markets lifts CSSC's sales despite COVID impact
Despite COVID-19 having severely impacted global orders for new ships in the first half, China State Shipbuilding Corp, the country's largest shipbuilder by production volume, saw its new vessel orders surge 34.2 percent year-on-year in the January-June period.
The centrally administered State-owned enterprise inked orders for 73 vessels with a total dead weight of 5.35 million metric tons in the first six months, winning 30.4 percent of total orders worldwide thanks to strong demand at home as well as from economies related to the Belt and Road Initiative.
Bao Zhangjing, vice-president of the China Institute of Marine Technology and Economy-a research institute affiliated with CSSC-said over 70 percent of orders received by Chinese shipbuilders so far this year were made by domestic shipowners including China COSCO Shipping Corp, China National Petroleum Corp and China Merchants Group.
This is related to China's efforts to achieve a smooth functioning of economic cycles both at home and abroad based on the sustainable performance of the domestic economy. Under such a pattern, or "dual circulation", the domestic economic cycle plays a leading role while the international economic cycle remains an extension and supplement, Bao said.
Backed by supportive government policy measures, domestic demand has effectively offset the impact of the global market slowdown, he added.
Apart from expanding its sales channels in global markets, in particular countries and regions involved in the BRI, CSSC subsidiaries have delivered vessels and offshore engineering equipment, including cold chain container ships, bulk carriers, chemical tankers and oil rigs, to shipowners in the United States, Norway, Greece, South Korea and Qatar over the past seven months.
Sun Wei, deputy general manager of CSSC, said the group will deploy more resources for the development of products like mega-container vessels, liquefied natural gas carriers, floating hospitals, semi-submerged ships and ocean farms, as well as build more dual-fuel ships and gas-fueled vessels. At present it mainly builds conventional ships such as bulk carriers, container ships and oil tankers.
The central SOE signed a strategic agreement with China Maritime Safety Administration on enriching China's strength in transportation and maritime matters last month.
The two sides will cooperate in a wide range of areas including smart transportation equipment, high-end maritime equipment, marine environmental protection technology, maritime policy and technical regulation studies, international maritime affairs and maritime security equipment.
To build more high-end ships, CSSC and China MSA will work on advancing smart vessels and navigation support and on developing intelligent traffic control systems and examination and monitoring technologies, said Yang Xinzhai, deputy head of China MSA.
The two parties will also plan smart shipment development and carry out testing and demonstration applications of related technologies.
With a view to smart and green manufacturing, the two sides will initiate study of technical regulations of high-end marine equipment like large-scale liquefied natural gas vessels, arctic navigation vessels, new energy vessels and aquafarms.
The study will offer support for development of high-end marine equipment in aspects of policy and technical regulations and push forward demonstrative applications of the new equipment.
Development of technologies and products related to new energy-driven vessels and their energy conservation and environmental protection facilities is also within the scope of cooperation between the CSSC and China MSA, Yang said.
Under the agreement, they are expected to lead to the reduction of greenhouse gas emissions and management of energy efficiency for vessels, safe utilization of low sulfur oil during shipment research and construction of LNG refueling facilities as well as optimization of environmental protection standards, regulations and monitoring systems.
CSSC also recently announced that it has tested a manned submersible to inspect dams and reservoirs to help ensure the safe operation of major dams and large-scale reservoirs. It can carry two people inside and has a large observation window, which can help improve inspection efficiency.