AI-enabled curriculum helps nurture young talent
Share - WeChat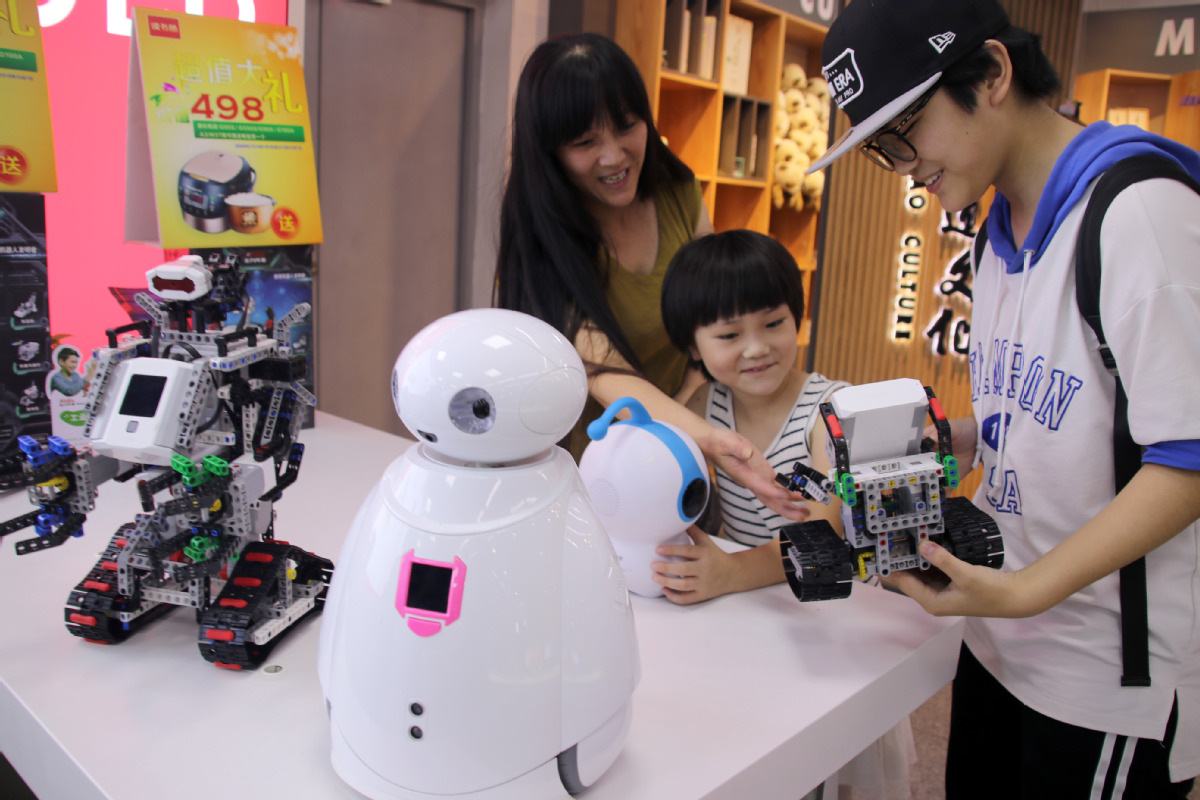 Chinese tech companies are partnering with schools to bring robotics curricula and artificial-intelligence-related content to classrooms in the hope of cultivating more future talent.
Shenzhen-based robot maker UBTech, for instance, has inked a deal with the education authority in Yuhang district, Hangzhou, Zhejiang province, to provide AI curricula for about 33,000 students from primary, junior and high schools as well as vocational schools.
Zhong Yong, senior vice-president of UBTech, said: "The lack of talent is a big challenge for the development of AI and robotics, so we devote tons of resources to developing a complete AI education system to nurture talent."
The company said it has already established an AI curriculum system covering primary, junior and high schools, as well as colleges. It held a string of robotics competitions to cultivate competence and team-building capabilities among students.
In partnership with Yuhang district, students will study an AI textbook series UBTech has codeveloped with East China Normal University. Some schools will also be equipped with AI laboratories where students can have in-depth practice opportunities.
The deal came after UBTech in November announced a deal worth $362.4 million to step up AI teaching labs for students in the United Arab Emirates, marking another big push in its efforts to go global.
With robotics more frequently seen in public places such as hospitals, hotels and shopping malls, student enthusiasm for robotics and AI is also growing.
Liu Yunjia, a mother of a primary school student, said her son was attracted a few years ago by an advertisement for robotics programming at a shopping mall and soon bought a learning package. Since then, her son has devoted much of his time to learning programming skills.
As China attaches high importance to the construction of new infrastructure including AI, 5G and the internet of things, demand for professional talent is expected to surge even further.
Zhaopin.com, a major online recruitment platform, said that on the whole, there is a long-term gap for new-infrastructure-related technical talent, and demand for such professionals is expected to reach 4.17 million by the end of the year.
To help solve such problems, Chinese AI pioneer Sensetime is also offering a string of free online AI curriculum options for students and teachers amid the COVID-19 pandemic. It has also unveiled an AI online learning platform which can help students study at home.
Dai Juan, general manager of Sensetime's education department, said AI has played an active part in fighting the contagion, including using big data to control the outbreak as well as facilitating disease screening and diagnosis.
Sensetime wants to provide teachers and students with more convenient and high-quality education resources during COVID-19, which can plant a seed in the hearts of primary and secondary school students and help them better understand AI knowledge and have AI mindsets.
The company partnered with East China Normal University to publish an AI textbook for high school students back in 2018.
Vice-Minister of Science and Technology Li Meng said earlier this year an AI curriculum can now be seen across China's basic, higher and vocational education sectors. Textbooks on AI have been compiled for primary and secondary school students.
China has made much progress in AI applications in recent years. The AI software and application market in China was worth $2.89 billion last year, and the number is expected to reach $12.75 billion by 2024, witnessing a compound annual growth rate of 39.9 percent during a six-year period, according to International Data Corp.
As of this year, nearly 100 Chinese enterprises have set up AI-related laboratories and research institutes, carrying out dozens of joint projects for intelligent construction.
Lu Yanxia, associate research director for IDC China's Emerging Technology Research, said the AI market in China enjoys broad prospects in the future.
"New infrastructure projects facilitated AI construction, and the virus outbreak also accelerated the transformation of the digital market," Lu said.