Orchestra tunes in to live performances again
Share - WeChat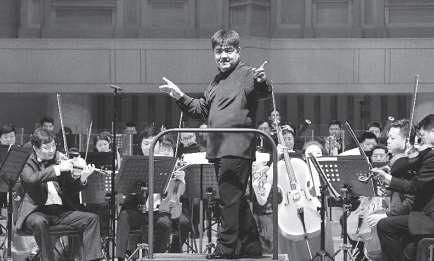 Conductor Li Biao and the Beijing Symphony Orchestra playing at the Forbidden City Concert Hall on Friday. CHINA DAILY
"It's been a long time since we played music for you with a live performance, my friends," conductor Li Biao said to the audience. The words carried a great deal of significance. They were spoken on Friday after the Beijing Symphony Orchestra played the stirring piece, Ode to the Red Flag, composed by the noted musician Lyu Qiming in 1965, which opened the concert at the Forbidden City Concert Hall.
"Symphony orchestras didn't give live concerts for 188 days. This is our first live concert since the novel coronavirus outbreak, which is very special and meaningful to us," says Li, who has had a successful career as a conductor and percussion soloist and was appointed chief conductor of the Beijing Symphony Orchestra last December. "We hope to send a resounding message with this concert that live classical music has returned to the stage."
During the performance, the orchestra played a varied selection, including the second movement of Dvorak's Symphony No 9, popularly known as From the New World, and the second movement of Mozart's Clarinet Concerto in A Major.
A new piece, Running Warrior, composed by professor Liu Sijun from the Central Conservatory of Music, also premiered during the concert. It was dedicated to the medical teams who fought against the coronavirus pandemic.
"We chose repertories that the audience are familiar with, hoping to bring them joy and strength," says Li, adding that the live concert was also streamed online.
Most Popular