Pompeo's comments slammed
Share - WeChat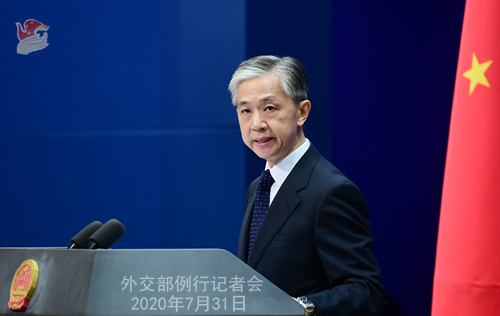 United States Secretary of State Mike Pompeo's comments on China at a Senate Foreign Relations Committee hearing on Thursday are "a mix of political lies", Foreign Ministry spokesman Wang Wenbin said on Friday.
Pompeo is distracting people to serve his own political interests by spreading false accusations on China time and again, while US people are "in a public health, economic and employment crisis caused by COVID-19,"Wang said.
"Ignorance, arrogance, shortsightedness and even hatred cannot serve the foundation for foreign policies," Wang said, adding that people like Pompeo are "attempting to tie the international community to a chariot" against China and the Communist Party of China.
The international community and peace-loving people will not accept such attempts, and the Chinese people will not be deterred, he added.
Also, leaders of some countries have said publicly that they will form policies toward China according to their own interests, instead of blindly following the US or taking sides between China and the US, he said.
Anti-Chinese words and behavior by some US politicians will only make the Chinese people unite even closer around the CPC to strive for the great rejuvenation of the Chinese nation and work with people in other countries for a community with a shared future for mankind, Wang said.
Talks held with Japan
In another development, China and Japan held high-level talks via video on Friday over maritime issues, the Foreign Ministry said.
The talks were co-hosted by Hong Liang, director-general of the Department of Boundary and Ocean Affairs under the ministry and Shigeki Takizaki, director-general of the Asian and Oceanian Affairs Bureau under the Japanese Foreign Ministry.
During the talks, which began two days after a phone call between State Councilor and Foreign Minister Wang Yi and Japanese Foreign Minister Toshimitsu Motegi, both sides discussed maritime issues in a candid manner and emphasized that they should work together to maintain stability and peace in the East China Sea.
They also said they will strengthen communication through bilateral channels including the high-level talks over maritime issues, handle their differences in a constructive way, properly address related issues and actively promote maritime exchanges and cooperation.
wangqingyun@chinadaily.com.cn