Diversified efforts are helping bring more Shanxi farmers out of poverty
Share - WeChat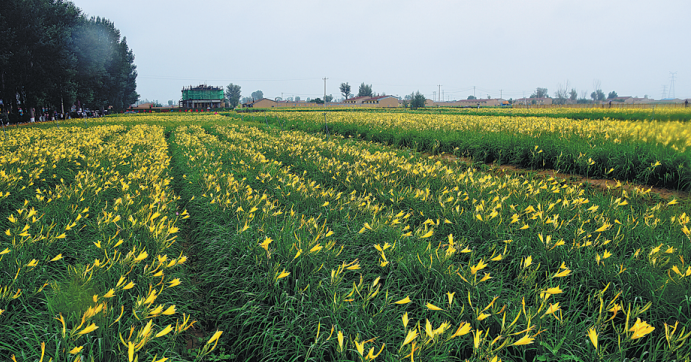 It's harvest season for daylilies.
Farmers in the Yunzhou district of Datong, Shanxi province, got up at 3 am and worked until 8 am to pluck the nutritious yellow flowers, an important culinary ingredient on Chinese tables.
"You may not believe it, but daylilies helped over 50 families in my home village, Xiayujian village of Yunzhou district, emerge from poverty. Now the daylily plantation has become a main industry in the district and our products have been sold across the country," said Yang Qi, a local farmer.
In 2011, the government in Yunzhou district issued a series of policies to support the planting of daylilies. This included offering farmers subsidies and insurance as part of its poverty alleviation efforts.
Hearing the news, Yang lobbied over 50 families living in poverty in his village and set up a daylily plantation cooperative association. They rented lands whose size was over 500 mu (33 hectares), standardized the plantation process and improved product quality for better sales.
As Yang's business got better, his association rented another land of over 500 mu from 108 families living in poverty from nearby villages for a daylily plantation this year. He paid them about 500 yuan ($71.35) per mu per year for rent and hired local farmers to plant daylilies after getting training by specialists from his association.
To date, Yang has helped over 5,000 families in poverty through his daylily business.
"We are stepping up efforts in producing daylily products with higher added-value, such as making daylily sauce, to generate more revenue," Yang said.
There are many farmers like Yang who rely on daylilies to cover basic family expenses and possibly make a fortune in Yunzhou district. To date, daylily plantations have reached 170,000 mu in Yunzhou and the annual output is worth around 700 million yuan.
Yuzhou is not the only place that boosted the local economy through industry clusters.
About 300 kilometers away from Yunzhou, Kelan county in Xinzhou city of Shanxi province is stepping up efforts to promote a sea buckthorn plantation and related businesses to create new momentum for local economic development.
Kelan's development of the sea buckthorn business benefited from its abundant natural sea buckthorn resources. To date, Kelan has 490,000 mu of wild sea buckthorns in the county for local companies to process into various products.
Kelan-based Shanxi Songjiagou Functional Foods Co Ltd is harnessing 200,000 mu of local wild sea buckthorns to create more value from the nutritious fruit.
"Sea buckthorn has an impressive nutritional profile, including various vitamins, anti-oxidants, anti-inflammation properties and many other nutrients. The fruit is good for health in many ways, and our company is stepping up efforts to research and develop more of its uses, with joint efforts from research labs in various institutes," said Zhang Yanfeng, general manager of Shanxi Songjiagou Functional Foods.
The company is making sea buckthorns into herbal tea, functional drinks and dietary supplements. The value of sea buckthorns per metric ton will increase about 10 times after being processed into functional products, Zhang said.
"China has over 90 percent of the world's sea buckthorns, and 70 percent of the wild sea buckthorns in China are from Shanxi. We hope to fully leverage the regional resources," Zhang said.
"The local government has rolled out a series of supportive measures, such as improved infrastructure, implemented tax cuts, and gave us 1 million yuan in research subsidies per year for three consecutive years to support our business," Zhang said.
While making a fortune through Kelan's sea buckthorn resources, Shanxi Songjiagou Functional Foods is also contributing to poverty alleviation. It offered help to over 717 local families, the company said.
Sea buckthorn businesses are just one part of Kelan's concerted efforts in poverty alleviation.
The county has been promoting businesses in six traditional industries including planting potatoes, herding goats and sheep, and developing new businesses like photovoltaic, Chinese traditional medicine herbs, and tourism to help boost employment and reduce poverty.
In 2019, the annual disposable income for people who used to live in poverty hit 11,042 yuan per person, much higher compared with the 2,989 yuan in 2014.
Zhou Minliang, a senior researcher at the Institute of Industrial Economics of the Chinese Academy of Social Sciences, said with the gathering of labor, capital and natural resources in villages, counties and small-sized cities, those places are likely to nurture industries based on their natural resources.
Zhou said an industry boom helps attract downstream industries and thus forms a relatively complete industry cluster, which is important in boosting the local economy. But companies still need to build brands and develop value-added services to move up the global value chain.
Today's Top News
Editor's picks
Most Viewed