Coca-Cola records sparkling Q2 result in China
Share - WeChat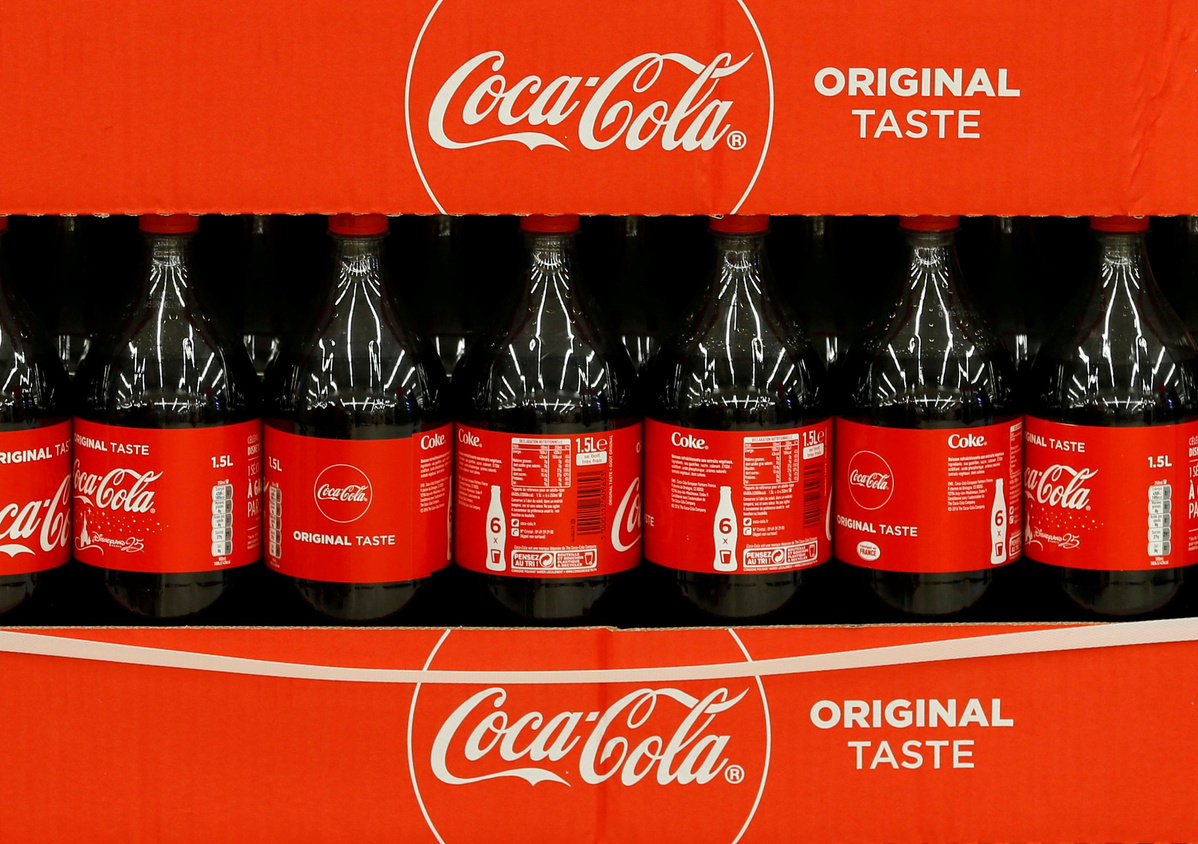 The Coca-Cola Company reported good performance in the second quarter on the back of sparkling business in the Chinese market and an improving a global environment, although its quarterly revenue fell 28 percent.
Net revenues declined 28 percent to $7.2 billion due to pressure on away-from-home channels. Its global unit case volume shrank 16 percent, though showing trends of improving, from a decline of about 25 percent in April to a drop of about 10 percent in June. In July, volume dropped by mid-single digits.
The company said the performance has been driven by improving trends in away-from-home channels, which make up about half of its revenue, along with sustained, elevated sales in at-home channels.
Chairman and CEO James Quincey said the second quarter will likely be the most challenging of the year.
"I'm proud of the people of the Coca-Cola system as we continue to adjust and accelerate our strategies in this fast-changing landscape," Quincey said. "We believe the second quarter will prove to be the most challenging of the year; however, we still have work to do as we drive our pursuit of 'Beverages for Life' and meet evolving consumer needs."
In China, by emphasizing on the sparkling soft drinks during the height of the lockdown, the company saw this category grow 14 percent in volume this quarter, led by Coke, with strong growth in Zero Sugar offerings.
Kantar Worldpanel China data show that the sales of carbonated drinks at home consumption during the epidemic were not greatly affected, maintained a relatively steady growth in the second quarter, mirroring consumers' demand for both health and pleasure.
Confronting the outbreak of COVID-19 epidemic, China has been the first market worldwide that resumed work and production. In the second quarter, Coca-Cola said it has achieved significant progress in product innovation, category expansion and channel development. Part of them is reflected in its quick launch of its new products in this quarter.
Among them, the new product "Selected 28 Days Sleep Beauty" is a plant-based beverage developed by Coca Cola China. The product is available on social commerce channels nationally, and is the first attempt of the company to explore social commerce channels.
In June, Innocent, invested by the Coca-Cola Company, introduced three sorts of pure-fruit-made smoothies into the Chinese market - Kiwi Wonder, Seriously Strawberry, and Magnificent Mango. These are the first ready-to-drink pure-fruit-made products in the Chinese market, demonstrating Innocent's attempt at exploring a new segmented beverage category in China.
The beverage giant has officially entered the Chinese dairy market. At the end of April, Coca-Cola obtained an anti-trust clearance notice from the State Administration for Market Regulation (SAMR), paving the way for the setup of a joint venture company, which will produce and sell chilled milk in China.
Jason Yu, general manager of Kantar Worldpanel China, said the contributions from Coca-Cola's new products are so far limited but they are beneficial for their future layout through continuous positioning in the health beverage category.
On July 21, Coca-Cola's announced partnership with Meituan Dianping, a move to further drive its home delivery service as O2O service took off exponentially during and post the epidemic, he said.
This year, at the JD.com 618 shopping festival, Coca-Cola's first hour sales increased by 200 percent compared with that of the prior year, ranking first in the nonalcoholic ready-to-drink beverage category on JD.com. During the 618 campaign, its total gross merchandise value (GMV) exceeded 80 million yuan ($11.43 million), up 34 percent.
On bottling factory, COFCO Coca-Cola Beverages Ltd (CBL) in Sichuan launched a new production line in May, which can produce 120,000 cans every hour, making it the world's fastest fully automated production line. The bottling line can produce 260,000 metric tons of product annually, with a value of 1.3 billion yuan.
In the second half of 2020, Swire Coca-Cola China plans to put six new production lines into operation, which represent a total investment of 250 million yuan and an annual output value of more than 1.7 billion yuan. Among which, Swire Coca-Cola Guangdong plant officially started two new production lines in Huizhou in July and its annual output value is expected to increase to 762 million yuan.
In addition, Swire Coca-Cola China also plans to add a plastic bottle production line to its Hubei facility, which is expected to come online in May 2021. At the end of March this year, Swire Coca-Cola Zhengzhou and Zhengzhou National High-tech Industrial Development Zone Management Committee signed an agreement to launch the "Zhengzhou Swire Coca-Cola Intelligent Green Factory Capacity Expansion and Reconstruction Project." The project will go into operation in two years' time and the plant will offer an annual production capacity of 2.3 billion yuan.