Steady recovery boosts service sector
Share - WeChat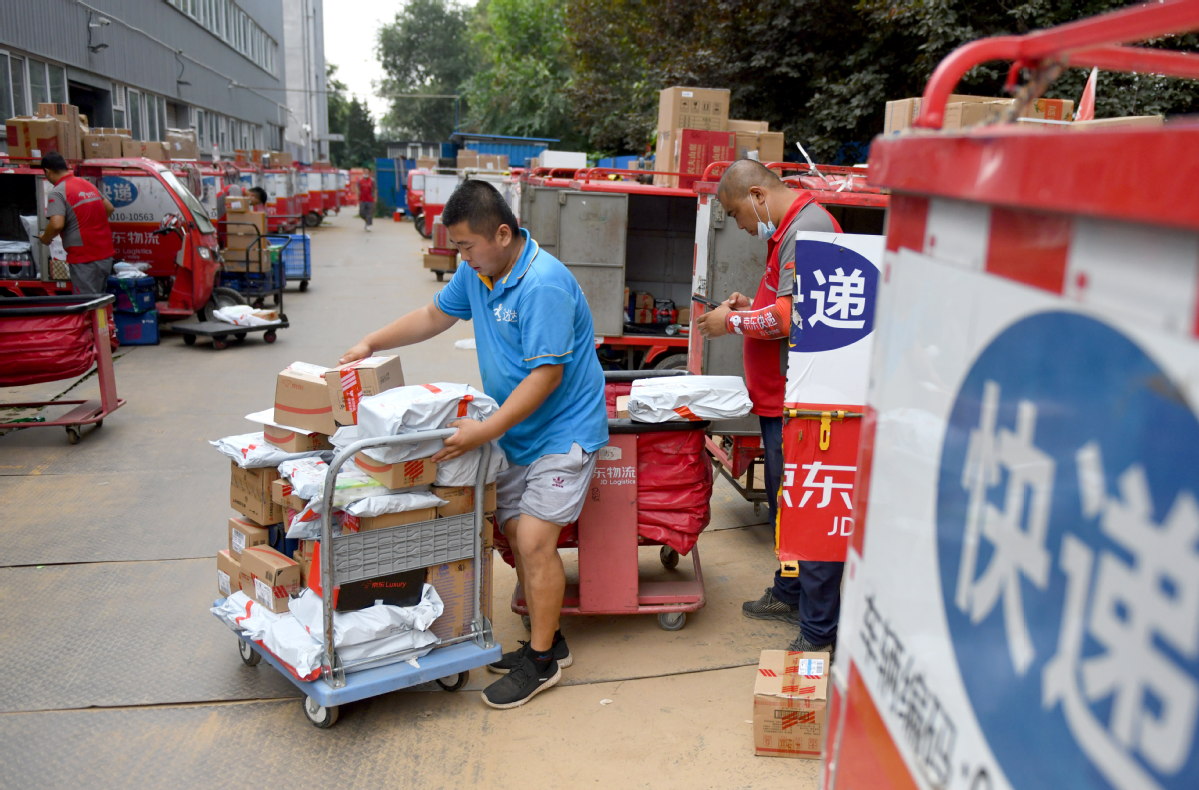 China's consumption market witnessed steady recovery during the first six months of this year, with relatively new business formats such as online shopping spearheading the growth despite the COVID-19 epidemic and the services sector responding positively and creatively.
"During the second quarter of this year, the services sector recovered steadily, and some new businesses showcased their growth potential. Stable progress was made in the transformation and upgrade of the services industry," said Du Xishuang, director for services statistics at the National Bureau of Statistics.
During the first six months, the number of people buying goods and services online rose steadily. Online retail sales of physical goods rose by 14.3 percent on a yearly basis, while total retail sales of consumer goods fell by 11.4 percent on a yearly basis, according to the National Bureau of Statistics.
Data showed that in the first six months, postal expenses per capita increased by 10.8 percent on a yearly basis. The per capita spending on fitness equipment grew by 13.7 percent year-on-year, and the per capita spending on washing and sanitary products rose by 19.9 percent.
Traditional restaurants, which were hit hard earlier this year as most people kept self isolating at home, have been actively taking innovative approaches and introducing new products to get through the challenging times.
In March, restaurant chain Xibei Group began cooperating with online fresh food platform Missfresh. It launched three new kinds of semi-cooked and ready-to-eat dishes online-ox bone stew, braised pork and stewed beef brisket with tomatoes. Consumers can order them online and get the dishes home-delivered. It only requires a simple reheating, and diners can enjoy the original tastes just like at restaurants.
"We will continue to develop the business when the crisis is over, and semi-cooked meals have become a new category in addition to dining in and takeouts," said Sun Zhigang, director of ready-to-eat meals at Xibei Group.
Besides, Fobin, an independent catering firm under the luxury Foshan Hotel in Foshan, Guangdong province, started to develop ready-to-eat meals in 2018 and began to sell such products in mid-2019.
Since the sudden outbreak of COVID-19, Cantonese restaurant Fobin saw the sales of its ready-to-eat meals, such as stewed sirloin and duck cooked with abalone sauce, jump tenfold on a yearly basis.
Meanwhile, the tourism sector, which was badly affected by the epidemic, has also been finding ways to stay afloat. Boutique Hangzhou, a bed-and-breakfast accommodation in Hangzhou, Zhejiang province, which could not operate earlier due to the epidemic, maintained constant communication with potential tourists through online livestreaming sessions. The owner said she has been able to garner constant attention with the livestreaming sessions, and sales have nearly returned to last year's levels.
During the January-to-June period, China's fixed-asset investment in the services sector fell by 1 percent on a yearly basis and was 12.5 percentage points lower than the decline seen in the first quarter.
From January to May, China's service exports stood at 759.26 billion yuan ($108.6 billion), down 2.3 percent on a yearly basis. Service trade deficit fell to 285.15 billion yuan during the period.