Chinese digital economy gets big, 'fresh' boost
Share - WeChat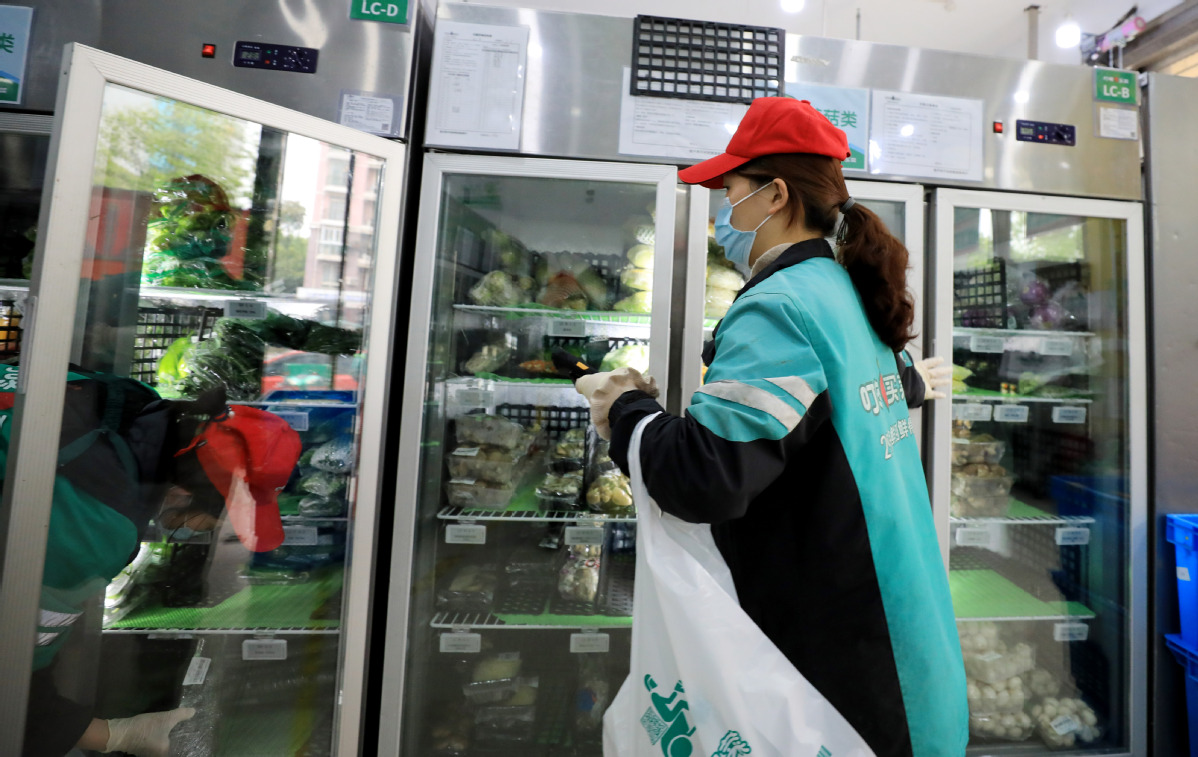 Retail is hurting, but e-sales of groceries, fruit, vegetables boom; new jobs emerge
Since the COVID-19 outbreak in late January, Li Xuejia, 35, a financial magazine editor in Beijing, has seldom visited her neighborhood supermarkets for fresh food. Like everything else in China these days, fresh food can now be bought online. And mobile apps specializing in this niche are laughing all the way to the bank.
Li probably knows why. "I avoid going out (to maintain social distancing) and prefer to buy fresh vegetables, fruit, milk, meat and rice on online fresh food platforms such as JD Daojia and Miss Fresh. I choose their quick delivery service," said Li, referring to apps' one-hour drop-off feature.
Like Li, hundreds of millions of Chinese consumers would vouch for the efficiency and reliability of the emerging online services sector. Their demand for fresh food deliveries surged in recent months in the wake of the pandemic.
In the first half of this year, Dada Group, China's leading local on-demand delivery and retail platform, recorded an increase in demand for its services as more people shopped online for daily necessities, including groceries, fresh produce, healthcare and household products.
The company has played a critical role in providing essential products nationwide through partnerships with nearly 40 retail brands such as Walmart, Yonghui, Better Life, Aeon, Lotus, 7Fresh, Century Mart, and 16 community-based fresh produce retail chains since early February.
It also rolled out a contactless delivery service, or drop-offs of takeaway food parcels or other packages at a designated pick-up spot at residential communities or office premises.
Executives of JD Daojia, the local on-demand retail platform of Dada, said overall sales revenue surged a staggering 470 percent year-on-year during the Lunar New Year holiday in late January and early February, with the consumption of vegetables jumping 510 percent year-on-year, fruit increasing 300 percent, eggs 770 percent and dairy products 370 percent.
"Our services continue to play a vital role in the Chinese economy and in the nation's response to the pandemic. We will continue to use our technological and innovation capabilities to enhance our efficiency and deliver high-quality services to people across the country," said Philip Kuai, founder, chairman and chief executive officer of Dada Group.
JD Daojia has also expanded its service to nearly 20 lower-tier cities this year, such as Shaoxing in Zhejiang province, Luoyang in Henan province and Lijiang in Yunnan province. More consumers in third-and fourth-tier cities can enjoy the convenience of one-hour delivery provided by local on-demand retail services.
In addition, Dada announced it plans to recruit 17,000 deliverymen and pickers. Among them, the first round of recruitment of 10,000 deliverymen will cover more than 2,400 cities and counties across the country.
And JD Daojia will assist retail partners, such as Walmart, Yonghui, Better Life and other supermarket chains, to recruit more than 7,000 pickers, packers and other store staff in more than 30 cities nationwide.