FDI increases 8.4% in second quarter
Share - WeChat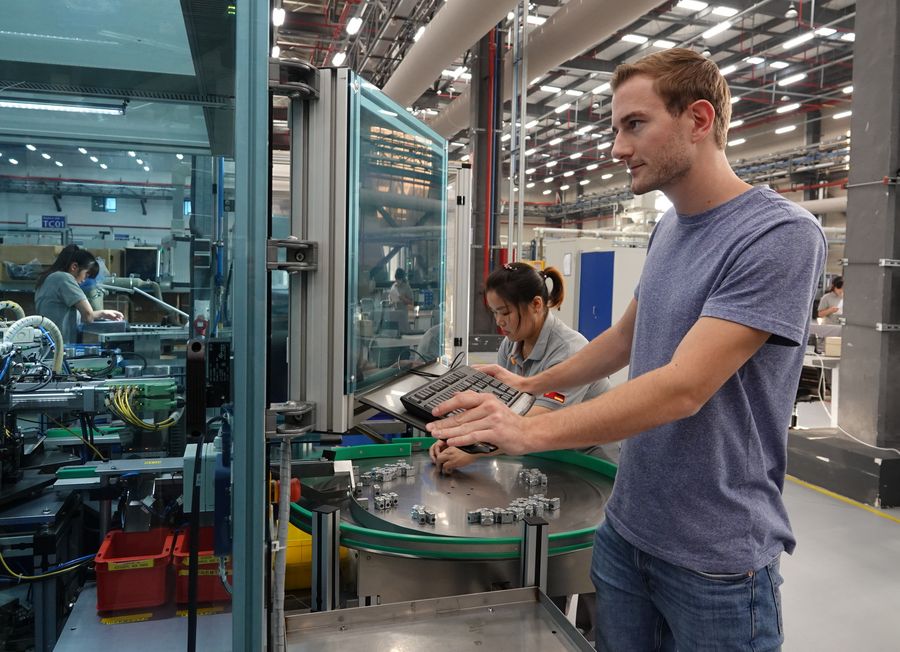 Foreign direct investment on the Chinese mainland saw an 8.4 percent year-on-year increase in the second quarter, the Ministry of Commerce said on Thursday.
Officials took it as a sign of confidence from foreign investors in the world's second-largest economy's prospects for improving despite increasing external uncertainties amid the COVID-19 pandemic.
In June, FDI inflows expanded 7.1 percent year-on-year to 117 billion yuan ($16.73 billion), the ministry said.
Gao Feng, a ministry spokesman, said that while FDI fell 1.3 percent in the first half to 472.18 billion yuan, the decline narrowed by 9.5 percentage points from the level seen in the first quarter.
FDI from Singapore jumped 7.8 percent and from the United States by 6 percent. Inflows from countries and regions involved in the Belt and Road expanded 2.9 percent.
"In the face of a complex and grave world economic situation with increasing uncertainties, there is still a lot of work ahead to meet the annual target of stabilizing inbound investment," Gao added.
In the first half of 2020, China's nonfinancial outbound direct investment fell 0.7 percent year-on-year to 362.14 billion yuan, the Ministry of Commerce said.
Chinese firms signed project deals with a contract value of 753.82 billion yuan in the first half, up 5 percent year-on-year. The country's nonfinancial outbound investment to countries and regions involved in the Belt and Road surged 19.4 percent year-on-year to $8.12 billion in the same period.
Li Dawei, a researcher with the Institute of International Economic Research at the Chinese Academy of Macroeconomic Research, said China has been working hard to boost the confidence of foreign investors.
"This year marked the fourth consecutive year that the Chinese government has reduced the negative list for foreign investment access, demonstrating the country's strong commitment to open up wider to the outside world," Li said.
Cui Fan, a professor at the School of International Trade and Economics of the University of International Business and Economics in Beijing, said investors with global strategic vision will not give up on China, as the country has a huge and increasing market, a complete industrial system, a large workforce and a stable social environment.
Yin Zheng, executive vice-president of Schneider Electric and president of Schneider Electric China, said the Chinese government and society are working hard to push the economy back to normal amid the pandemic by offering an attractive investment environment. "We are confident in the Chinese economy and willing to enhance local capabilities, and willing to invest more in innovation," Yin said.