More dynamism for energy transition
Share - WeChat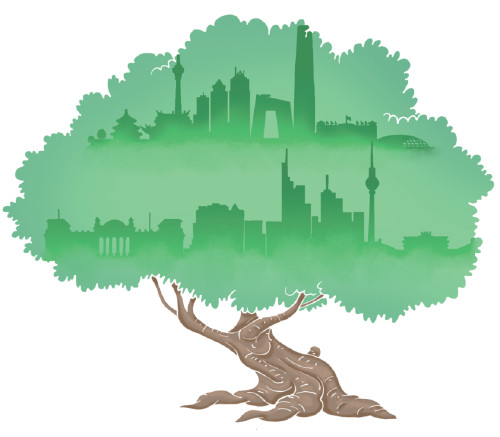 Cooperation on a green recovery provides a clear direction for getting out of the current global recession
Economic collapse caused by the novel coronavirus outbreak must be followed by a green new beginning: sustainable economic packages involving international and supranational cooperation that add further momentum to the energy transition.
The novel coronavirus outbreak has changed the world. In every country, people are fighting against this crisis in the most effective ways possible. But the approaches to solve the problem sometimes seem as manifold as the challenges themselves. One key fact has emerged though: In an interconnected world such as ours today, global answers must be found to global crises.
Even if the crisis is unprecedented-we are not starting from scratch in this respect. There are time-tested forms of international collaboration. In matters of the energy transition and climate protection, for example, China and Germany have cooperated with one another for many years and done some successful work. Both countries can build on this.
The pandemic and the climate crisis may be different, but they also have points in common. The effects of both are not limited to individual countries and both are truly global challenges. We will only make progress in overcoming them through solidarity and cooperation rather than by isolating ourselves and pursuing individual paths. As a consequence of the worldwide lockdowns, a global recession of historic proportions is staring us in the face. Solutions for this exceptional situation must be found quickly, but not mindlessly. The way out of the crisis needs to have a clear direction.
Around the world, governments are being asked to plan the rebound after the pandemic in accordance with sustainability targets. The Sustainable Development Goals issued in 2015 provide a good point of orientation here. Now it's a question of exploiting the present momentum and ambitiously directing economic programs at investment for the future.
A well planned "green recovery" could progress cross-sectoral transformation in line with the integrated energy transition with greater urgency and impact. The energy transition needs dynamism. It can make a decisive contribution to a zero-carbon economy geared toward climate protection. It creates jobs and prospects. By contrast, funding the traditional fossil industry structures misses the target.
Objectives must, therefore, be set here and now, to create the conditions for good living on a transnational basis, through good standards and economic incentives. For more than 10 years, the Deutsche Energie-Agentur-the German Energy Agency-has been developing and implementing collaborative projects in China in the fields of energy-efficient construction, sustainable urban development, energy efficiency in industry, renewable energy sources, smart energy systems and air pollution control. The practical, trusting and successful collaborations with partners such as the Centre of Science and Technology of Construction or the Chinese Society for Urban Studies are evidence of the degree to which Germany and China are driving the green transformation processes forward together.
This cooperation is imbued with the spirit of sustainability, which has grown up alongside society's development with regard to global climate protection. From its initial projects in the field of energy-efficient construction, other exciting projects have emerged over time, such as German-Chinese Eco-Cities and integrated urban districts.
In particular, the project for constructing energy-efficient houses with passive house technologies, begun in 2008, has achieved outstanding results and has now been rolled out all over China. These collaborative successes and the mutual trust built up between China and Germany form a good basis for further boosting the cooperation between both countries in the area of climate protection.
Both countries have some good approaches. Current discussions are focusing on plus-energy houses as well as urban district refurbishment and the future of cities. Innovative procedures such as the serial refurbishment of residential buildings could be developed and promoted in both countries as well.
The energy transition and climate protection offer the most diverse approaches for future cooperative agreements in line with sustainable industry objectives. Topics such as digitalization and research into new, application-focused technologies such as hydrogen are becoming ever more important.
Both countries are active in these fields and can support one another reciprocally. Green financial schemes are playing an increasingly important role internationally as a lever for greater climate protection. China and the European Union are the pioneers here and must remain in dialogue with one another regarding questions of detail, such as drawing up taxonomies.
In particular, it should be remembered that investments in climate protection are not just an investment in the future, but also an investment in solving many of today's pressing problems. For example, the energy-efficient refitting of a large number of existing buildings could create millions of jobs at a stroke and more or less solve the problem of air pollution caused by using fossil fuels for heating.
Let us, therefore, use the crisis as an opportunity for more cooperation, not less-an opportunity to transform to sustainability in industry and to develop common fundamental innovation and modernization processes, in order to overcome the recession that is just emerging and simultaneously relieve the burden we are putting on the environment and the climate. We have already set the targets through international agreements. We already have many possibilities at our fingertips, and we can develop others. By cooperating with one another, we can initiate a great many things.
Qiu Baoxing is an advisor of the Chinese State Council and the president of the Chinese Society for Urban Studies. Andreas Kuhlmann is the chief executive of the Deutsche Energie-Agentur (dena)-the German Energy Agency. The authors contributed this article to China Watch, a think tank powered by China Daily. The views do not necessarily reflect those of China Daily.
Most Viewed in 24 Hours
China Views