Audience participation
Share - WeChat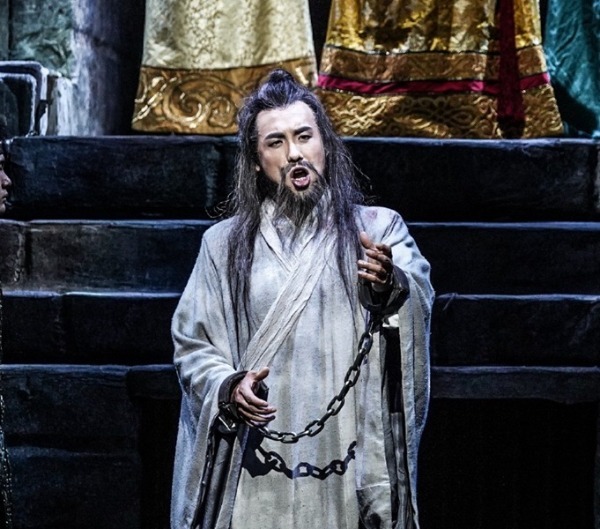 After four months of home cooking and solitary practice, Chinese bass-baritone Hong Zhiguang couldn't wait to enjoy the first live applause since the lifting of lockdown, Chen Nan reports.
"I miss everything about the stage. It feels very different when you practice and sing at home alone," laments the Chinese bass-baritone, Hong Zhiguang.
For the past four months, due to the coronavirus lockdown, Hong has used his apartment in Beijing as a temporary studio space. He spent about two to three hours training his voice and another two to three hours learning new arias.
Like many people confined to home due to the pandemic, he also turned his apartment into a small gym and tried to cook for himself.
Thirty-year-old Hong, a full-time singer with the China Oriental Performing Arts Group, a Beijing-based national art troupe, has embraced his new routine, which is very different from his usual schedule of long rehearsals and performances across the country.
"I was anxious and worried because no one knew when the outbreak would end and when everything would go back to normal," Hong recalls.
However, on June 3, Hong finally got back to the theater to start rehearsals for Marco Polo, an original Chinese opera based on the story of the famous Italian explorer. It was to be the country's first opera performed in front of a live audience since the lockdown was lifted. Marking the 10th anniversary of Guangzhou Opera House, the opera was staged for three performances at the venue with a limited number of audience members on June 25, 27 and 28.
On June 24, people who made a significant contribution to the battle against the pandemic were invited to enjoy the opera for free.
Marco Polo, which was composed and written in Chinese and performed by both Western and Chinese singers, is based on the story of the Venetian explorer who traveled along the ancient Silk Road in the 13th century. The opera also charts the romance between Marco Polo and a young Chinese woman and the rise and fall of the Song and Yuan dynasties (960-1368).
With music composed by Munich-based Enjott Schneider and the libretto written by Chinese poet Wei Jin, the opera premiered in May 2018 and was staged in Italy last September.
Hong played the role of Wen Tianxiang (1236-1283), a patriotic scholar-general of the Song Dynasty (960-1279).
"The role is that of a loyal general, who takes the army to fight on the battlefield. He is also a father, showing a softer side when he is alone with his daughter. I tried to portray the role's complexity with my acting and singing," Hong says.
The reopening of the venue and the staging of Marco Polo have given people, from theater mangers to artists, "lots of confidence about the recovery of the country's performing arts market", says He Ying, general manager of Guangzhou Opera House.
Hong agrees, and says: "It's quite meaningful for all of us to be part of this opera. I could feel the same excitement from the audience, though they sat separately to maintain social distancing."
Born in Beijing to artistic parents, Hong developed an interest in music when he was in middle school. As he recalls, he had lots of opportunity to perform on campus and he enjoyed the atmosphere of the theater, especially when his performance received a warm reception.
In 2007, he was enrolled to study music at the China Conservatory of Music. After graduation, he went to the Mannes School of Music in the United States and gained his master's degree in 2014. He then sought further education at the Yale School of Music and gained his artist diploma in 2016.
In 2017, he held a recital at Carnegie Hall, featuring repertoires of both classic Western arias and modern Chinese compositions.
A year later, he decided to return to China and worked with the China Oriental Performing Arts Group.
Hong says that with his music education from both home and the US, he learned to sing, to act and to listen, as it is a demanding job to tell stories and portray characters with just his voice.
When he returned to China, Hong was surprised to find a growing fan base for opera among Chinese theatergoers. So far, Hong has performed in over 20 operatic productions produced by international theaters. In February 2018, he performed alongside Placido Domingo in the classical opera Thais, created by French composer Jules Massenet and produced by the National Center for the Performing Arts in Beijing.
In November 2018, a reality show called Super Vocal premiered on Hunan TV, enabling young Chinese singers to showcase their bel canto techniques and propel them to popularity among music lovers. Hong was one of the contestants and he has gained a fan base thanks to his solid singing skills.
Taking to the stage alongside Hong in Marco Polo were other popular Chinese singers who also rose to fame after appearing in the reality show, including Wang Kai, Liu Binhao and Dai Chen.
Most Popular