Mountains echo to sound of music by Tajik art troupe
Share - WeChat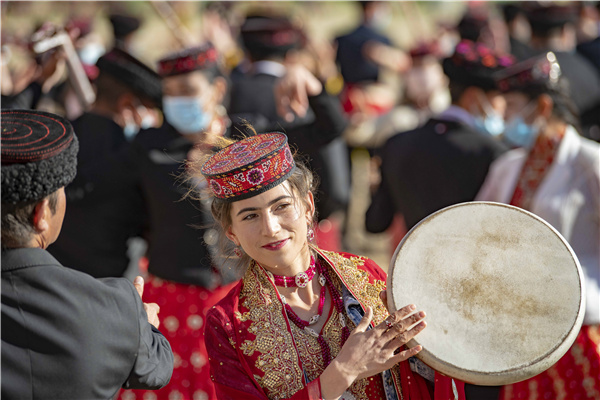 The Pamir Plateau in the far west of Northwest China's Xinjiang Uygur autonomous region continues to experience snowfall despite the advent of summer.
Shareheman Chakuni and his compatriots, members of an art troupe in the Tashikurgan Tajik autonomous county, reached Rasekam village after driving 204 kilometers through the winding mountainous roads at more than 4,000 meters above the sea level.
On their arrival at the remotest Tashikurgan village, they danced to cheerful rhythms in front of dozens of audience members. Tashikurgan is the only Tajik autonomous county in China, with about 81 percent of its roughly 41,000 residents belonging to the ethnic group.
The art troupe was founded in 1956 and has retained the tradition of visiting all 40 villages in the county twice a year to entertain the villagers with live performances.
"Every show is like a festival. Everyone joins in with the dancing and shares the joy," says Shareheman.
He recalls that the journey to Rasekam used to be arduous as some sections of the road were so narrow and rugged that only camels could travel through. It could take them about a week to reach the village.
Households in the village lived sparsely across 12 valleys until 2017, after which they were relocated together into one valley so that roads and other concentrated infrastructure could be built.
Shareheman says now it takes only five hours to travel from the county seat of Tashikurgan to Rasekam.
Though all of the houses in the village have TV sets, the art troupe's live performances remain the most popular attraction as every ethnic Tajik, young or old, enjoys singing and dancing.
Most Popular