Mountain concert expected to be height of entertainment
Share - WeChat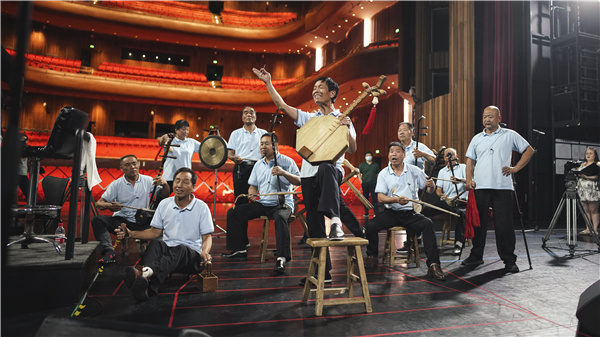 Huashan Mountain in Shaanxi province is one of China's five most famous scenic mountains and is known for its steep and perilous peaks. On Saturday, the Xi'an Symphony Orchestra will hold a concert on the mountain's west peak, at an altitude of about 2,000 meters. The concert will be streamed live.
Titled XSO Meets Huashan Mountain Summit Clouds Rhapsody, the concert will feature more than 200 musicians from the Xi'an Symphony Orchestra and its chorus under the baton of conductor Tang Muhai.
According to Cao Jiwen, branding director of the Xi'an Symphony Orchestra, all musical instruments will be transported to the west peak by cable car.
"It's exciting to imagine musicians performing among a sea of cloud on the peak of Huashan Mountain. The audience will enjoy classical music with a stunning vista of nature," says Cao, adding that the idea of holding a concert on Huashan Mountain was suggested a year ago. Due to the coronavirus pandemic, the concert had been postponed until July.
He notes that Huashan Mountain is also a holy site in Taoism and is associated with the birth and practice of traditional Chinese martial arts.
Therefore, the repertoires of the upcoming concert will showcase the mountain's rich significance and local culture.
One of the highlights of the concert is the opening piece, which will have musicians and the orchestra chorus perform with a local troupe of Huayin Laoqiang (Huayin ancient tune), a traditional folk song, titled Jiangling Yisheng Zhen Shanchuan (The General Commander's Order Shakes Mountains and Rivers).
Considered as the oldest version of rock-and-roll in China, Huayin Laoqiang was born in Huayin city, where Huashan Mountain is located. The traditional opera form is a genre developed from a folk storytelling art in Shaanxi province, crafted at the end of the Ming Dynasty (1368-1644) and early period of the Qing Dynasty (1644-1911). It was listed as a national intangible cultural heritage in 2006.
In 2015, Chinese pop singer Tan Weiwei and five senior artists from a troupe of Huayin Laoqiang jointly performed on a TV show, which caused a sensation among viewers. The performance brought Huayin Laoqiang into the spotlight and attracted many audiences.
"When I was commissioned to adapt the piece, I was surprised and excited. It felt like a good cook having the best ingredients, which will give birth to a great dish," says composer Sun Chang, who adapted the old piece into a 3-minute-long work for the concert. "I didn't know much about Huayin Laoqiang, but when I read the material, I was impressed by its history and culture. The adaptation has to be loyal to their tradition and the combination of classical music and the ancient opera should be creative while preserving their distinctive features."