Sampling the specialties of Santorini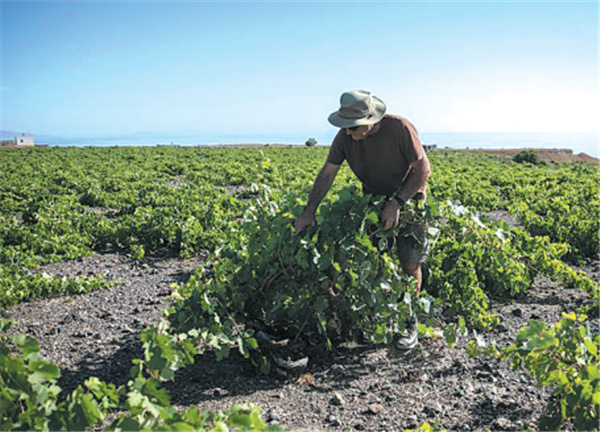 "The basic characteristic of fresh Santorinian wine is the minerals it's given by the … volcanic soil and the saltiness-a salty aftertaste because we are in the middle of the Aegean Sea, and this affects the vineyards," Kasiola explains.
Santo Wines produces about 500,000 bottles a year, 30 percent of which are exported, mainly to North America and central Europe. Santo Wines is also taking further steps to enter the Chinese market.
"Many of the Chinese who visit us all year-which is very important for us-love the wines and especially Vinsanto, a sweet wine made of sun-dried Assyrtiko grapes, as well as tomato pastes," Kasiola says.
Still, few people from Pelekanos' generation live exclusively on farming.
"Everyone here has a vineyard, and they don't let it go. They try to keep it alive, clean ... but only for extra income," he says.
After a massive tourism boom in the 1970s, Santorini has turned from a rather poor, agricultural island into a tourism flagship.
But some locals also point out that, while this development has yielded very high profits to residents who've abandoned their crops, it threatens the preservation of the agricultural heritage and character of the island.
Local institutions now say that tourism and agriculture can grow hand-in-hand rather than in rivalry.
"We have realized that this collaboration between agricultural production and tourism is the only way for both sectors to develop in a sustainable way," Kasiola says.
Xinhua
Most Popular