Top 10 delicacies for Dragon Boat Festival
Share - WeChat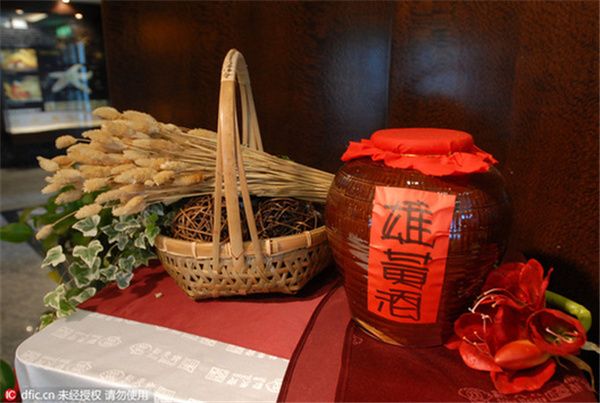 Realgar Wine
There is an old saying: 'Drinking realgar wine drives diseases and evils away!' Realgar wine, or xionghuangjiu, is a Chinese alcoholic drink consisting of fermented cereals and powdered realgar.
In ancient times, people believed that realgar was an antidote for all poisons, and effective for killing insects and driving away evil spirits. So everyone would drink some realgar wine during the Dragon Boat Festival, or Duanwu.
In the popular fairy tale of the Lady White Snake, a 1,000-year-old reptile takes on human form and falls in love with a poor but good-looking herbalist. She marries him and helps him develop his practice into a successful venture. But instigated by an unbendingly righteous monk, he forces her to drink realgar wine on Duanwu and she reverts to her original form, thus scaring him to death.
Despite his ingratitude, she goes on to offend the deities by stealing a magic herb to save him and ends up being captured and imprisoned under a pagoda on the banks of West Lake after giving birth to his child.