Geely set to go public on Shanghai stock exchange
Share - WeChat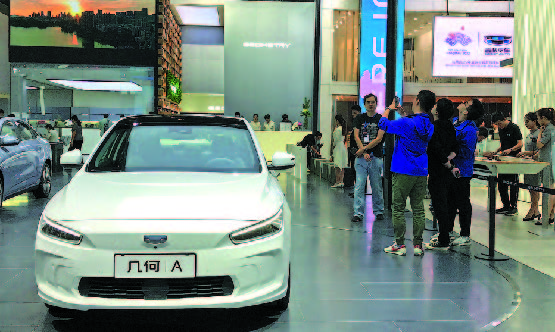 Most popular private car maker in China aiming for mainland listing
Hong Kong-listed Geely Automobile's decision to pursue a market listing on the Chinese mainland is favorable for the company's development prospects, as it will offer a diversified funding channel for the largest private carmaker in China and boost its reputation, said analysts.
The carmaker said on Wednesday that its board had approved a preliminary proposal for the possible issue of renminbi shares and a listing on China's Nasdaq-like science and technology board at the Shanghai Stock Exchange. When completed, it will be the first carmaker on the board.
In a filing, it said that the new renminbi shares would not involve the conversion of existing shares. The board will hold further talks on the size of the issue. The money raised will be used for "business development and general working capital" of the company and its subsidiaries, it added.
Geely Automobile, whose parent is Zhejiang Geely Holding Group, is currently listed on the Hong Kong Stock Exchange with a market capitalization of 116.77 billion HKD ($15.07 billion).
Thomas Fang, a partner in the China office of global consulting firm Roland Berger, said the move is expected.
He said getting listed in both Hong Kong and Shanghai would benefit the company's development. Through it, they would be able to use both stock exchanges as fundraising channels for investment in traditional car manufacturing and new high-tech fields.
Geely Automobile has been working on an architecture called CMA, which is shared with Volvo. Zhejiang Geely Holding Group bought Volvo from Ford in 2010. Geely Automobile also plans to roll out six new models under the Geely, Lynk & Co and Geometry brands this year.
The company is exploring opportunities in fields ranging from car hailing and satellite launches as part of its efforts to seek an advantage in terms of mobility and autonomous driving.
Fang said: "As one of the best Chinese carmakers in China, it will be also easier for Geely to raise funds in the A-share market. Besides, valuations in the A-share market are usually higher than the H-share market."
Yang Xueliang, vice-president of Geely Automobile, said investors at the A-share market have a more direct relationship with the company than those in Hong Kong.
"Many investors at the mainland's A-share market are potential customers of Geely's vehicles, so our listing will help boost our brand awareness recognition," he said.