Tibetan youths become keen promoters of cultural heritage
Share - WeChat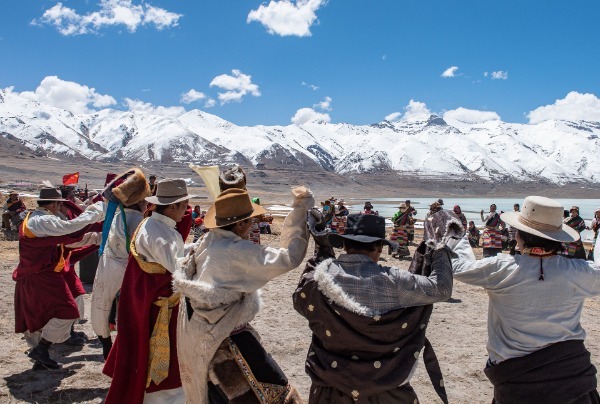 About 160 Tibetan people gathered at Dukezong in the majority Tibetan city of Shangri-La on Saturday for a contest of a traditional Tibetan dance -- Guozhuang.
It is believed that the prototype of "Shangri-La," an earthly paradise depicted in the 1934 fictional book "Lost Horizon" written by James Hilton, is Zhongdian county in Deqen Tibetan autonomous prefecture of Southwest China's Yunnan province. In 2001, the county was authorized by the central government to rename itself Shangri-La city.
As tourism develops in the city, local culture is exposed to more tourists from across the globe, and inheriting intangible culture means more than preserving tradition but also introducing it to the world.
Some Tibetan youths in Deqen shared their views on intangible cultural inheritance in modern society.
Guozhuang dance:Stress reliever
Guozhuang dance is a favorite collective bonfire dance of Tibetans, allowing them to show respect and reverence to nature.
Wandering in the old town of Dukezong in the daytime, one can always see elderly Tibetans, mostly women, dancing in a circle while singing traditional Tibetan songs.
When dusk falls, Tibetan youths, after finishing a full day's work or study, will come outdoors to dance with a faster pace and more joyful music.
"Guozhuang dance has been about paying respect to nature since ancient times, but now when we dance, it is more about recording and passing down our ethnic memory and tradition with every step," said Losang Tashi, a 28-year-old Tibetan in Shangri-La.
Losang Tashi has worked as a tourist guide for nearly seven years. The booming tourism in the city has given him more opportunities to make a living and understand the outside world, but the increasing number of tourists also means more working time, thus greater stress.
"When I feel bitterness in daily life, I always dance Guozhuang to relieve my pressure. It makes my mind fully relaxed," he said. "Just as many watch TV dramas and play online games to relax, many Tibetan youths like me are fond of dancing to our traditional music, so it means a lot to us," he said.
The tourist guide has been enthusiastic about sharing the local stress reliever with visitors from across the world.
"When other non-Tibetan people watch us dancing, I can bring happiness to them," he said. "I feel so satisfied when I tell tourists about what messages Guozhuang dance conveys."
In today's Dukezong, tourists may be astonished to find some young Tibetan lads dancing Guozhuang to the songs of Michael Jackson. "We are bold and creative," Losang Tashi said. "Everyone says Shangri-La city is also the Shangri-La of the world, so we are proud we can embrace more cultural differences."