Streams of gold from needles & threads
Share - WeChat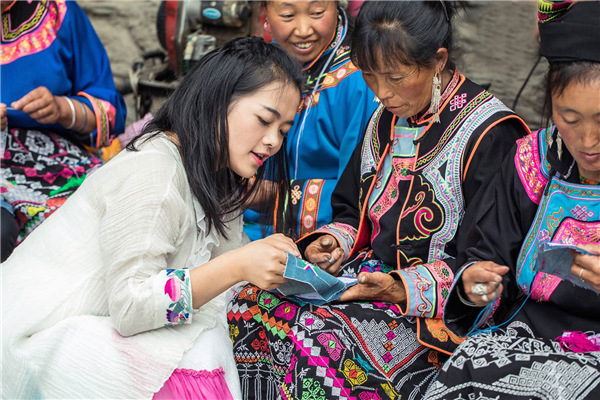 The culture of an ethnic group is undergoing a revival that is also helping pull people from poverty.
When the 8.0 Wenchuan earthquake struck at 2.28 pm on May 12, 2008, sending ripples as far afield as Russia, Thailand and Taiwan, it was clear that any town or village not far from its epicenter was likely to be severely shaken and probably devastated as well.
One of those towns is about 150 kilometers northwest of Wenchuan in the mountainous Aba Tibetan and Qiang autonomous prefecture of Sichuan.
Only after days of frantic efforts to save lives could an accurate assessment of the quake's dreadful toll be made: nearly 87,000 people dead, 374,000 injured and nearly 18,000 missing, in addition, of course, to the thousands of buildings left in ruins.
Hidden in those raw figures is the devastation visited upon one of China's oldest ethnic groups, the Qiang. Not only did the quake literally decimate the Qiang, killing 20,000 of them, but it lay to waste precious Qiang culture, including hundreds of traditional buildings that were toppled and myriad cultural relics that were destroyed.
One of the 180,000 or so members of the Qiang ethnic group who survived was Zhang Juyue, 18 years old when the quake struck and a first-year student studying mechanical engineering at Chengdu Aeronautic Polytechnic.
The village in which Zhang was born and raised is in Xuecheng, an ancient town with a history that goes back to the Qing Dynasty (1644-1911), which is home to the Qiang and Tibetan ethnic people, most of whom live in mountainous or hilly areas. These rich assets make Xuecheng, despite its remoteness, a big tourist draw.
"Luckily, my family were safe even if our house was destroyed," says Zhang, 30.