Lifeline provided in Manhattan's Chinatown
Share - WeChat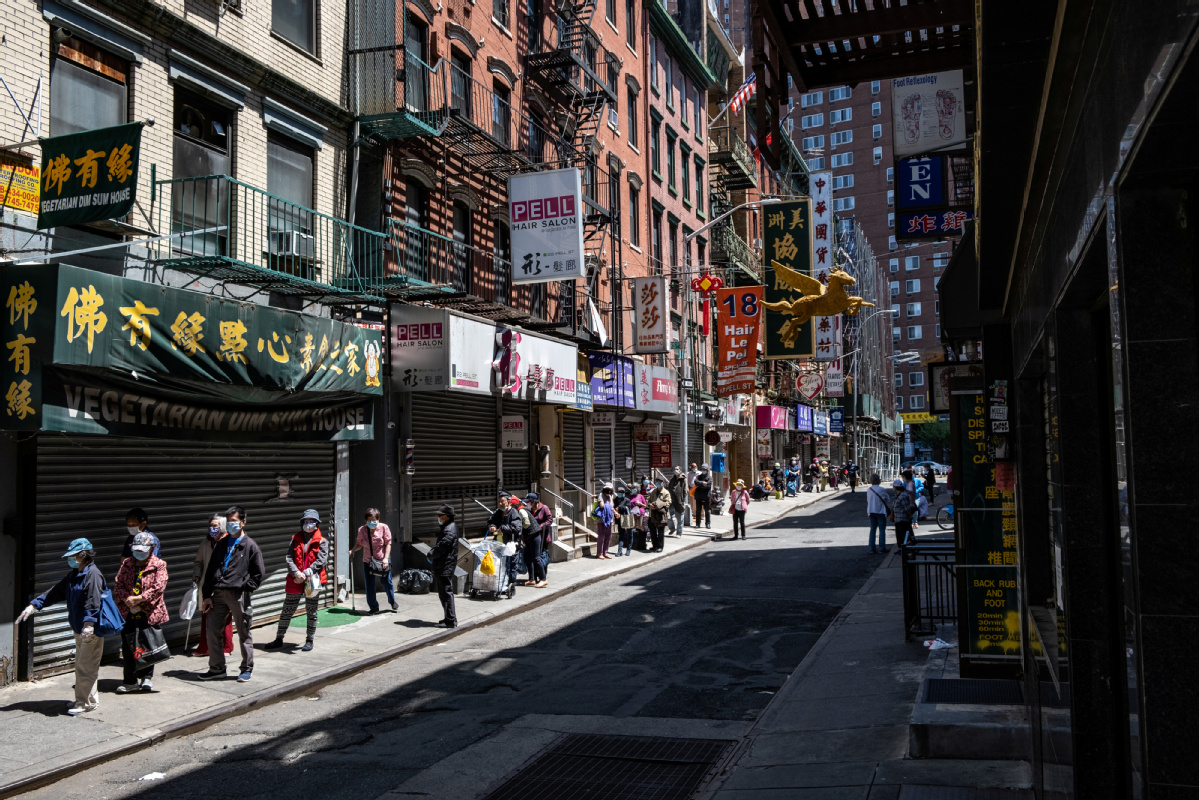 NGOs rally round to ensure food deliveries to needy
Donald Hong, chairman of UA3, an NGO based in New York dedicated to serving the local Asian and Chinese population, painted a grim picture.
Speaking about a group of people living in the Chung Pak complex for senior citizens in Manhattan's Chinatown, he said, "They have opened up every can they have in the house, trying to stretch them for another day or two."
Since mid-March, UA3 has teamed up with the Trader Joe's grocery store chain, other NGOs and city officials to provide badly-needed food to these people. Hong described the supplies as a lifeline for the seniors.
"The problem they are facing is twofold. On the one hand, the seniors, who mostly have various ailments, are afraid to go out in case they become infected. On the other, they are frightened by all the racism that has bubbled to the surface since the pandemic hit this country," Hong said.
At the height of the coronavirus outbreak in New York City in March and April, when the death toll peaked at more than 800 within 24 hours, everyone-caregivers, attendants and even family members-stopped visiting the seniors.
Sam Wu, superintendent of the Chung Pak complex, said: "The overwhelming majority of the more than 110 residents are in their 80s. We also have a handful of others in their 90s and a couple more who are over 100. Infirm, and sometimes immobile, they were cut off from food sources."
Beatrice Chen, from Immigrant Social Services Inc, another NGO based in New York, quickly responded to the challenges seniors faced.
She and her colleagues mobilized a group of volunteers, who ensured that bags of fresh produce were delivered to the homes of those badly in need.
Chen said that at the start of the outbreak everywhere was closing-"the butcher's around the corner, nearby Chinese supermarkets, neighborhood Chinese restaurants, centers for seniors and family associations".
By mid-March even the pantries that catered to the city's poor had been closed. "Some of them had still been serving meals. People went in and ate-that was obviously a large gathering. Many more (pantries) simply could not find enough people to help handle and serve food safely," Chen said.
"We started to realize all the logistical implications if we were to open a standard pantry, where people line up to get their food. Standing in line for half an hour not only exposes seniors to a greater risk of being infected, but also is physically and mentally exhausting," she added.
The Community First Food Pantry Program now delivers about 250 bags of groceries twice a week to the Chung Pak residents as well as others living in tenement buildings in Chinatown and the Lower East Side, where there are huge populations of seniors.
Referring to city councilwoman Margaret Chin, the daughter of Chinese immigrant parents, Chen said, "Donald Hong approached Margaret who, thanks to her constituent services, really knows where these hard-to-reach people are.
"Every building has its own rules, and you cannot just drop off fresh produce that could rot and attract rats. We often have to go a day in advance to make sure that the tenants will be at home when we deliver. One thing the seniors really miss is meat."
Every morning, a Trader Joe's truck carrying food arrived in Lower Manhattan, and the supplies were unloaded at 2 am.
Hong said: "Think about 50 crates of bananas and 340 crates of eggs. We seemed to be the only pantry in Lower Manhattan dealing with fresh, perishable food, as we wanted to give people a familiar taste."
All the food was sorted and stored at a 200-square-meter pantry owned by Chung Pak Local Development Corp, and previously occupied by a restaurant that closed due to the pandemic.