5G tech makes mining safer, more efficient
Share - WeChat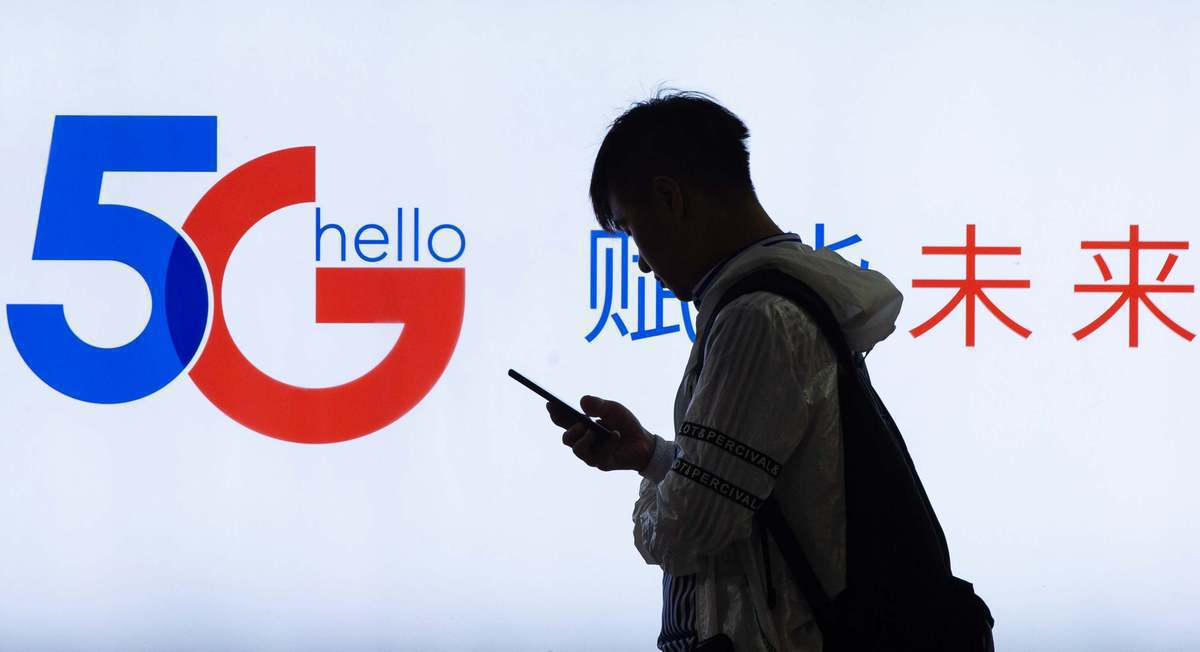 Superfast signal to enable faster data transmission and remote monitoring
Subterranean mines, which have traditionally struggled with internet connectivity issues, are becoming safer and more efficient, as Chinese tech firms are exploring how to use 5G technologies to rejuvenate the sector.
In a mine in Qingdao, Shandong province, an automatic electric locomotive loaded with gold ore runs smoothly as workers on the surface, about 500 meters above the vehicle, monitor operations via real-time video cameras.
This is the first such application of 5G wireless technology in underground mines in China. It is part of the nation's broader push to employ technologies to make the sprawling sector safer.
Liu Pengnan, a technician at Shandong Gold Mining (Laixi) Co, which runs the Qingdao mine, said: "Superfast 5G allows radio signals to pass through thick walls, ceilings and floors. We can access a peak download speed of 800 megabytes per second and an upload speed of 100 Mb/s, making it possible for us to remotely control underground equipment, a big improvement in safety for frontline workers such as me."
The mine was covered by the 5G network in late November thanks to the technological support of Huawei Technologies Co and China Mobile. It offers a glimpse into the willingness among traditional sectors to embrace new technologies and upgrade themselves.
Huawei and China Mobile have offered similar solutions to several mines across China, including coal mines in Shanxi province and molybdenum mines in Henan province. They are working together to enable faster data transmission, remote monitoring of underground equipment, high-definition video calls and other functions inside mines.
Yao Wujiang, a technician at Yangquan Coal Industry (Group) Co, said the company has deployed 5G networks inside a 534-meter-deep mine.
The superfast wireless technology can help convey real-time data from inside the mine, including gas density, temperature and humidity. With the help of the 5G network, video calls between workers on the surface and underground also become easier.
"But the application of 5G in mines is still in a nascent stage, with the technology chiefly used to monitor mining situations and the health of employees working underground," Yao said.
He said more efforts are needed to promote various types of "5G-plus mine" intelligent systems to improve the safety management and control of coal mines.
Yao suggested that relevant government departments can offer technical and financial support to mines that have deployed 5G networks, and there is a pressing need to draft industrywide standards on how to use 5G in mines, which can also avoid a waste of resources.
As China accelerates construction of stand-alone 5G networks this year, the use of 5G in mines will also increase, experts said.
Liu Duo, head of the China Academy of Information and Communications Technology, a government think tank, said:"5G networks include two parts, namely core networks and base stations. Chinese telecom carriers are aiming to upgrade their 5G core networks into stand-alone architecture by the end of this year."
By then, stand-alone 5G networks, which function better than non-stand-alone networks, will lay down a sound foundation for the wider application of 5G in a variety of industries including mining, Liu said. Non-stand-alone networks differ from stand-alone ones as the former ones still rely on existing 4G infrastructure to realize some functions.
Liu from the Qingdao gold mine said many people are visiting the mine to see how 5G is being used.
"I have taken many phone calls to answer questions from our peers. They are all eager to embrace the technology, because once properly used, 5G can save lives in an emergency," he said.