Skeptical scribe converts to e-healthcare
Share - WeChat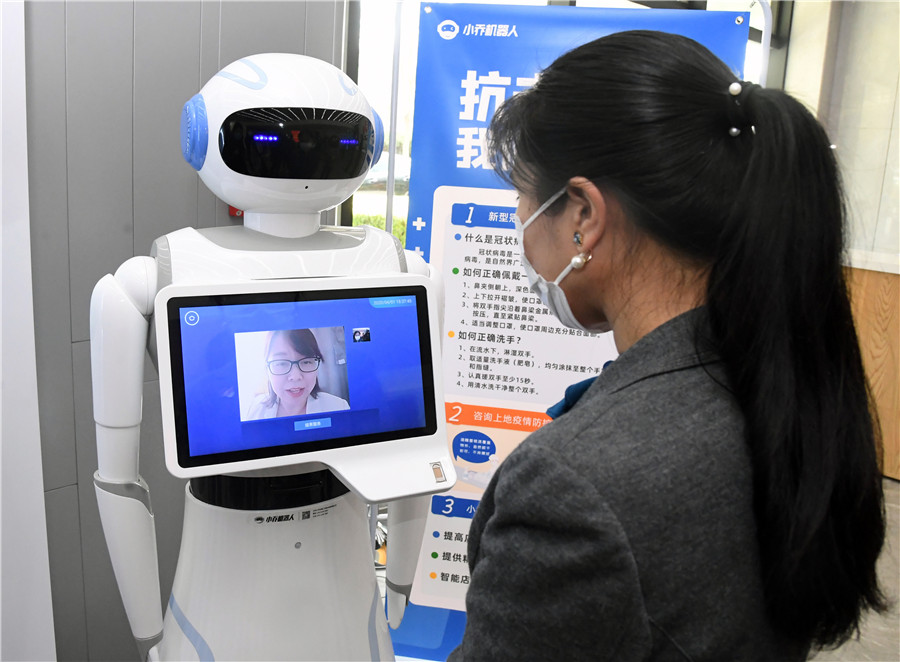 Healthcare has been my reporting beat for almost four years now. I've closely tracked and written about the latest trends in the industry. Somehow, e-healthcare, or internet-based healthcare, cut no ice with me, maybe because the idea of consulting with a doctor online didn't just seem right.
The COVID-19 epidemic in China has shown how wrong I was!
In the pre-epidemic era, I thought placing life-related issues in the hands of a practically "virtual" person wasn't a bright idea. Visiting a regular hospital, going through the registration procedures, seeing a doctor face-to-face, and receiving prescribed medicine seemed a natural drill.
But COVID-19 lockdowns have proved a game-changer. As hospitals coped with unprecedented inflows of COVID-19 cases, others were confined to their homes. Those who needed to see a doctor could do so only through online healthcare services, which were legalized during the epidemic period.
I was one of them. My personal experience has totally changed my mind on internet-based healthcare services.
On Feb 20, when the epidemic was at its peak in Wuhan in Hubei province, and in some other regions in China, I woke up with a sore throat. It was during that period when every day the number of confirmed cases was surging. My immediate reaction was to wonder if I was infected with the coronavirus.
I didn't dare go to a hospital. I reached out for my phone and dialed an internet-based healthcare platform. I had been writing about Chinese online medical firms offering free COVID-19-related consultation services. Now, suddenly, I found myself using their service.
The online registration was simple. I logged in. There was a prominent "COVID-19 free consultation zone". After filling out a form about current symptoms and my condition, I was connected with a doctor.
Dr Ye Li from a 3A-grade hospital in Chengdu, Sichuan province, 'materialized' online within 10 minutes. The good doctor first greeted me and queried about my movements, contacts, and safety drills like mask-wearing.
After a 10-minute conversation, he ruled out the possibility of a COVID-19 infection. He asked what kind of cold medicine I had at hand, and offered medication advice.
Having heard about some popular folk remedies for COVID-19 prevention, such as a hot soup with ginger, dates and brown sugar, I asked him whether I could give them a shot. Dr Ye denied such remedies have any scientific basis. He patiently explained what constitutes medicine, and kindly offered various COVID-19 prevention tips.
The 30-minute online session made a deep positive impression on my mind. I took the prescribed medicine for four days, and recovered from what turned out to be a bout of regular cold.
Chen Qiaoshan, a medical analyst at Beijing-based market consultancy Analysys, said: "During the fight against the epidemic, users willingly or half-willingly got to know about and began to try online healthcare services. In addition, many internet healthcare platforms had launched free COVID-19 consultation services. The user volume and penetration rate of the sector were greatly raised."
The online doctor-patient relationship based on trust is fundamental to the development of internet healthcare. With growing reliability and rising user volume, enterprises that are able to maintain the growth momentum and exploit opportunities will emerge winners when the epidemic is over, she said.
Currently, many internet-based healthcare firms are ramping up efforts to ride the opportunities. On May 18, Shanghai-based online medical firm Shangying Hospital Management Co Ltd and Shanghai Tongji Hospital jointly launched an independent and comprehensive internet hospital in Shanghai, aiming to adopt a combination of offline and online channels to enhance the effectiveness of modern healthcare.
"Online medical services will not confine only to medical consultation or big data support, but extend to collaborative medical decisions and even result in optimized medical resources. During the post-pandemic period, online healthcare platforms will effectively alleviate the difficulties faced in conventional medical treatment, and contribute to the integrated development of the Yangtze River Delta," said Zhao Liyu, executive dean of Shangying Hospital.