High-tech hospital safeguards patients, medics
Share - WeChat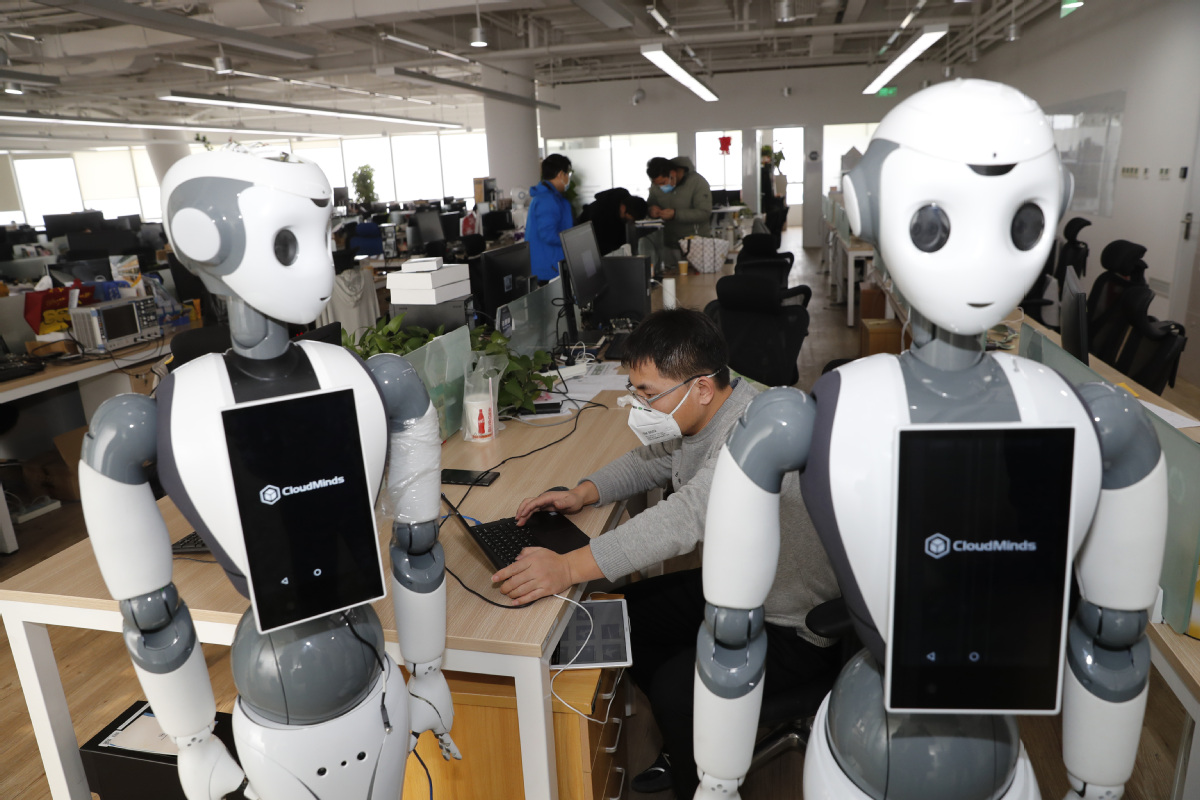 Smart science is playing a growing role at the epicenter of the epidemic in China. Wang Xiaodong reports from Wuhan.
Last month, Tang Zhouping, a professor of neurology at Tongji Hospital in Wuhan, Hubei province, was assigned to take charge of a temporary hospital built specifically to treat patients with the novel coronavirus.
When he started the job, Tang's thoughts revolved around ways to minimize the patients' mortality rate and reduce the likelihood of the doctors and nurses contracting the virus.
His solution was to transform Guanggu Fangcang Hospital, an exhibition space in Wuhan that was converted into a makeshift medical center in just seven days, into a "smart" facility by adopting technologies already being used at Tongji Hospital, a top facility in the city. The cloud technology-based smart system at Tongji Hospital was extended to the makeshift hospital in 10 hours.
"Using the system, experts from Tongji Hospital can share information related to patients in the temporary hospital and provide guidance for treatment," Tang said.
"With its database, the system can also help epidemiologists conduct research to constantly improve treatment methods for patients."
The use of the smart platform means patients do not have to undergo the usual lengthy registration procedures to enter the hospital. Moreover, they can immediately be transferred to designated brick-and-mortar facilities for treatment if their condition worsens, thus reducing the odds of medical staff members being infected, he said.
"Building the 'smart hospital' has greatly improved the patients' treatment," Tang said. "None of the 865 patients received by the hospital so far has died, and no doctor or nurse has been infected."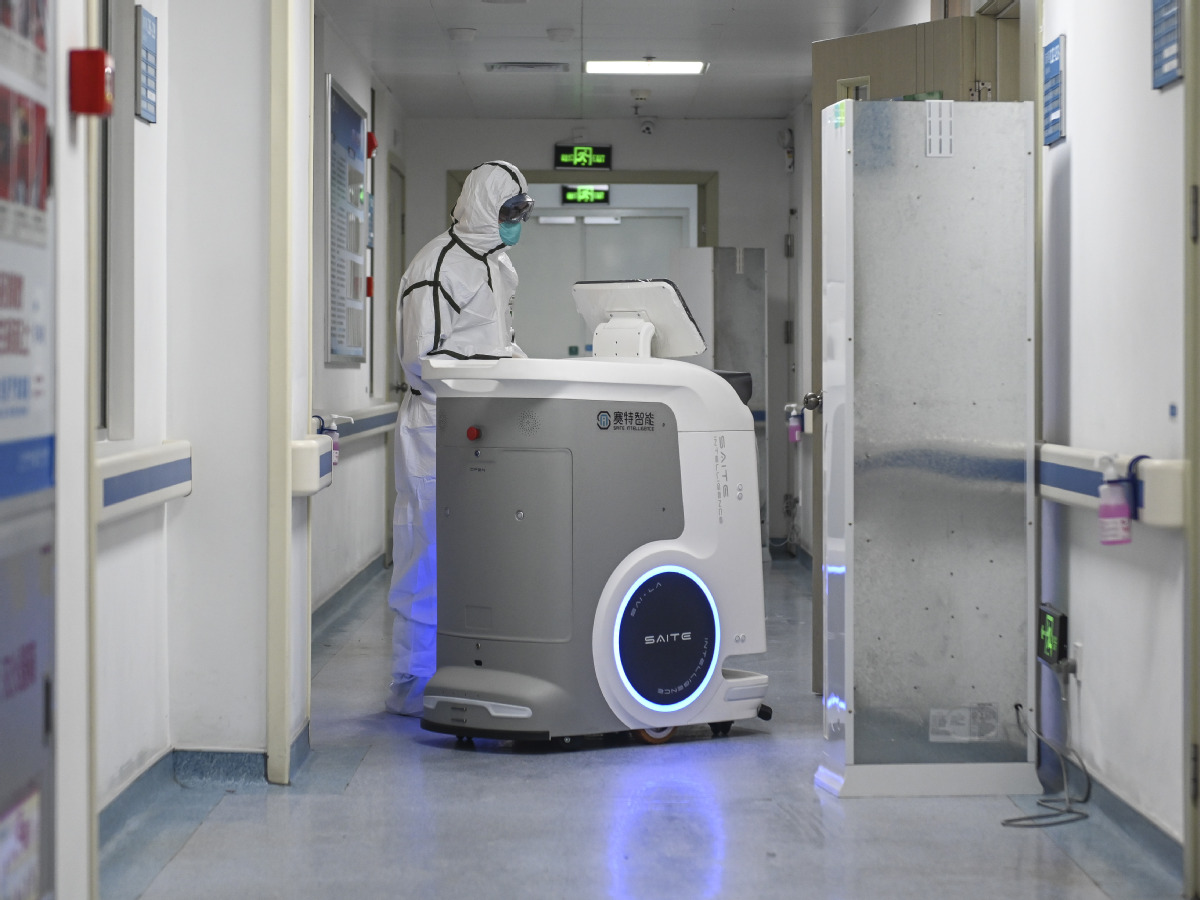 In Wuhan, the epicenter of the outbreak in the country that has caused China's biggest health crisis in seven decades, new technologies such as 5G and artificial intelligence have already been adopted in many temporary hospitals.
At Leishenshan Hospital, a 1,600-bed makeshift facility in Wuhan that was built in just 12 days, an online remote diagnosis center equipped with 5G technology came into operation on Feb 27.
The platform allows senior medical experts with different specialties who work at major hospitals in cities such as Beijing, Shanghai and Guangzhou, Guangdong province, to help treat dangerously ill coronavirus patients at Leishenshan Hospital.
Dong Jiahong, vice-president of the Chinese Medical Doctor Association, said the online platform will run 24 hours a day, so doctors at the hospital can seek help online whenever they have difficulties in diagnosis and treatment. With the help of 5G technology, images and other data can be transmitted between Wuhan and other major cities at high speed, which enables high-quality online discussions.
Yuan Yufeng, the hospital's vice-president, said, "The online platform is very helpful in ensuring treatment of difficult cases, and we may frequently use multidiscipline resources via the platform to diagnose and treat critically ill patients."
About 2,500 medical workers dispatched from 236 hospitals across China are working at the hospital, he said.
In Guanggu Hospital, which is affiliated to Tongji Hospital, robots are being used in wards instead of humans to help safeguard medical staff members from infection.
The robots are equipped with devices such as cameras, ultrared sensors and radar so they can move in isolation areas while controlled remotely by doctors via mobile phones, according to Ruijin Hospital in Shanghai, which has sent a medical team to Tongji Hospital to aid patients.
The devices also save resources, as unlike doctors and nurses, they do not need to wear protective clothing, which is in short supply in quarantine areas, the hospital said.
Driverless vehicles are being used at Guanggu Fangcang Hospital to transport medical materials, said Tang, who has been appointed president of the hospital.
"After loading materials from trucks, some volunteers are afraid to move the items to the hospital for fear of infection," he said. "The vehicles have solved the problem."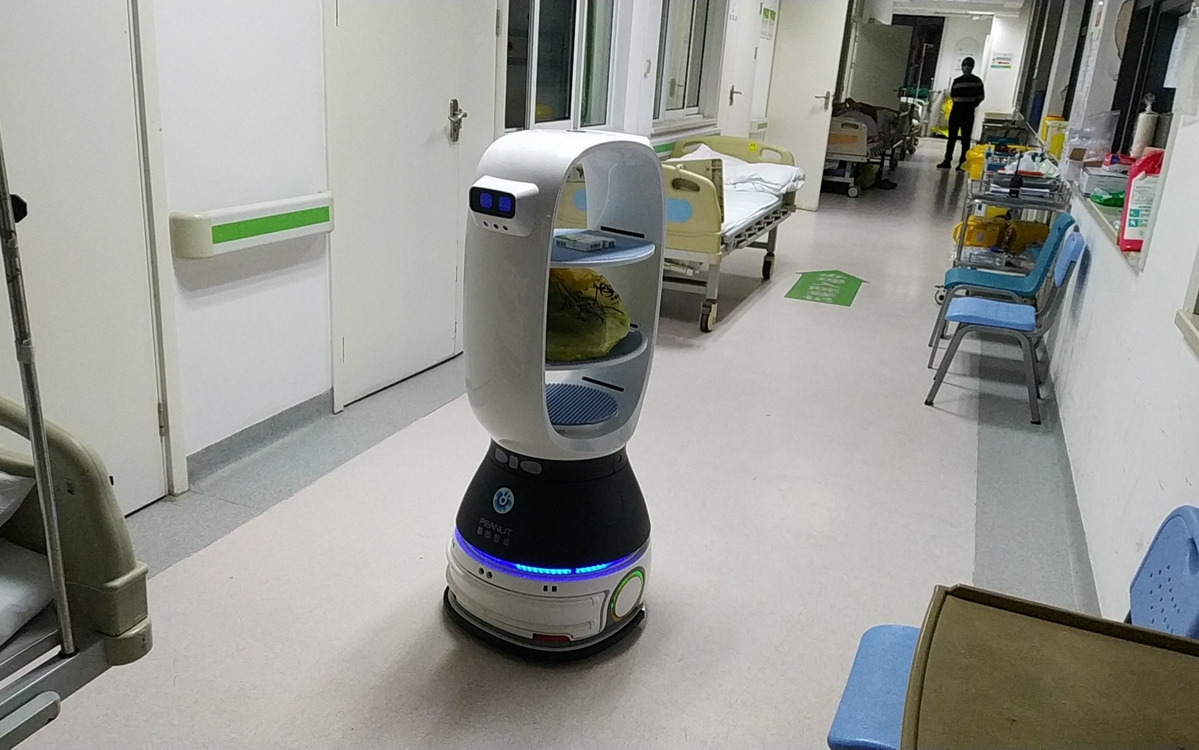 Huang Yang, a patient, said that although the hospital was built for temporary use and the facilities are simpler than those in regular brick-and-mortar facilities, internet technologies have been applied well.
"For example, my doctor told me the computed tomography images of my lungs have been seen by another doctor online in Tongji Hospital as a double check," she said. "I think this will be very reassuring for patients."
In other areas, scientists are developing new diagnosis and treatment methods for the coronavirus.
At Fudan University in Shanghai, researchers have developed an automatic system that reads images of patients' lungs to aid diagnosis of the virus.
The tool, which will enter clinical trials soon, uses artificial intelligence technology that can read a computed tomography image of the lungs in just a few seconds. The same procedure could take a human doctor at least five minutes, said Xue Xiangyang, a professor of computer science at the university.
However, despite the greatly improved efficiency of diagnosis, the doctors' skills and experience are still necessary when images are difficult to interpret and a final decision has to be made, he said.