Flexible work arrangements finding favor with employees as epidemic abates
Share - WeChat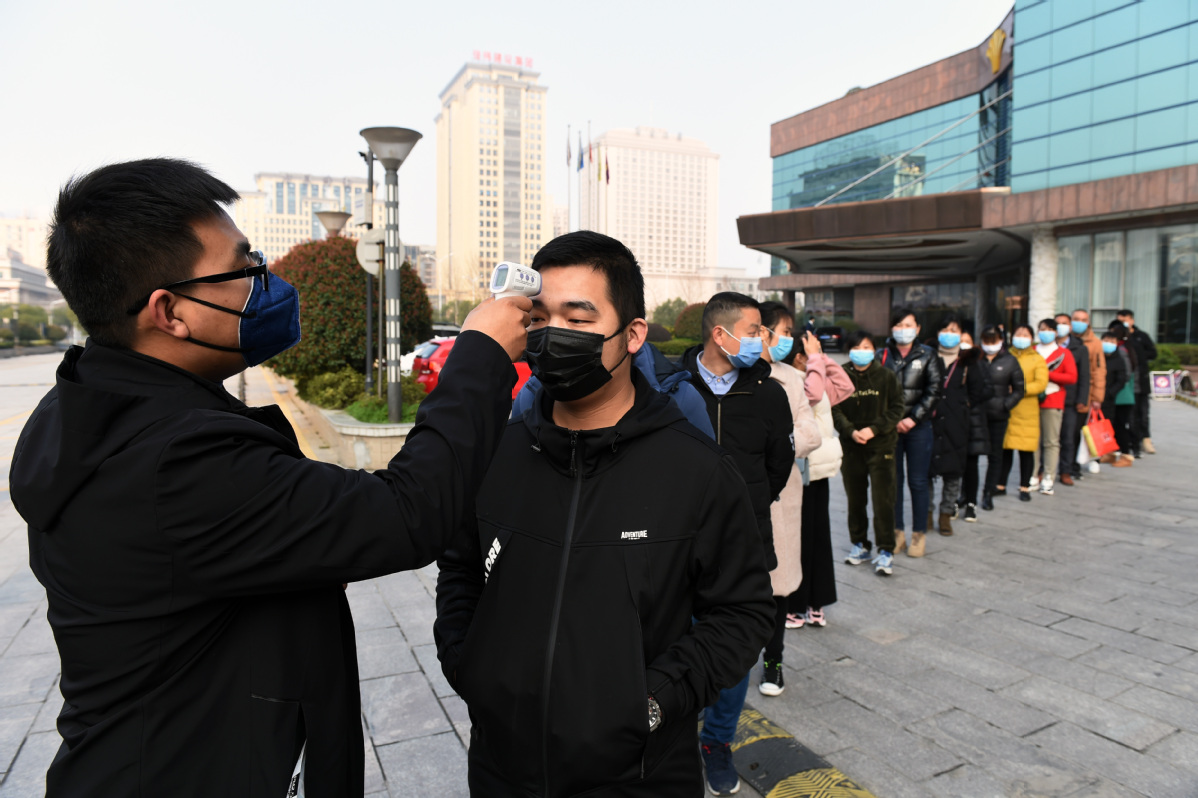 Shared personnel and flexible working hours have become the new normal nowadays.
Wang Ling, a 26-year-old restaurant manager, is among a growing number of people who work two or more jobs during this challenging time.
On Feb 10, Wang was advised by her employer, Wangshunge-an established restaurant chain in Beijing-that she and her nine colleagues were to be transferred to a nearby Wumart, a retailer in the capital.
Wumart at that time faced a severe labor shortage when some employees couldn't return from their hometowns in time after the Lunar New Year holiday. The COVID-19 outbreak has led to food stockpiling by consumers, resulting in online order backlogs and long lines at retailers.
At a Wumart store in the north of Beijing, Wang was assigned to work at the information center for eight-and-a-half hours per day.
"Both catering and retailing are service sector occupations requiring similar skills. Yet, I am still here to learn," said Wang.
She said the deal has allowed her to keep working with continuous income and benefits in which Wumart pays her monthly salary and Wangshunge covers her benefits.
Many of her peers at other catering chains were forced to start over as delivery personnel for takeout businesses, which have been booming since the novel coronavirus outbreak, Wang said.
Chai Jingnan, a branding manager at Wangshunge, said the worker-sharing collaboration with Wumart has helped liberate them from mounting costs since the Spring Festival.
"A few days after Spring Festival, we had tremendous pressure from rising costs including rent, payroll and festival-related food inventories," Chai said.
Of Wangshunge's 60 outlets in Beijing, only 23 restaurants were open for business on Jan 28. Visitor numbers sank 98.49 percent and revenue dropped by 93.7 percent compared with the level of the previous year.
When Wangshunge met with Wumart, a deal was quickly reached.
Within a week, the catering service provider had dispatched more than 300 employees to Wumart stores.
As of this month, more than 1,000 employees from over 100 catering service providers in Beijing have worked in Wumart stores, the supermarket chain said.
Nationwide, retailers and caterers have joined hands to share personnel in order to better cope with rising challenges brought by the novel coronavirus outbreak.
Hema Fresh, a food chain backed by Alibaba Group Holding Ltd, said they started to work with Yunhaiyao-a Yunnan province cuisine chain-in early February.
More than 400 employees from Yunhaiyao joined Hema Fresh stores in delivery services in cities including Beijing, Shanghai and Hangzhou, Zhejiang province.
Chai said the new model of shared employees has been inspirational to Wangshunge and they want to keep it running despite the resumption of their business since the beginning of April.
"There are still 100 employees of ours working at Wumart," said Chai. "The nature of our business has given us peak time at weekends and less crowds during weekdays. So this flexible work and shared personnel practice could be an effective method for us to maximize our human resources."
Wu Di, vice-president of workforce solutions provider Manpower-Group Greater China, said: "Both employers and employees are increasingly more acceptable of flexible work. This has been driven by the novel coronavirus outbreak and fueled by multiple factors including favorable policies and demand from both enterprises and individual employees."
Wu said the impact of the COVID-19 outbreak on flexible work is twofold. First is the prevalence of remote work boosted by technological advances. Second are rising requests for professional and one-stop solutions for shared employees, he added.