Yan'an Art Festival opening ceremony lifts the spirits up
Share - WeChat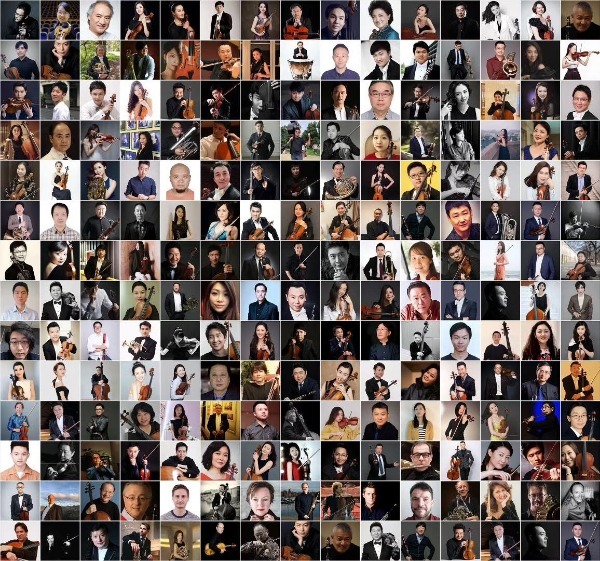 Central Conservatory of Music launched the second Yan'an Art Festival on March 23, with about 300 art schools and 10 Chinese symphony orchestras taking part in the event.
In the next six days, more than 40 online concerts will be staged via major online streaming platforms, such as iQiyi and Bilibili, with headliners including Chinese veteran singer Guo Lanying, conductor Zheng Xiaoying, violinist Ning Feng and cellist Qin Liwei.
The opening ceremony, which was held at Yan'an Lu Xun College of Art, in Yan'an, Shaanxi province, on March 23, attracted over 10 million viewers. An original anti-virus song, titled Us, written by composer Li Xiaobing, was performed during the ceremony by students of Chinese music conservatories and musicians, including pianist Lang Lang.
The Yellow River Cantata, written by composer Xian Xinghai (1905–1945) in Yan'an in early 1939, was also performed during the ceremony. It featured 91-year-old Zheng Xiaoying, conductor Yu Feng, who is also the president of Central Conservatory of Music, the chorus and symphony orchestra of Central Conservatory of Music and Yan'an Lu Xun College of Art.
The opening ceremony also presented scenes and stories of The White-Haired Girl, the classic Chinese opera which debuted in 1945 in Yan'an. Chinese soprano Lei Jia and 90-year-old soprano Guo Lanying, both played the leading role in the opera, sharing their stories with the role. Chinese composer Guan Xia, who was the music director of the 2015's version of the opera, and Chinese director Hou Keming, who adapted the opera into a 3D movie based on 2015's version of the opera, also joined in the discussion.
On March 25, Chinese symphony orchestras, including China National Symphony Orchestra, Hangzhou Philharmonic Orchestra and Shanghai Symphony Orchestra, performed in a marathon online concert, with repertories including Symphony No. 8 in E-Flat Major by Gustav Mahler and Gift, a commissioned piece written by composer Zhou Tian, for the opening of Shanghai Symphony Orchestra's 140th concert season in 2019.
Since this year's Yan'an Art Festival is held amid the coronavirus pandemic, Chinese composers have written music pieces marking the special year, including composers Ye Xiaogang, Zhang Zheng and Zhang Shuai. Their latest anti-virus pieces will be performed on March 28, which will close the event.
Most Popular