Chinese music concerts serve up sounds to soothe the soul
Share - WeChat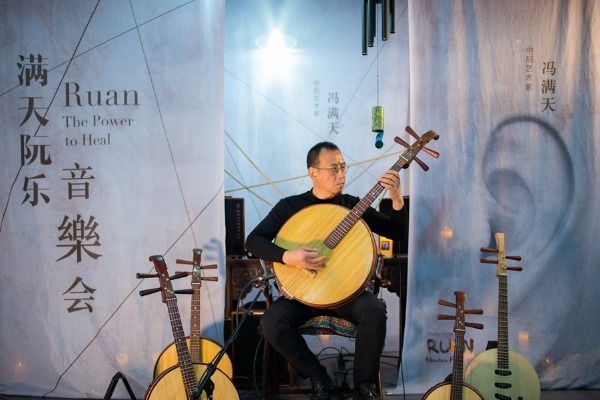 Candles are lit, incense sticks burn and percussion instruments of various sizes and shapes are lying on the table. Feng Mantian, player of the ruan, a traditional Chinese plucked, stringed instrument, sits in the center of the room, and performs along with his band members, percussionists Zhao Bing and Wu Bofu. The 30-minute-long impromptu performance at his studio in Beijing on May 13 is a preview of Feng's upcoming online concert series, titled Ruan: The Power to Heal.
The series, which will kick off on May 22, will comprise five shows over four weeks, in which Feng and his band will perform music pieces designed to comfort people through the "medicine of music".
"I experienced complicated emotions during the COVID-19 outbreak, such as fear, anger and anxiety," says Feng, 56, who is known for his fusion of the ruan with contemporary genres like rock and jazz, at his studio in Beijing.
"There was lots of news coverage of the pandemic and I tried to comfort myself by playing my musical instrument, which seemed to have worked well for me," he recalls.
"I believe music acts as a medicine for the soul. I hope that I can share that special 'medicine' with people who suffer from similar feelings as I did during the outbreak."
Feng points out that since ancient times, Chinese people turned to music for a kind of therapy. As shown in the traditional Chinese character, the word "medicine", or yao, is composed of two parts, with "music" as the core component coupled with an upper radical of "grass", implying herb used in traditional Chinese medicine.
The five music pieces Feng composed for the five concerts are named after TCM remedies, including Dingxin Wan (tranquil pellets), Anshen San (spirit-calming powder) and Zhumian Dan (sleeping pills).
Some of the audience may be disappointed because Feng doesn't seek to display any complex skills in the performances. "The shows are about creating a space for people to get comfortable and to be healed rather than showcasing myself," Feng says.
"While listening to music, you don't have to use your brain. You just listen with your ears and you are transported to a different zone, such as a forest or standing in front of a big ocean, which is like getting a good sleep.
"Music functions as a certain level of healing that's hard to achieve with any sort of pill or surgery or anything like that. Music is something that speaks to the spirit," Feng adds.
He admits to feeling reluctant about launching the online series of performances, because his music requires a level of audience participation, such as meditation. He is also very particular about the sound of his performances, and online shows can struggle to reach the level of quality he requires.
According to the sound engineer of Feng's upcoming online shows, Shen Tian, binaural recording-a method of capturing sound that uses more than one microphone-will be used during the performances, apparently a first for a traditional Chinese folk music performance.
"We will create a 3D sensation with sound because we want the listeners to feel like they are actually in the room, enjoying the show with the performers," Shen says, adding that this effect is often created using a technique known as "dummy head recording", which employs a mannequin head fitted on each side with sophisticated microphones that precisely replicate the shape and structure of the human ear.
The preparation for the series started a few months ago when the COVID-19 outbreak was in full swing and people's daily lives were severely affected, Shen says.
"I had no shows and stayed at home like many other people," he recalls, speaking about the birth of the idea. "I was very anxious and didn't know what to do with myself. One sleepless night, I called Feng and discussed the idea of staging online performances with him."
Feng, from Harbin, Northeast China's Heilongjiang province, started learning the yueqin, a traditional Chinese stringed instrument that belongs to the same family as the ruan, at 4 years old. He was tutored by his musician father, Feng Shaoxian, who was himself an accomplished yueqin player and also a major influence in Feng Mantian's life and career.
At age 15, Feng Mantian came to Beijing to join the China National Traditional Orchestra and started playing the ruan. He also plays other traditional instruments, such as the sanxian and huqin.
From April to December last year, Feng Mantian embarked on a nationwide tour, titled Up and Down the Mountain: Sacred and Secular. During his tour, he also launched a charity project that made his performances available for people with visual impairment.
On May 9, he provided the musical backdrop for a livestreamed program made by China Central Television, which broadcast the remeasuring of Qomolangma-known as Mount Everest in the West-by a group of surveyors from the mountain's base camp in Dingri county of the Tibet autonomous region. The music that Feng performed from his Beijing studio touched many viewers who watched the event, featuring the imposing mountain in the starry night.
Most Popular