Making masks way out of poverty
Share - WeChat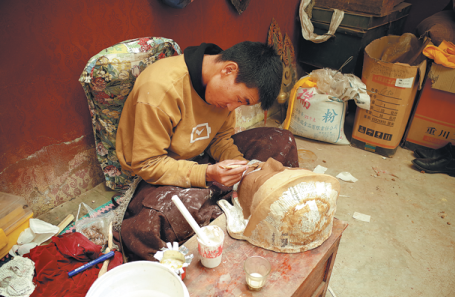 LHASA-Every day, a sense of tranquility pervades Tibetan artisan Shilok's yard, as his apprentices are busy crafting opera masks while other workers sew costumes and clothes.
Stepping into his workshop, you can see a variety of masks carved to portray the faces of people, animals and deities, hanging on the walls or scattered on the ground.
Shilok, 46, was born in a poor family in Tashigang village, Dagze district in suburban Lhasa. When he was a teenage boy, Shilok was sent to the city center of Lhasa to study traditional Tibetan opera mask-making to improve the family's livelihood.
Tibetan opera combines talking, singing, acting, dancing and literature, and has a history of over 600 years. It is regarded as a "living fossil" of Tibetan culture.
The performing art, featuring vivid face masks, earthy dancing, unvarnished singing and colorful costumes is staged for religious festivals and family celebrations.
"Some apprentices quit, you know, to drive a taxi or open a shop, but I carried on out of pure love for the art. That's what brought me here," says Shilok.
In 2012, Shilok set up his small cooperative for Tibetan opera masks in Dagze, which had only three workers and high startup costs.
"The local government and the banks helped us out with some financial support. We managed to raise the money needed and get the cooperative started," he says.
Crafting a traditional mask is a time-consuming work that involves several procedures, including sculpting, layering, air-drying and painting, and usually takes more than 10 days to finish, Shilok says.
With his passion and hard work, the cooperative has gradually turned a profit and has received orders worth around 2 million yuan ($257,200) this year.
"Most of our orders are from Tibetan opera troupes, including some big names in Lhasa," Shilok says. "Meanwhile, there are also many customers collecting them for decoration."
In recent years, the cooperative has expanded its business into more fields, such as sewing and making tents, Tibetan boots and performance costumes.
Now with two workshops and an exhibition hall, the cooperative provides a workplace for over 30 people, some of whom are from impoverished families.
Jamyang Tenzin, a 19-year-old worker, is from a low-income family in a nearby village. Now the skilled youngster is mainly in charge of operating an embroidery machine in the clothing workshop.
"This is a very nice job for me. Now I get a stable income of 3,000 yuan per month and valuable training opportunities to learn new skills," he says.
Shilok never forgets where he started. Since 2014, he has donated every year 150,000 yuan to impoverished families in his home village.
"The cooperative is making profit now, but I never consider myself a businessman or a boss. I'm an artisan forever and I will pass down the skill to more people until I'm too old to make masks," says Shilok.