Cutting-edge TVs way forward amid more fierce competition
Share - WeChat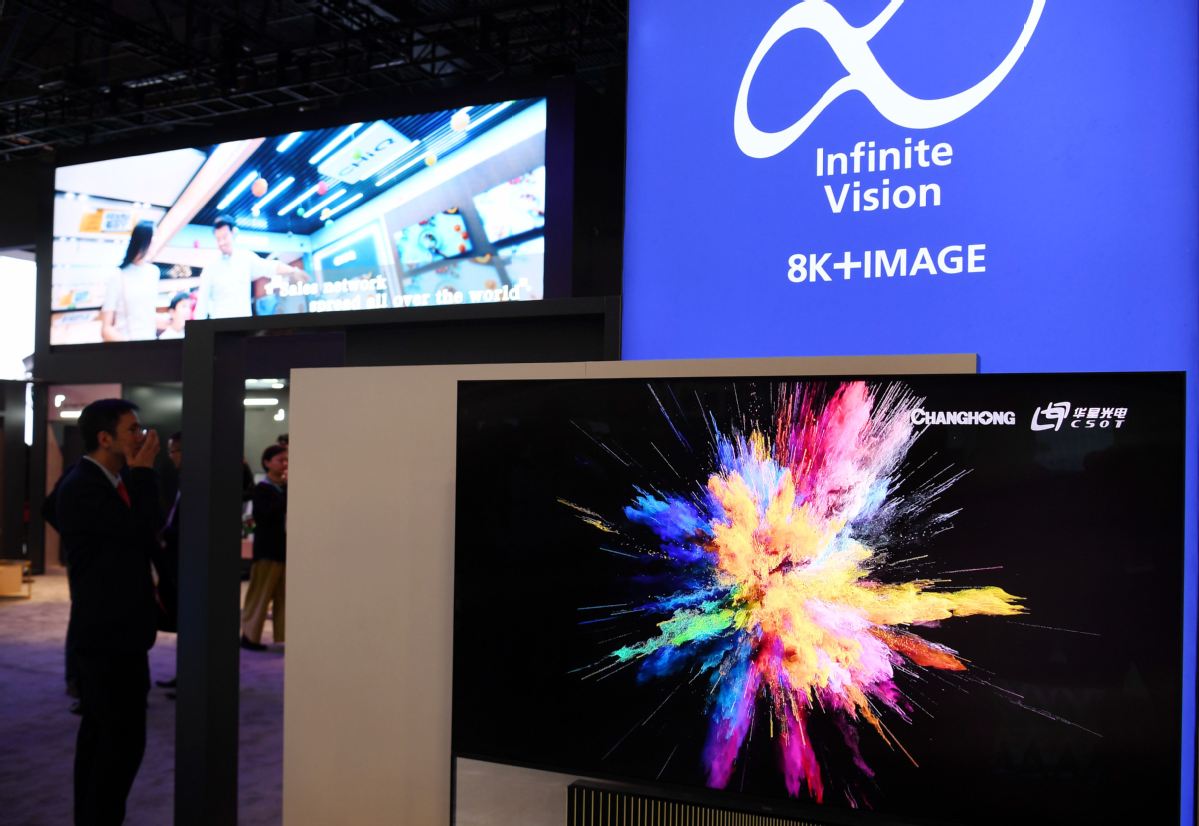 Domestic brands ramping up efforts to tap into 5G/8K ultra-high definition sector
Chinese home appliance makers have ramped up efforts to tap into the 5G-powered 8K ultra-high definition television sector, which is seen as the development direction of display technology and a must for enterprises seeking new business growth, said industry insiders.
The nation has vigorously boosted the commercialization of superfast 5G mobile communications technology, creating favorable conditions for the transmission of 8K ultra-high definition, they said.
In late April, Sichuan Changhong Electric Holding Group released its new 5G-8K TV products, which are the culmination of 5G networks combined with ultra-high definition TV technology, with the advantages of high speed, large capacity and low latency.
They are equipped with the world's first 5G-powered video modules developed by Changhong, using HiSilicon (Shanghai) Technology Co Ltd's 8K chips, which allows video acquisition, encoding, transmission, decoding, display and other "end-to-end" 8K chip solutions.
Using 5G networks, the TVs are capable of playing ultra-high definition 3D videos, transmitting 8K video streaming and realizing real-time transmission in live broadcasting events. At the same time, they can connect with home-based internet of things intelligent devices.
Xiong Wei, president of HiSilicon (Shanghai), said the company inked a comprehensive strategic partnership with Changhong this year, and the new TV products are the result of joint development in the field of 5G, 8K and artificial intelligence.
As a global semiconductor and integrated circuit design company, HiSilicon, the semiconductor arm of Huawei Technologies Co, has taken the lead in launching 8K products and solutions to effectively improve the audio and video performance of TVs, commercial displays and other 8K products, integrating 8K with 5G and AI to expand the application in smart homes and commercial scenarios.
Moreover, the two companies have carried out cooperation on a 5G-enabled smart TV production line in an attempt to accelerate large-scale commercial use of 5G technology and promote the digital transformation of traditional manufacturing.
"The deployment of 5G technology will make the transmission of 8K content possible and boost the development of the IoT industry," said Peng Jianfeng, deputy secretary-general of the China Video Industry Association.
The total scale of China's ultrahigh definition video industry is expected to exceed 4 trillion yuan ($563 billion) by 2022, according to an action plan issued by the Ministry of Industry and Information Technology, the National Radio and Television Administration and China Media Group.
The plan said a sound industrial system for 4K video will be established and breakthroughs will be made in the R&D of products and the industrialization of 8K technology by 2022, with a cluster of internationally competitive companies in the field to be fostered.
Some Chinese TV makers have independently engaged in the R&D of 8K image quality processing chips. As 8K decoding chips should be combined with AI technology, Chinese tech giant TCL Technology Group Corp has strategically invested in Chinese AI chip enterprises such as AI unicorn SenseTime and AI chip pioneer Cambricon Technology, experts said.
Wang Wei, vice-president of home appliance maker Hisense Visual Technology Co Ltd, said it will launch six AI-powered chips over the next two years, and the usage rate of its self-developed image chips will exceed 90 percent.
It plans to roll out an image processing chip that supports 8K TVs in November. In 2021, it will also mass produce 8K 120Hz picture processing chips, AI vision system-on-chip chips and intelligent voice chips, Wang added.
The flagship APHAEA A5 smart TV released by Chinese television manufacturer Konka Group Co Ltd has adopted HiSilicon Kirin top-tier chips. Li Hongdao, vice-president of Konka, said the proportion of domestically made TV chips is rising year-by-year and the company's TVs have begun to use their own memory products.
Apart from chips, the domestic memory industry is also on the rise. At present, Samsung, Toshiba, SK Hynix and SanDisk hold a combined 85 percent share in the global flash memory market, and domestic brands only account for 8 percent. However, 70 percent of global demand for flash memory chips comes from domestic companies, so there is huge growth space for domestic chip makers.
Hefei Konsemi Storage Technology Co Ltd, a subsidiary of Konka, said in February that it aimed to sell 100 million storage chips this year. China Business Network said Konka also plans to invest about 1 billion yuan in a chip packaging and testing plant by the end of 2020, with 200 million chips set to be manufactured each year.
It will also build an industrial chain covering design, packaging, testing and a sales channel for memory chips, and set up an investment platform for the semiconductor industry.
Konka emphasized it has concentrated innovation efforts on cutting-edge technologies such as 8K, AIoT (artificial intelligence of things) and 5G, and will continue to make forays into emerging industries, new materials and semiconductors to achieve innovation in core technologies and drive the company's growth.
AIoT is the combination of AI technologies with the internet of things infrastructure that aims to improve human-machine interactions and enhance data management and analytics.
According to market consultancy All View Cloud, TV sales reached 47.72 million units nationwide last year, down 2 percent compared with the previous year, and related sales revenue totaled 134 billion yuan, a fall of 11.2 percent year-on-year.
It also said in the first quarter of 2020, the average price in China's TV market was 2,400 yuan per unit, down 17.2 percent on a yearly basis.
"The competition in China's TV industry is very intense. The production capacity of panels and TV products is continually increasing, but demand from consumers who aspire to switch to new TV sets is declining, which has led to price wars in the TV market," said Ai Weiqi, research manager of consumer electronics at AVC.
"Superfast 5G technology can solve content transmission, compression and decoding problems of 8K display and provide solutions for various fields covering entertainment, medical imaging, broadcasting, security monitoring and remote education," Ai added.
TV maker Skyworth Group is beefing up R&D of cutting-edge technologies to gain more market share, despite the slowdown in the domestic TV sector.
It will improve the whole industrial chain in the 5G and 8K ultrahigh definition TV industry, and focus on the R&D of AI-powered 8K chips that improve image quality.
Li Jian, executive vice-president of Shenzhen Skyworth-RGB Electronic and general manager of the company's R&D department, said it will invest 1.5 billion yuan in its Swaiot AIoT ecosystem that enables users to view, control and manage smart home devices from their TVs along with partners and developers.
"Under pressure from operations and profits, TV makers should urgently look for new profit growth. Chips, 5G and 8K are among the important innovation directions," Ai of AVC said.
Ai said TV enterprises have accelerated their layouts that use 5G, 8K and self-developed chips, which will help brands cultivate core technical strengths and expand market competitiveness. Moreover, they could make full use of the new technology to relieve operational pressure, Ai added.
With breakthroughs in 8K technology and the maturity of the whole industrial chain, the cost of 8K panels will drop accordingly, driving the enhancement of shipment scale and penetration rate.
Statistics from Sigmaintell Consulting Co Ltd, a panel industry consultancy, show global 8K liquid crystal display panel shipments are expected to reach 1.6 million units in 2021. In 2022, the global market scale of 8K is expected to exceed 7 million units, with a penetration rate reaching 2.7 percent.
Li Yaqin, general manager of Sigmaintell, estimated that the penetration rate of the 75-inch 8K TV market will begin to increase sharply in 2022 and 8K will gradually become the mainstream resolution by then.