Tourism seeking paths out of virus doldrums
Share - WeChat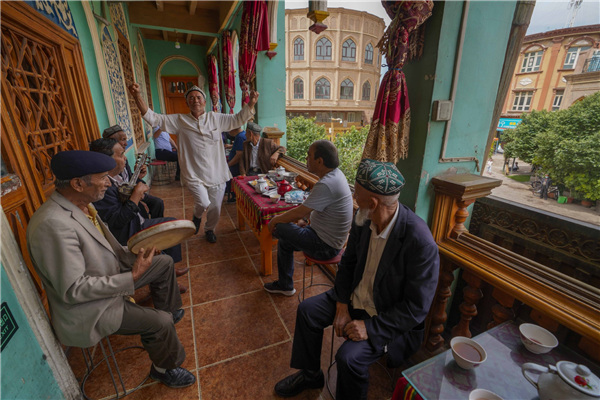 Despite getting a little tanned, Li Jiaoyang, a 42-year-old arts professional from Beijing, still relishes the leisurely strolls and taste of ripe mulberries amid the tangle of alleys in the ancient city of Kashgar in Northwest China's Xinjiang Uygur autonomous region.
That was her first long-distance travel outside Beijing after the novel coronavirus disease (COVID-19) epidemic broke out. She has been traveling in Xinjiang for about two weeks and plans to stay longer.
The epidemic control measures are still in place, Li said. "But they are reasonable and necessary. Most importantly, you can enjoy some good hotel discounts."
As one of the sectors hit hardest by the epidemic, tourism is making a gradual comeback in China with more and more visitors like Li venturing outdoors. The country is embracing the 10th China Tourism Day, which falls on May 19 each year, with smart efforts to deal with the fallout from the virus.
WARMING UP
As epidemic risks are subdued in China, most of the tourism destinations including museums and parks across the country have reopened. The pent-up demands of millions of tourists and supportive government policies are rebooting the country's tourism market.
The Shanghai Disneyland theme park reopened to visitors with reduced capacity on May 11, the first Disneyland theme park in the world that has resumed operations since the outbreak of COVID-19.
Regular epidemic control measures are taken. Many scenic spots across the country control the number of visitors, while launching an online reservation system to receive visitors at staggered time periods and timely dispersing crowds at key areas. At the Nalati grassland in Xinjiang, a giant head sculpture wears a tailor-made mask to remind people of necessary virus prevention steps.
Global hospitality giant Hilton has reopened all of its hotels with strict anti-epidemic measures on the Chinese mainland. A marked accommodation recovery is seen in short-distance tours of cities' nearby tourism spots during weekends and holidays, according to Qian Jin, area president of Hilton Greater China and Mongolia.
Official data showed that during the May Day holiday, the tourism market basically recovered to 50 percent of the level from the same period last year, with a total of 115 million domestic tourists and revenue of 47.56 billion yuan (about $6.69 billion).