Rerouting the travel industry
Share - WeChat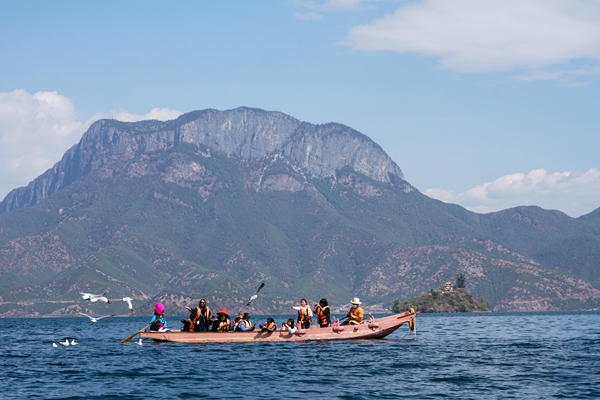 China's tourism businesses are assuming new strategies to deal with the pandemic, Yang Feiyue reports.
Chinese travel agencies are adjusting their approaches to seize opportunities after the COVID-19 pandemic's impact.
Short-distance travel across the country made a conspicuous rebound during the Qingming, or Tomb-Sweeping Day, holiday from April 4 to 6. The country recorded about 43 million traveler visits then, the China Tourism Academy reports.
Although travel across provincial borders remains on hold according to central government requirements, major tourism players are laying the groundwork to seize greater market shares after the pandemic blows over.
Tourism income during the holiday stood at 8.26 billion yuan ($1.16 billion).
Beijing-based travel operator Utour Group has recently shifted its focus from outbound tourism to domestic short-distance tourism.
Utour official Zhang Lei says that small group and tailored tours, and package deals for individual travelers will grab a bigger market share after the COVID-19 situation.
The travel agency is working on themed tourism products featuring leisure, health, ecology and history in places surrounding downtown areas.
"Utour will take the opportunities brought by the pandemic to restructure the industry, scale up development on the retail end and take more shares in the wholesale market," Zhang says.
More focus will be given to lower-tier cities, he adds.
Utour will also introduce outside funds and resources to its retail operations across the country, Zhang says.
Hong Kong-based China Tourism Group is accelerating tourism-product research and development, and domestic-market resource procurement, executive assistant Wu Mingyuan says.
The company has followed local government guidance and developed short-distance tours within places like Jiangsu province and Shanghai.
Similar products in Hainan and Yunnan provinces; Beijing and Chongqing municipalities; and the Xinjiang Uygur and Tibet autonomous regions will be created, Wu says.
China Tourism Group has also devised a partnership program with brick-and-mortar tourism shops and hopes to double the number of its stores and of its sales by 2022.
Beijing-based Caissa Tosun Development is working with culture and tourism authorities at various levels to develop short-distance travel products and expand its tailored tourism in the domestic market.
The agency has developed tours in Xinjiang's capital, Urumqi, and Shaanxi's capital, Xi'an.
"The domestic tourism market will become more vigorous after the pandemic," Caissa's executive chairman Liu Jiangtao tells China Tourism News.
"We need to develop new business-growth engines to develop above the industry average."
Caissa has actively publicized culture and tourism online during the pandemic.
It hosted a livestream about tea-making traditions from the Tang Dynasty (618-907) and qipao "frog buttons".
The goal is to offer travelers cultural experiences at home, Liu says.
Caissa has also developed a domestic-tourism-product matrix based on distinctive elements of natural scenery and folk customs across the country to enable tourists to better choose according to their preferences.
The company is also planning to improve its customer service to better cater to market needs after the pandemic, Liu says.
It has continued to work to engage in the catering, shopping, finance and culture sectors to compensate for the losses in its main businesses in recent months.
Tour operators are particularly focusing on Hainan.
Caissa has invested 200 million yuan ($28.3 million) in operations in the southern island.
The company is eyeing Hainan's potential for inbound tourism and duty-free policy, Liu says.
The province's four duty-free shops in Sanya, Haikou and Qionghai brought in nearly 13 billion yuan in sales from Dec 1, 2018, to Nov 30,2019, up more than 34 percent year-on-year, Haikou Customs reports.
Tourists paid over 3.2 million visits to these shops during the same period, a more than 20 percent increase.
China Tourism Group has teamed up with Hainan Airlines Group since early April to work on aviation and duty-free businesses to boost development and consumption upgrades in the Hainan pilot free-trade zone port.
They'll offer mass promotions of air tickets and tourism products to help restore the market after the pandemic and will expand existing local duty-free shops.
Utour has also signed a strategic cooperation agreement with Hainan's tourism, culture, radio, TV and sports department and the China Duty Free Group. It plans to invest in local tourism-retail businesses.
The current setback doesn't dampen tourism players' confidence in the future.
Zhang from Utour believes the public will increasingly seek brands with better service and companies will be prompted to offer high-value-added products.
Liu from Caissa says he expects his company will still fare well if the pandemic ends before June thanks to policies from governments at all levels supporting the industry.