BRICS meeting to enhance ties, say analysts
Share - WeChat The BRICS Foreign Ministers' Extraordinary Conference on COVID-19 is important for BRICS members to enhance cooperation and trust to fight the pandemic, and the organization should take effective measures to improve public health cooperation, analysts said.
In his address to the virtual conference, which was convened on Tuesday, State Councilor and Foreign Minister Wang Yi called for the members to uphold multilateralism and promote global collaboration to tackle the virus.
The countries should stand firm by the UN-centered international system and safeguard the legitimate interests and space for development for all developing countries, Wang said, according to a Foreign Ministry statement.
They should also support UN bodies, including the World Health Organization, in playing their roles in fighting COVID-19, he said.
Ren Yuanzhe, an associate professor of diplomacy at China Foreign Affairs University, said the conference was held "at a crucial stage", where global cooperation is required to overcome the pandemic.
Although China has achieved positive results in controlling the outbreak, other BRICS countries are facing serious challenges or risks posed by the virus, Ren said, adding that "a few politicians in Western countries are politicizing the pandemic to serve their own political agenda".
"The unilateral behavior by some Western countries has caused great concerns in the international community. As a result, BRICS members need to further emphasize their support for multilateralism and opposition to buck-passing," he said.
Zhu Jiejin, an associate professor of global governance at the School of International Relations and Public Affairs of Fudan University, said the conference was valuable in terms of building a consensus among BRICS members on disease control cooperation.
BRICS is an association of the five emerging economies of Brazil, Russia, India, China and South Africa.
Speaking of how the world will develop after the pandemic, Wang said the contagion will not reverse the process of globalization.
"China's strategic assessment is that COVID-19 will not change the theme of the times, which remains peace and development; it will not cut short the historical trend toward multipolarity and globalization," Wang said.
Chen Fengying, a researcher of world economy at China Institutes of Contemporary International Relations, said China's position over globalization "offers hope in chaos".
Echoing Wang, Chen said science and technology has become a more prominent feature of today's globalization, and industries such as e-commerce have enabled flow of goods while reducing people's need to travel.
The conference came after two other similar meetings Wang had participated in with his counterparts from other countries.
Wang attended the Special ASEAN-China Foreign Ministers' Meeting on Coronavirus Disease (COVID-19) in Vientiane, Laos, in February. A month later, he joined foreign ministers of Japan and the Republic of Korea in a videoconference on the virus.
China has been actively engaged in regional and international collaboration to battle the novel coronavirus, in ways including providing medical supplies and dispatching teams of medical experts to other countries.
It has sent such teams to countries in Africa, the Middle East, Southeast Asia, Central Asia, Europe and South America.
The nation has donated $50 million to the World Health Organization to support it in fighting the pandemic.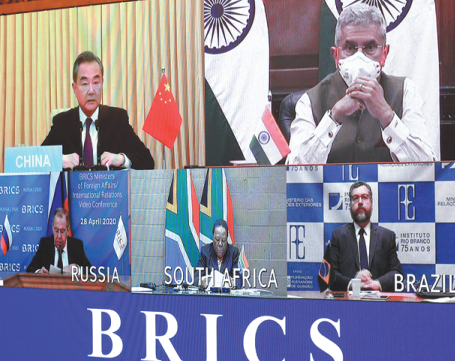 Today's Top News
Editor's picks
Most Viewed