Wang's skating reign comes to skidding halt
Share - WeChat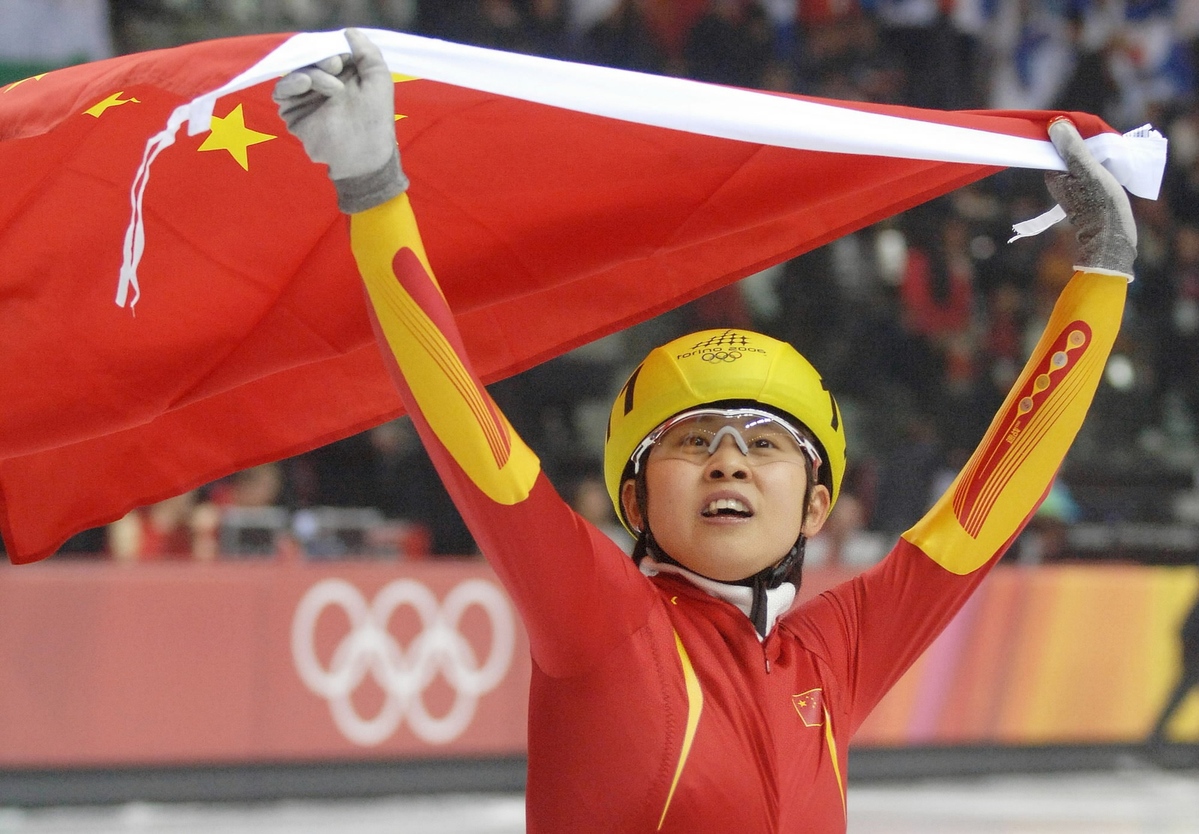 Head coach's sudden exit casts shadow over Beijing 2022 preparations
Wang Meng has stepped down as head coach of China's national speed skating team after serving only 11 months in the high-profile post, casting a shadow over the squad's preparation for the home Winter Olympics.
Less than two years out from the 2022 Beijing Games, a recent management reshuffle of the team, which consists of both the short-and long-track squads, has raised eyebrows, with Wang allegedly removed due to the winter sports national governing body's dissatisfaction with results during her tenure.
The team on Wednesday began a fitness training camp in Chengde, Hebei province, where Wang's absence and the introduction of new team manager Zhang Bei generated intense media interest.
Multiple outlets, including Beijing News and The Paper, have reported Wang's exit from the national post, yet the National Winter Sports Administrative Center had still not confirmed the personnel change by Wednesday afternoon.
One of the most decorated short-track speed skaters of all time, Wang won four gold medals in women's 500m, 1,000m and 3,000m relay at two Olympic Games (2006 and 2010).
Despite a lack of compelling coaching experience on her resume, Wang's appointment last May, as part of a merger of the short-and long-track squads, was initially hailed as a boost for the host's medal hopes at the 2022 Beijing Games.
Her arrival ended the 13-year tenure of her former coach Li Yan at the helm of the short-track squad after the team finished the 2018-19 season without a single gold at the world championships.
Overseeing management of both squads, the 35-year-old Wang was specifically in charge of the short-track unit's training with help from South Korea's former national team coach Kim Sun-tae and ex-Canadian men's team coach Derrick Campbell.
According to reports, the short-track team's inability to keep pace with the world's elite prompted the governing body to wield the axe.
Under Wang's guidance, the short-track team finished the past 2019-20 International Skating Union World Cup season with 10 gold medals-far behind arch-rival South Korea's 24-gold haul. China also finished the season with no skaters atop the overall standings in any of the sport's nine disciplines, across both the men's and women's categories.
The virus-enforced cancellation of the short-track world championships, which were due to take place in Seoul last month, denied Wang a chance to prove the doubters wrong.
In defense of Wang, some observers highlighted that China produced its best World Cup season in five years under her leadership.
The last time China's short-track team bettered this season's World Cup medal haul was in the 2014-15 campaign, when it finished with 14 golds.
"To turn the team's management system around twice over past the two years won't do any good for its long-term improvement," read a Beijing News article on Wednesday.
"It takes time for a new coach's philosophy to trickle through before it starts to work and for the athletes to adjust to the new coach's style. It's a waste of time to make radical changes repeatedly with the Olympics approaching."
Commenting on her first season as head coach, Wang told media last month: "This season was far from perfect for me as a coach.
"I've had a lot of distractions from the management role, so I wasn't able to invest enough time and energy in the athletic coaching area. It's a lesson that I have to learn for myself.
"I love this job though. I enjoy working with athletes together on the rink toward something great."
China's short-track skaters have contributed 10 out of a total 13 gold medals the country has won since its Winter Olympics debut at the 1980 Games in Lake Placid, New York.
Wang's Korean assistant Kim is expected to take over the short-track team after leading the host's squad to three golds, one silver and two bronze medals at the 2018 Pyeongchang Winter Olympics in South Korea.
According to new team manger Zhang, who is in charge of the fitness camp, about 100 athletes will take part in the two-month program in Chengde, including elite performers such as reigning Olympic men's 500m champion Wu Dajing, women's world champion Han Yutong, and long-track veteran Ning Zhongyan.
The training camp also serves as a selection process for the new short-and long-track speed skating national teams, which will be formed before the new season as usual.