Flowers and music make Pearl River island leisure spot for locals, tourists
Share - WeChat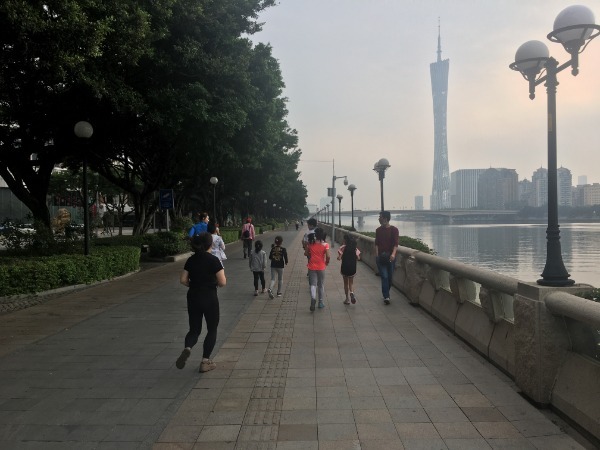 Ersha island in Guangzhou, Guangdong province, is a spot for tourists to enjoy the beautiful scenery and landscape work n along the Pearl River after years of environmental improvement and renovation.
The island, located in the the city's Yuexiu district, has also become a good destination for recreation and leisure among the provincial capital's local residents.
Covering an area of 1.26 million square meters, Ersha island is home to Guangdong Museum of Art, Guangdong Overseas Chinese Museum, Xinghai Concert Hall, Guangdong Gymnasium and a number of parks, football fields, basket and tennis courts.
In addition to visiting the museums, enjoying musics and exercising, tourists and locals can walk on hte banks of the Pearl River to enjoy modern customs and the natural scenery, said Huang Fengchan, a local resident, who lives in Zhujiang (Pearl River) New Town near Ersha island.
"My husband and I frequently visit Ersha for leisure and have dinners at weekends, as the island has both Western- and Chinese-style restaurants, tea houses and coffee shops," she added.
Ersha island is to the southwest of Zhujiang New Town, a financial center in Guangzhou, and the Canton Tower stands on the south bank of the Pearl River, on the opposite site of island.
With its many skyscrapers, Zhujiang New Town is a new urban center city center in Guangzhou while the Canton Tower is an iconic architecture in the southern metropolis.
The 604-meter-high Canton Tower is commonly known as Xiaomanyao, or "slim waist", among local residents, as the tower resembles the figure of a young female.
A bridge that was built above Ersha to cross the Pearl River links the island to both banks. Ersha island, where flowers bloom all year round, also has a rich cultural atmosphere.
Many music shows are held in Xinghai Concert Hall, with one ticket particularly hard to get - for the annual New Year's Eve concert.
A "cultural square" in front of the concert Hall, however, has become an ideal venue for locals and tourists to enjoy pop music, as many street singers arrive there to perform at night.
Ersha is linked to Haixinsha to its east. Haixinsha, another island on the Pearl River, was once the venue for the opening ceremony of the 2010 Asian Games. Haixinsha now called the Asian Games Park.
In addition to different kinds of floral exhibitions, many pop stars annually organize their concerts and shows in Haixinsha.