European Union sets out roadmap for lifting restrictions, urges coordination
Share - WeChat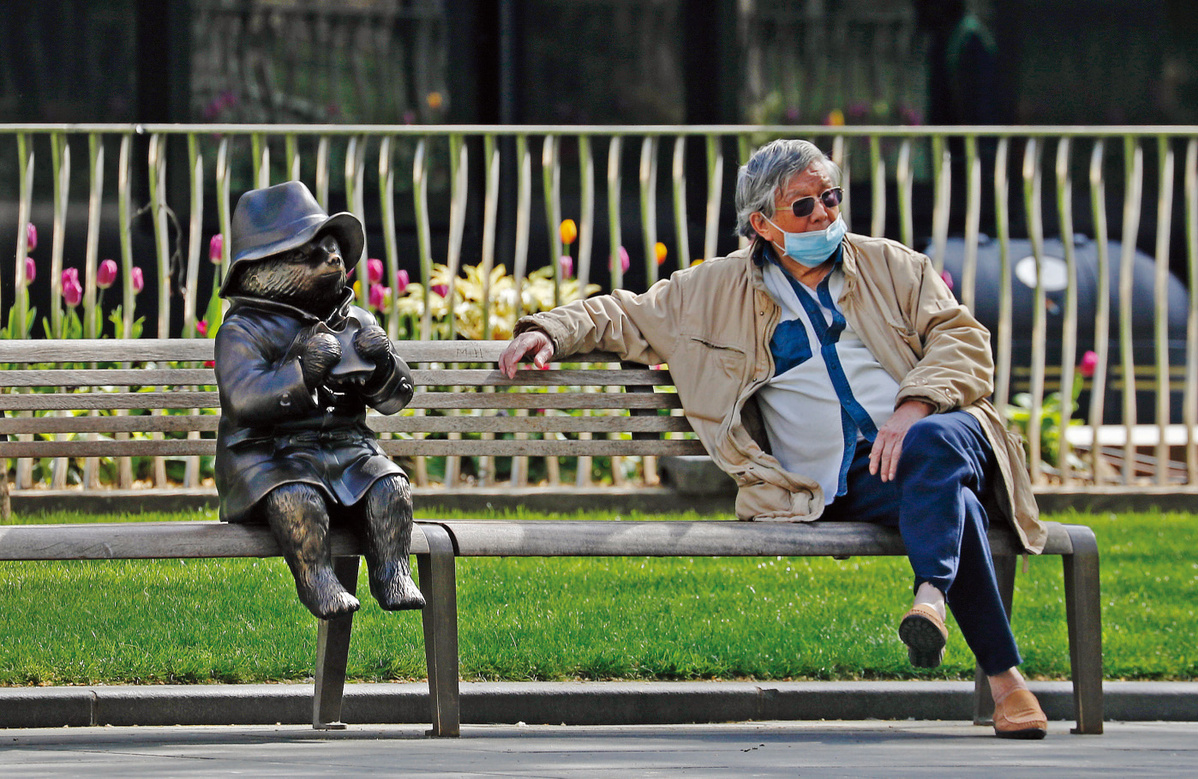 The European Union has announced its recommendations for member states to phase out novel coronavirus lockdown measures, warning countries should take a cautious and coordinated approach to lifting restrictions.
EU Commission President Ursula von der Leyen said the main preconditions were for states to have a significant decrease in infections, sufficient capacity in their health system and adequate monitoring and surveillance.
The EU is keen to avoid a repeat of the chaotic scenes last month when member states began closing borders without coordinating with neighboring countries, disrupting trade and leaving citizens stranded.
Von der Leyen said: "In general, we recommend a gradual approach and every action should be continuously monitored."
It is recommended that any decision to ease restrictions should be based on evidence that there has been a sustained drop in cases.
The published guidelines note that an increase in infections is inevitable once restrictions are eased, and that lockdowns may need to be re-imposed if the disease begins to spread.
Such measures would allow any further outbreaks of the disease to remain localized, meaning blanket national lockdowns could be replaced with targeted regional restrictions.
Britain's Labour Party leader, Keir Starmer, has urged the United Kingdom government to publish an exit strategy from the nation's pandemic lockdown this week, warning that "silent pressures on families and communities across the country cannot be underestimated".
Daily figures from the Department of Health and Social Care on Wednesday showed the UK hospital coronavirus death toll has increased by 761 to 12,868.
The government is expected to announce on Thursday that social distancing measures will continue for at least another three weeks, and Labour would back such a move, but Starmer said "there needs to be transparency".
The Labour leader has written to Dominic Raab, who is deputizing for Prime Minister Boris Johnson while Johnson continues his recovery from the virus, to say Labour would support a continuation of the measures but calls for a clear plan.
"We've got to have the trust of the public," Starmer told the BBC's Today program, adding that it was "inevitable that the lockdown will have to continue".
"For that trust there needs to be transparency and openness-they need to know what the thinking is on when lockdown will end."
He said that government planning was previously not quick enough. He said: "Let's not repeat that. Mass testing and then tracing is likely to be amongst the options for ending the lockdown."
A government spokesman responded by saying it would be a mistake to start having a national conversation about an exit strategy now, and that it was important to wait until the peak of the epidemic was over.
In Wednesday's Downing Street news briefing, Health Secretary Matt Hancock confirmed that the UK cannot "let go of the hard work done so far", and the lockdown will not be lifted "until safe to do so".
He also set out new plans for social care. On personal protective equipment, or PPE, he said a new online delivery system is being introduced to supply care homes. This will contribute to slowing the spread of coronavirus in care homes, he said.
Earlier, Social Care Minister Helen Whately said the UK government is doing "everything we can" to protect people living in care homes. A quarter of Scottish deaths linked to the virus have occurred in care homes, new figures have suggested.
The UK government has now promised to test all residents and staff with symptoms as laboratory capacity increases, after providers demanded greater support for the industry.
Whately told the BBC: "The government has taken huge steps to get PPE out to the care sector. We have been working really hard to do whatever we can to protect those receiving care from this truly awful, horrible illness."
The British government rejected a suggestion from Scottish and Welsh ministers that health workers in England are being prioritized for supplies of PPE over other nations, amid the pandemic.
Scotland's First Minister Nicola Sturgeon on Tuesday said that it would be "unconscionable and unacceptable" if supplies were being diverted from one part of the UK to another "without consultation or any sense of cooperation".
Later, Chancellor of the Exchequer Rishi Sunak rejected the reports. "There is no truth in those stories," he said. "Rather, the contrary is actually happening ... there has been incredibly close collaboration between our four nations in this regard."
Meanwhile, the number of cargoonly flights at London's Heathrow Airport has surged to five times the normal level, with the airport now saying it is prioritizing medical supplies as passenger travel grinds to a halt.
The Guardian reported that Britain's biggest airport expects passenger traffic to plunge by 90 percent in April, with remaining flights mainly limited to repatriating citizens stranded abroad during the virus outbreak.
Elsewhere in Europe, children up to the age of 11 are returning to nurseries and schools across Denmark, as the government becomes the first in Europe to relax coronavirus restrictions on education.
Denmark was among the first countries in Europe to impose a lockdown, with schools closing on March 12. Infection rates have been low but critics warn the strategy is risky.
Lockdown measures were also relaxed in Austria, which reopened smaller shops on Tuesday, and Spain has allowed non-essential workers to go back to work after a two-week pause. In Germany, some shops will reopen from April 20, as well as zoos and libraries.