BYD, Toyota charged for cooperation in new energy joint venture
Share - WeChat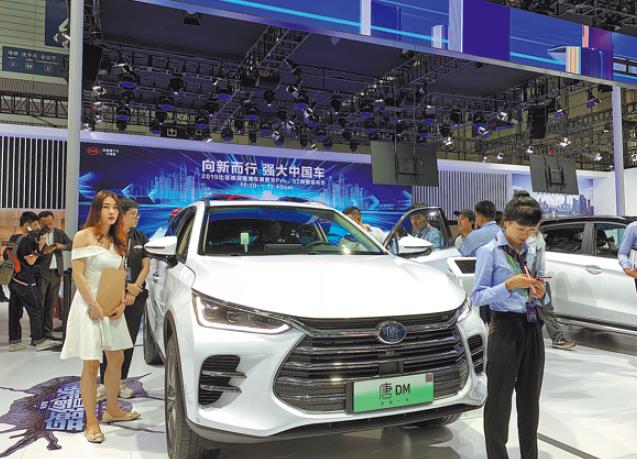 Chinese electric vehicle giant BYD has joined hands with Japanese auto giant Toyota to develop electric vehicle technologies, following partnerships established between Great Wall and BMW, and Geely and Mercedes-Benz, highlighting the increasing importance of the China market in global auto industry development.
On April 2, BYD Toyota EV Technology Co, a 50-50 joint venture, was established by the two sides.
According to BYD, the joint venture will be engaged in the research and development and the manufacturing of electric vehicles, and commence its operations in May.
It's the latest step following a joint venture agreement to set up a electric vehicle R&D company signed by the two automakers on Nov 7, 2019.
For BYD, it can gain more advanced car-making technologies and management experience from the Japanese automotive magnate.
Toyota is a veteran in hybrid technology, however, it lags behind in the layout of electric cars in China. While BYD has accumulated technologies and market reputation in the electric vehicle industry, which is exactly what Toyota needs.
One of BYD's latest technical breakthroughs, a blade-shaped battery, was unveiled at the end of March, which is said by the automaker to "put an end to spontaneous combustion in new energy vehicles".
Thanks to its superior safety and battery life, the blade battery has lured a raft of potential partners to explore collaborations, according to BYD.
Hirohisa Kishi, chairman of the joint venture from Toyota, said that it and BYD with their respective technical strengths will learn from each other, and work together to develop high-performance electric cars for Chinese customers.
His words were echoed by Zhao Binggen, general manager with BYD Toyota EV Technology Co, who said: "We will be a joint venture focusing on the R&D of electric vehicle technologies taking full advantage of both sides' experience, committed to promoting and popularizing quality electric vehicle technologies that are more environmentally friendly, safer and more comfortable and intelligent."
Discarding the unitary cooperation of importing and exporting models, a concerted and deeper partnership model covering R&D, production and supply is burgeoning among Chinese and overseas automakers.
The newly-emerging cooperation model has involved world-leading auto giants BMW, Mercedes-Benz and Chinese automakers such as Geely and Great Wall Motors.
Great Wall and BMW launched their joint venture Spotlight Automotive in Zhangjiagang, Jiangsu province on Nov 29, 2019, aiming to co-develop and produce electric cars for the global market.
As a 50-50 joint venture, Spotlight Automotive is scheduled to develop and produce both electric BMW MINIs and Great Wall Motors' vehicles, and will also cover procurement, warehousing and logistics.
On Jan 8, Zhejiang Geely Holding Group set up a 50-50 joint venture with Mercedes-Benz in Ningbo, Zhejiang province, in a bid to jointly develop and produce electric cars under the German carmaker's smart brand for global markets.
Mercedes-Benz will take charge of the styling of the vehicles and Geely will undertake engineering and development.
The China-produced smart-branded vehicles are expected to be launched in 2022 and sold globally.
The two sides also plan to expand the smart lineup to include compact models, which are seeing increasing demand in China.