Fresh steps signal exports on goods trains to bridge China and Europe
Share - WeChat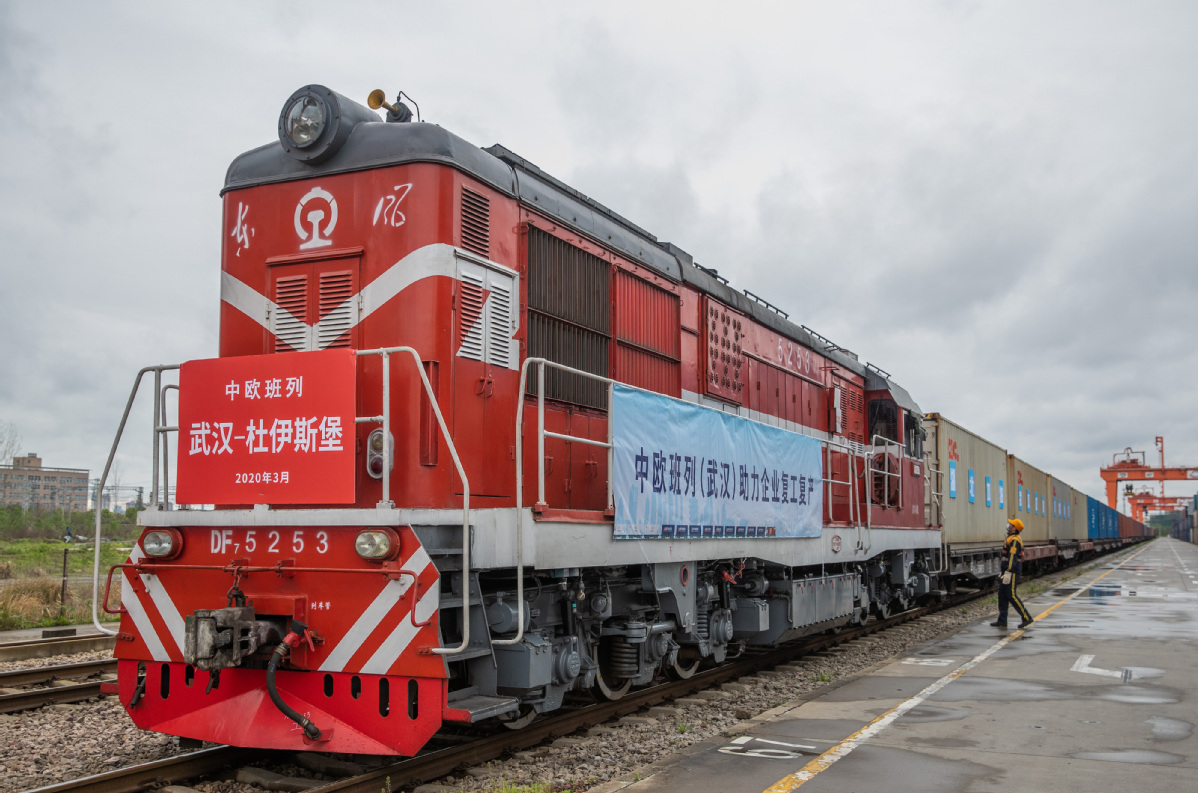 The Ministry of Commerce has come up with 11 measures to support the operation of China-Europe freight train services, ship anti-epidemic goods to Europe and help production resumption at export-oriented firms to mitigate the damage from the COVID-19 outbreak.
The ministry will help the needy domestic manufacturers gain access to the transcontinental freight train services to procure supplies of materials and parts from Europe necessary for production resumption as soon as possible, said a circular issued by the ministry on Tuesday.
The freight trains linking Chinese cities with Europe have been a reliable channel for China to ship daily necessities, medical goods and production material to Europe during the fight against the epidemic. The services have ensured the smooth flow of the China-EU industrial and supply chains, said the document.
Apart from fiscal and other policy measures for medical equipment and goods manufacturers to expand production, the country has been arranging transportation of supplies to other countries in their fight against the novel coronavirus, said Lin Wei, director-general of the department of health quarantine at the General Administration of Customs.
Since the first train carrying medical supplies departed from Yiwu, East China's Zhejiang province, on March 21, freight train services linking Chinese cities with Europe have transported 494 metric tons of epidemic prevention materials to countries like Germany, the Czech Republic, Poland, Hungary, the Netherlands, Italy and Spain by the end of March, data from the China State Railway Group showed.
While many European economies have decided to extend social distancing duration to reduce COVID-19 infections, the cargo train services have remained a reliable channel for transport of China's medical devices and goods such as ventilators, medical masks, protective clothing, detection kits and infrared thermometers to Europe, said Li Muyuan, an expert specializing in cross-border cargo train operations at the Beijing-based China Communications and Transportation Association.
China's medical goods shipment via the railroad to Europe will not only offset logistics disruptions at sea and by air between the two sides, but also help European countries gain material supplies to ease the pressure on their national healthcare systems and assist their manufacturers to either resume or manage the work to produce enough industrial products and living materials, Li said.
The Ministry of Commerce will also support the China-Europe freight train services to develop the cold chain logistics business. It will encourage railway stations with refrigerated warehouses and carriage maintenance facilities along the route, to facilitate the business.
China will help domestic companies to import meat, vegetables, fruits and dairy products from Europe through the cargo train service, to meet the growing domestic demand, said the circular.
In addition to farm products, China needs to import a large number of industrial parts, precision instruments, automobile batteries, chemical and pharmaceutical products from Europe every year. The transcontinental railroad services have proved that they can help companies from both sides sustain business, because their imports are complementary, said Luo Renjian, a researcher at the National Development and Reform Commission's Institute of Transportation Research.
A total of 1,941 freight train trips operated between China and Europe in the first quarter of this year, while 174,000 standard-sized shipping containers were transported, growing 15 percent and 18 percent on a yearly basis, according to the Beijing-based China State Railway Group.
The State railroad operator said the number of trips from China to Europe in the meantime reached 1,049 with a total of 95,000 containers, while figures from Europe to China stood at 892 with 79,000 containers.