Movie studios play a role in tourism recovery
Share - WeChat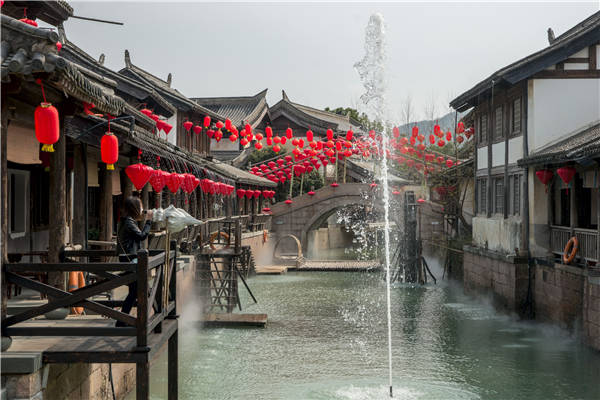 Die-hard fans of Chinese costume dramas and swordsman movies often like to travel to their shooting locations, to have an opportunity to step into the past while at the same time hoping to encounter their favorite stars.
One of the best choices is Xiangshan Movie and Television City in Zhejiang province, the second largest studio in China after its provincial neighbor, Hengdian World Studios.
The studios at Xiangshan were reopened to filming crews and tourists on Feb 28, after the COVID-19 outbreak.
Tourists have to present their IDs and undergo a temperature check to enter. The number of visitors is monitored in real time. Some outdoor activities that may gather tourists and some indoor performances were suspended until early April.
The studios at Xiangshan have drawn public attention in recent years for being locations of popular costume dramas like last years hit The Longest Day in Chang'an and 2017's Eternal Love.
Their sets cover nearly all of China's dynastic periods, from the Spring and Autumn Period (770-476 BC), all the way up to the 1930s.
"The number of our tourists has increased gradually, with several hundred per day. April is a recovery period for us. In May, the situation will be even better," says Chen Jianyu, director of Ningbo Industrial Zone Management Committee of Film Culture, which is in charge of the studio.
He says the studio has suffered a ticket sale loss of over 20 million yuan ($ 2.8 million) due to the closure caused by the COVID-19 outbreak. Even if business of both production and tourism return to normal levels in April, its total income for the year will still be reduced by roughly 30 percent over 2019.
For others who run related industries like catering and accommodation businesses, he estimates their current loss is over 100 million yuan.
All tourism businesses across China were suspended during this year's Spring Festival holiday, the peak tourist season.
"The tourism business is seasonal. Once you miss one major peak season, you can't make up for the loss until the same period the next year. This is because, even if tourism returns to its normal level later this year, our capacity for tourists is always the same, meaning that income won't increase significantly during a certain period," he says.
He says the studio's tourism income during the Spring Festival holiday accounts for about 20 percent of the annual total.
China's kindergartens, schools and universities have postponed the new semester. Before that, students have to attend online classes from home.
Chen says that the province may reduce the length of this year's summer vacation and weekend days, so as to help students make up for their lessons. If so, the ability for families-the studio's targeted audience-to travel will be affected.
In February, Xiangshan Movie and Television City unveiled preferential policies to reduce various fees for film and television crews, such as rent for film studios, as well as offering subsidies to support the resumption of their projects.
According to Chen, 73 film and TV crews are interested in shooting at the studio, 38 of which did their inspection online and four of which visited. Fifteen have already booked.
Only two large crews are currently shooting at the facility, referring to those with more than 500 people.
One is costume romance The Golden Hairpin starring Kris Wu and Yang Zi, and the other is Like a Flowing River 2 starring Wang Kai and Yang Shuo. The latter is a TV series set in China between the 1980s and 1990s and both productions have been eagerly anticipated by the Chinese audience.
Chen says the two crews started shooting before the Spring Festival holiday, and their staff members have stayed in Xiangshan for quarantine since the COVID-19 outbreak.
He says the two crews suffered a daily loss of about 1.2 million yuan during the studio's closure.
"Many of the current crews are small and shooting things like dramas for online platforms. More large crews will arrive at the studio in April," he says.
Crew members who fly from overseas will need to undergo a two-week quarantine and some might even be required to take a test for COVID-19 at the airport, Chen explains.
Before shooting, all staff members should undergo a temperature check, and all staff need to wear a mask except the performers during filming.
Since the COVID-19 outbreak, regulations state that those who travel between two Chinese cities should undergo a two-week quarantine at their destination. In late March, cities started to revoke such regulations in succession as the restrictions applied to contain the pandemic are gradually lifted.
Chen notes that the main talent in movies and television production, such as the performers, directors and playwrights, are mainly located in cities like Beijing, which still has stricter mobility regulations. It has hindered them in visiting other cities for work.
"However, as long as movie and television companies get through this hard time, they will be able to continue shooting," he says, adding, "it takes time to restore the industry's confidence".