Vision China calls for unity in virus battle
Share - WeChat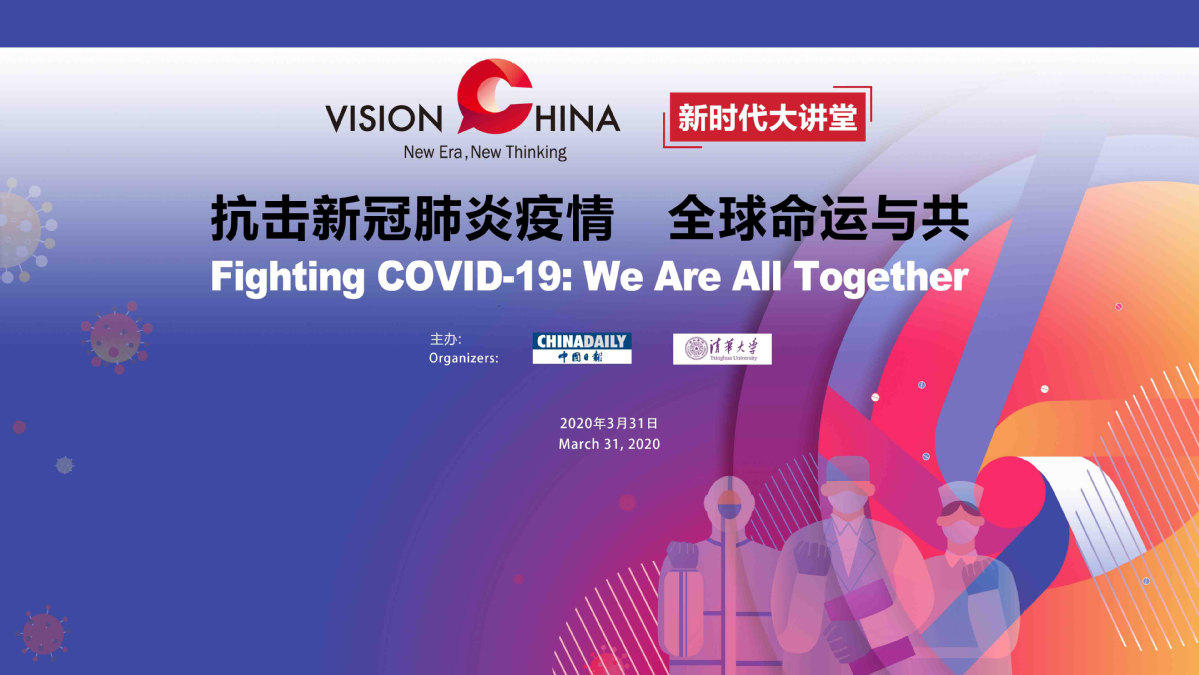 The international community needs to better consolidate efforts and transcend all possible differences to jointly fight the novel coronavirus pandemic - a common enemy facing all mankind, speakers at the latest edition of Vision China said.
Jointly organized by China Daily and Tsinghua University, the event, "Fighting COVID-19: We are all Together" was broadcast online to a global audience at 8:30 pm on Tuesday, Beijing time.
It brought together renowned experts and scholars, a WHO representative and ordinary people who have been living in Wuhan, the city hit the hardest in China, who shared their views and stories in fighting the disease.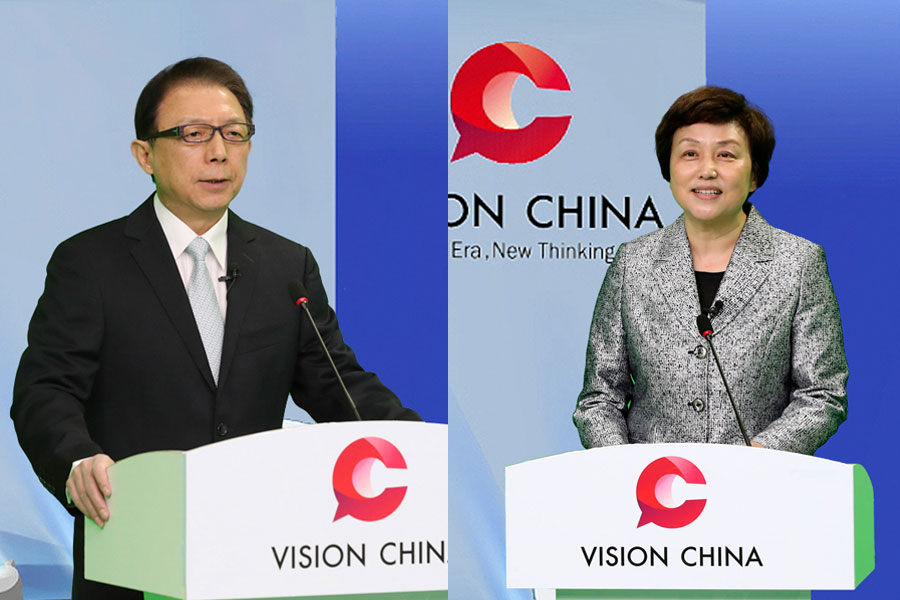 "Public health security is a common challenge facing all countries, and COVID-19 is the common enemy of all mankind," Chen Xu, chairwoman of the Tsinghua University Council, said in an opening address.
"Solidarity and cooperation are the most powerful weapons to fight the virus, and the only effective course of action," she said.
Zhou Shuchun, publisher and editor-in-chief of China Daily, also said that the whole world is now fighting against a common enemy - COVID-19.
President Xi Jinping has stated since the onset of the epidemic that China upholds the concept of a community with a shared future for mankind and calls for nations to unite in building a community of common health.
"The fast-spreading pandemic has put all people in the same boat," Zhou said while delivering his opening speech. "This is a time for unity and solidarity. This is a time for reason and responsibility."
He said the sacrifices borne by the Chinese people have served to stem the transmission of the virus, giving the rest of the world precious time to prepare for the looming crisis.
Just as the international community rallied to help China in this time of need, the country has been quick to lend a hand to other countries in sharing both knowledge and material aid, he added.
For instance, Tsinghua has made breakthroughs in antibody and vaccine research, and has provided open access to Tsinghua's drug discovery resources and platforms for global researchers, according to Chen.

Bruce Aylward, a senior adviser to the director-general of the World Health Organization, said he was impressed with China's efforts in fighting the outbreak after he visited the country in February.
People's sense of social responsibility is embedded in Chinese culture and the experiences in fighting the outbreak of severe acute respiratory syndrome, or SARS, in 2003 are key in supporting China's fight against the virus, he said. What's more, China's responses of speedy diagnosis, isolation and treatment have effectively helped to contain the outbreak.
Aylward stressed that when the WHO names diseases like COVID-19, it always tries to avoid creating any kind of statement attaching it to a place or to a country because that does not help, as global understanding and cooperation needs to be fostered.
He Yafei, a senior veteran diplomat, said the world's responses to the pandemic have been "very much fragmented", and called for more solidarity and unity.
"Some take one kind of measure, which is more leisurely, the other maybe more restrictive. There are no coordinated, concerted actions to show that we are in this together," He, former vice-minister of foreign affairs and former vice-minister of the Overseas Chinese Affairs Office of the State Council, said in his speech.
Speaking of China's assistance to the international community, he said the country is shouldering a responsibility commensurate to its global status.
He said China will continue to provide assistance to countries in need within its own capacity, and "other countries, especially the United States, should be doing the same thing".
Robert Kuhn, a renowned China expert and a recipient of the China Reform Friendship Medal, said that nations will collectively win when fighting together against the virus, and will collectively lose when they argue and blame each other.
"Containing the global pandemic, like bolstering the global economy, depends on US-China collaboration," he said.
Kuhn said the two countries can either work together to fight the pandemic, developing drugs and vaccines to kill and stop COVID-19, or suffer an out-of-control global pandemic and a chain-reaction cratering of the global economy.
"Nourish the virus with US-China competition. Or starve the virus with US-China cooperation," he said.
Kuhn said China's vision of a shared future, exhorting all nations to act for the common good, fits our turbulent times.
Jim O'Neill, chair of the international think tank Chatham House and a former commercial secretary to the UK Treasury, said that the world economy is facing a crisis even bigger than in 2008, and a more complicated situation because this crisis is triggered by public health instead of simply economics.
"We need urgency, imagination and determination around the world, and if we do not, the recession the world inevitably already got into in the past few weeks will end up being very severe," he said in his speech.
O'Neill said China's getting back to normal growth is almost definitely key for the performance of the world economy.
Also speaking at the event were two individuals who have spent the past few months in Wuhan - the Chinese city that has been stricken severely by the novel coronavirus.
Zhang Ruiru, a 20-year-old student at Tsinghua University, went back to her home city of Wuhan for the traditional Chinese New Year holiday. Both of her parents were later diagnosed with the infection, and have recovered.
Zhang said the fight against the outbreak has made her fully realize the strong unity of the Chinese people.
"Chinese people have stood out as one to fight the virus. Medical workers from all over the country descended on Wuhan to help, resources were sent into the city from all over China," she said. "I'm sure those medical workers were extremely exhausted, and they must have been afraid of being infected, but they didn't show it."
Megan Monroe from the United States, who has been working as a teacher in Wuhan, decided not to go back to the US, but stayed in the city and started to post videos on the TikTok video-sharing platform since the first day of the city's lockdown on Jan 23. She said she wanted to show what was happening in the city and the best of the worst situation.
"Chinese people have been very resilient during this time," she said. "For when this virus continues to spread, I think that everyone needs to look at other countries, and especially look toward China to see what China has done for this virus, because we can only overcome this together."
The event on Tuesday was the 10th Vision China event since its launch in 2018. By inviting well-known political, business and academic speakers to tell China's story from global perspectives and discuss major global topics, it aims to become a broad platform to ensure China's voice is better heard in the new era, as well as to build a new channel for responding to global concerns on hot China-related issues.