Work on high-speed railway line accelerates revival
Share - WeChat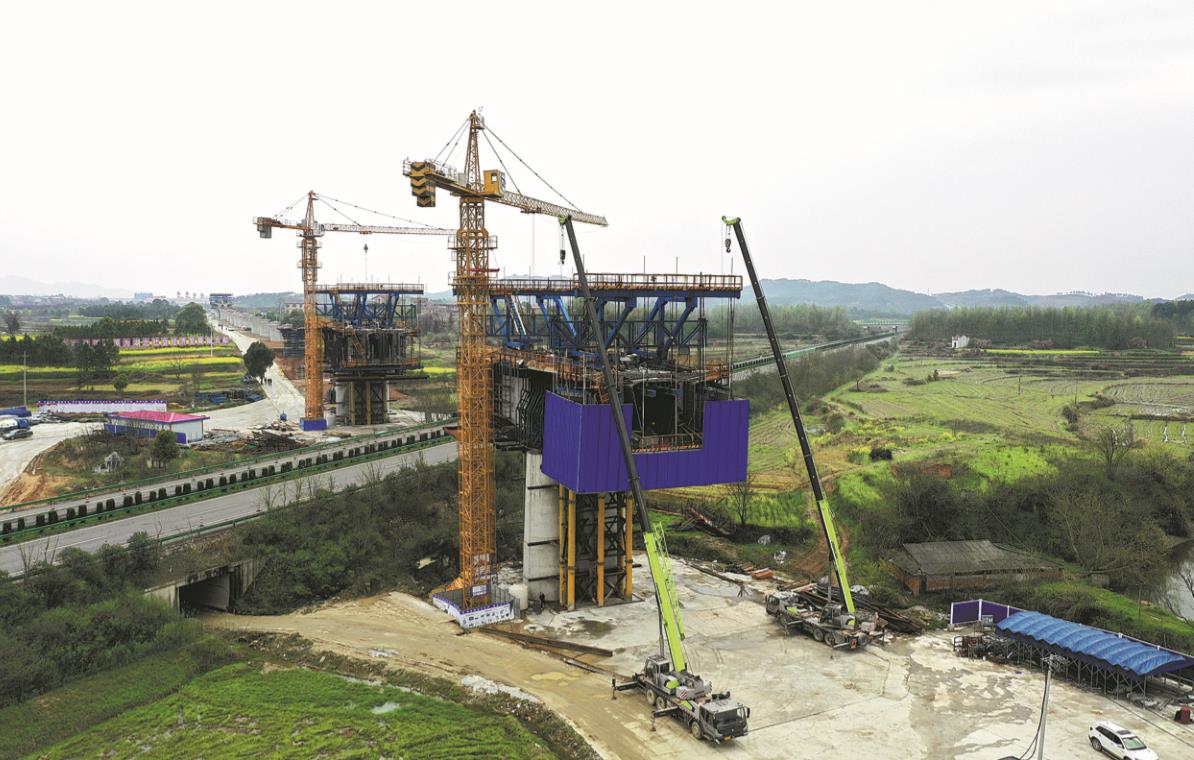 A 125.12-kilometer-long high-speed railway in Central China's Hubei province, where the novel coronavirus outbreak began, has resumed construction work when one of the builders, the China Tiesiju Civil Engineering (CTCE) Group, first brought its workers back on the site on Monday.
The railway links the city of Huanggang and Huangmei county with a total investment of 17.04 billion yuan ($2.4 billion). The project is a component of the country's design of "eight vertical and eight horizontal" high-speed railway lines and is scheduled to finish in June 2022.
Luo Lan, chief of engineering for CTCE's railway project, said that after gaining approval from the local authorities, his employees have restarted work on the extra-large railway bridge spanning the Macheng-Yangxin Expressway.
The job started in December 2018 and was suspended on Jan 16 due to the Lunar New Year holiday. It was delayed by more than 40 days due to the COVID-19 virus outbreak.
Huanggang borders Wuhan, the provincial capital of Hubei. Like Wuhan, the city has also been hit hard, having seen 2,907 confirmed cases and 125 deaths from the disease.
Luo said the extra-large railway bridge they are building is composed of 67 continuous concreteand-steel beams and costs 101 million yuan. They are constructing the 13th beam at this time.
The project's managerial staff and workers come from various areas within and outside Hubei, according to Luo. The firm used chartered buses and special cars to bring 376 workers back to work, after undertaking stringent nucleic acid tests and body temperature checks.
He said they put the health of staffers and work resumption on top of their agenda. To safeguard the health of employees, the CTCE project management team put enough facial masks, disinfectants, body temperature detectors and other epidemic prevention materials in place.
They also put together work resumption details, intending to increase input in personnel and equipment to make up for the lost time of more than 40 days caused by the virus.
Zhao Jinli, a worker from Southwest China's Yunnan province, said with his health certificate, he took a chartered bus from his hometown back to the work site, adding he now feels very safe.
For Zhao Yun, a worker from Central China's Henan province, the project managerial team sent a special car to bring him and three others back.
Joining the Wuhan-Huanggang intercity high-speed railway in the north and linking the Beijing-Kowloon high-speed railway at Jiujiang city in neighboring Jiangxi province in the south, the new railway line starts from Huanggang East Station and runs southeastward through Xishui county, Qichun county and Wuxue city before ending at Huangmei.
Ji Quanrui, executive deputy general-manager of CTCE's project on the high-speed railway, said that upon completion, the Huanggang-Huangmei railway can bring tremendous convenience to local travelers living in mountainous regions. They can reach Wuhan in 15 minutes from Huanggang and Hangzhou in Zhejiang province in three hours.
It will be of vital importance to improve the railway network in the economic belt of the Yangtze River, which travels through Wuhan and Huanggang cities in its middle reaches, he said.
Huanggang city administers one district, two county-level cities and seven counties, including Wuxue city, Xishui, Qichun and Huangmei counties. They will be linked by the new railway.
According to Ji, China's high-speed railway lines will hit 38,000 kilometers by 2025, when the country's total railway network will reach 175,000 kilometers. At this time, four railway lines are being built in Hubei province, he said.
Today's Top News
Editor's picks
Most Viewed