Cole flowers bloom as spring finally emerges
Share - WeChat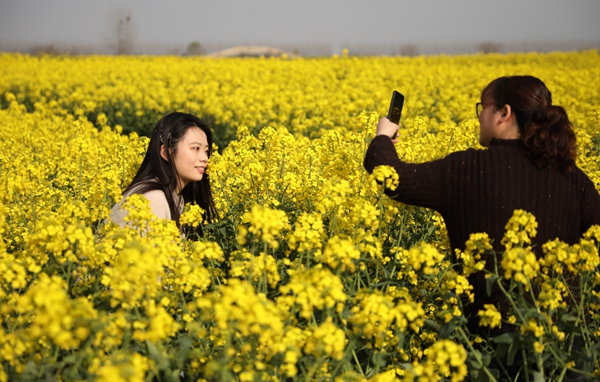 Lu has been benefiting from the local ecology since the local government began to develop rural agricultural tourism in 2008.
"First, I can get a monthly salary of about 3,000 yuan ($422) as a boat driver. Secondly, the government will pay us subsidies as we transfer our land to develop tourism. Thirdly, we can also make profits by processing rapeseeds when they mature," Lu says.
Rural tourism also drives the development of the catering industry in the surrounding areas. Liu Feng, a local farmer, has renovated his house into a small hotel to offer special local dishes and accommodation for tourists.
"Tourists come to taste our local rice, fish and taro in particular for their fresh and delicious taste," says Liu. "During this special period, we pay more attention to food security and take a slew of control measures such as providing serving chopsticks and disinfecting the house twice a day."
China's oilseed rape crop covers more than 7.33 million hectares each year, ranking second in the world, and the total rapeseed output exceeds 13 million metric tons, the world's highest.
"The mutual development of agriculture and tourism can boost the economy of rural areas in China," says Zhang Hui, a professor from Nanjing Forestry University. "The pandemic provides a gap period for some rural scenic spots to upgrade and highlight characteristics to attract more tourists with better services and environments in the future," Zhang adds.