Cole flowers bloom as spring finally emerges
Share - WeChat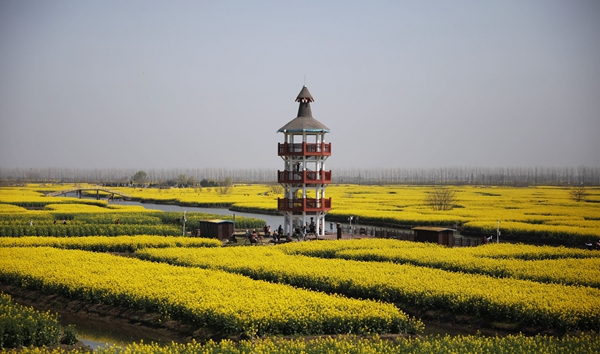 After scanning the health QR codes, Wang Yanhong and her friend had their body temperatures checked and clothes disinfected before entering the Qianduo Cole Flower Scenic Area in the city of Xinghua, East China's Jiangsu province.
As a postgraduate student from the University of Shanghai for Science and Technology, Wang has been stranded at home in the city of Nantong for over two months since the new semester was suspended due to the novel coronavirus outbreak.
"We chose to visit this tourist spot for its natural beauty and because it is only a couple of hours' drive away," says Wang. "The staff here take many measures to avoid mass gatherings and potential cross-infection, so we are not worried about safety."
From March to April, much of the countryside across southern China is carpeted in yellow cole flowers, making this traditional crop a must-see.
Covering an area of about 3 square kilometers, the Qianduo Cole Flower Scenic Area, set amid a network of lush green rivers and lakes, is reputed to be one of the most beautiful spots to enjoy cole flowers in the whole country.
Cole flowers here are planted on a duotian, which is the local name for "raised field", formed in ancient times when local farmers living near rivers and lakes dug up the soil from the riverbeds to form farmland where they could grow crops and vegetables.
The Xinghua Duotian Agrosystem was selected as one of the "globally important agricultural heritage systems" by the Food and Agriculture Organization of the United Nations for its unique water-land utilization method in low-lying areas and its splendid raised field landscape.
Tourists can meander through the picturesque sea of flowers by boat and catch a glimpse of the village culture. "We require tourists to sit at one-meter intervals to reduce gathering," says Lu Guozheng, a boat driver working at the scenic area.
"The tourism industry has been severely affected due to the pandemic, but we will hold on until it ends and we are also confident in the tourism market in the future," Lu says.
The tourist area receives 2,000 visitors a day on average, about one-twentieth of the number in normal years.
Yan Zhonghe, deputy general manager of the scenic spot, says tourist numbers have been rising since reopening earlier this month.