Chocolate firms remain bullish despite slump in sales
Share - WeChat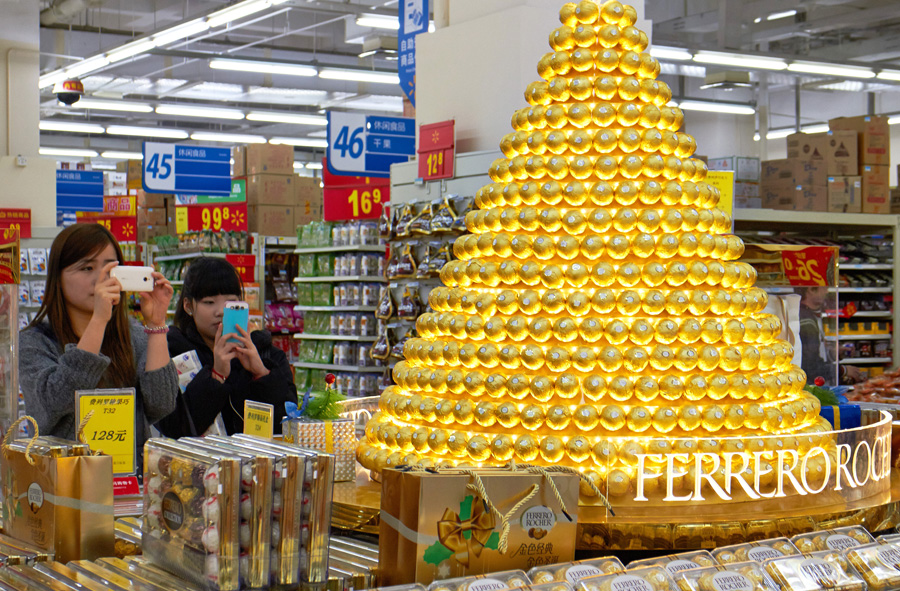 Sales in the chocolate and confectionery industry declined during the Spring Festival holiday and Valentine's Day this year because of the global outbreak of COVID-19, but major industry players believe the domestic consumption market will regain its old vigor after the outbreak is brought under control.
With lower traffic in brick-and-mortar stores and challenges in logistics and the transportation of goods, the epidemic in China has weighed on chocolate sales.
Italian chocolate and confectionery manufacturer Ferrero, which has the second-largest market share in China after Dove chocolate, said its factory in Hangzhou, Zhejiang province, resumed production on March 16.
"No matter what the result and the consumptions of this year will be, Ferrero has a long-term vision and ambition in China, and the company will be able to keep playing its leading role in the market," said Ferrero China general manager Mauro De Felip.
"We expect China's consumption demand to recover rapidly once the epidemic has been dealt with. Meantime, several new opportunities have emerged, such as the acceleration of omni-channel transformation and e-commerce, which are expected to generate new engagement with consumers," De Felip said.
"Now, our priority is contributing to restore confidence, safety and normality to the overall environment. Thanks to our robust global supply chain processes, we do not foresee strong economic repercussions at the moment, but only a geographically limited impact," he said.
Ferrero said it believes China's sound and sustainable economic development in the long run will remain unchanged, and the country's economy has shown strong resilience.
During the past month, Ferrero said it witnessed a strong pickup of its e-commerce sales, which have been one of the major pillars for the company's growth.
Last year, it formed strategic partnerships with e-commerce giants Alibaba Group and JD, and it will further strengthen cooperation with more e-commerce platforms this year to expand its distribution channels.
Ferrero's European plants are operating with additional infection prevention measures. According to the latest provisions released by the Italian government, the company is allowed to transport its goods and maintain operations of its production chain.
Separately, Ishiya Company, a confectioner in Sapporo, Japan, which produces and sells Shiroi Koibito chocolate cookies, has shut down its factory for a month since Feb 20. The product had been popular among Chinese consumers.
The spread of the epidemic in Japan and a drop in Chinese visitors resulted in sluggish sales of the product. The confectioner said with lower purchases by tourists, the halt in production would not lead to insufficient supplies.
Daily Dark Chocolate, a startup brand in China, said as long as the disease ends in the summer, it would have a limited impact on the company this year, it said.
The chocolate maker said customer flows in its physical stores during the epidemic were only 10 percent of the normal amount. Offline sales dropped to about 60 percent compared with its usual level.
The chocolate industry in China experienced declines in 2015 and 2016, and it started to adjust and recover since 2017.
By 2022, sales revenue of the sector in China is expected to reach 22.35 billion yuan ($3.2 billion) from 20.25 billion yuan in 2018, with a compound annual growth rate of 2.5 percent, according to consultancy Frost & Sullivan.
"Chocolate brands with high cocoa content will increasingly cater to the demand of Chinese consumers who pursue a healthy lifestyle. Hand-made, giftset, and high-end chocolate will be the focus of the industry's future growth," said Frost & Sullivan China president Neil Wang.