Home appliance makers help fight virus
Share - WeChat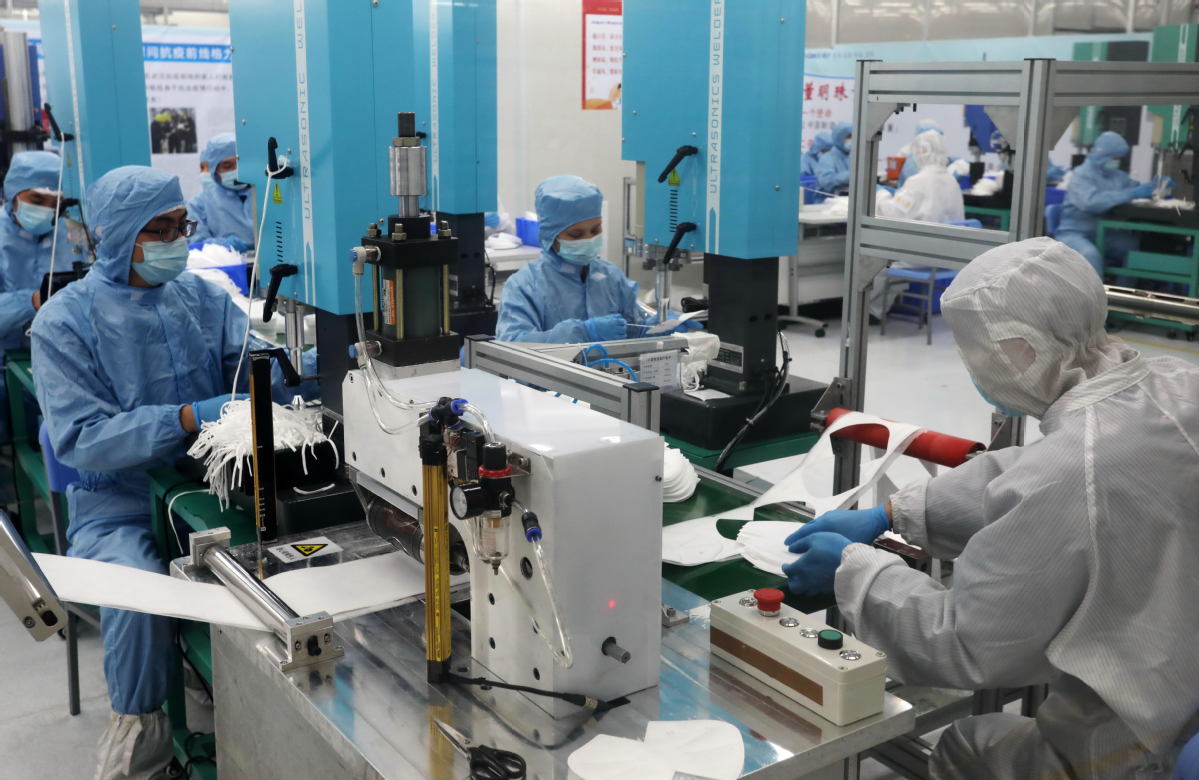 Major manufacturers leverage automation tech to increase supply of masks and protective suits
Major Chinese home appliance manufacturers have accelerated their steps to tap into the healthcare industry by producing masks, protective suits and disinfection equipment, along with deploying robots and automation technology in major hospitals in Wuhan as part of a broader push to help combat the novel coronavirus outbreak.
Industry insiders said marching into the health and medical equipment sector will help Chinese home appliance enterprises resist operational risks and open up new profit growth points, as the COVID-19 outbreak has affected the supply of raw materials and sales in brick-and-mortar stores.
The country's largest air conditioner maker Gree Electric Appliances Inc plans to invest 1 billion yuan ($141.2 million) to make high-end medical equipment. The company has begun manufacturing N95 surgical masks and ordinary masks earlier this month. A total of 1 to 2 million pieces of masks are expected to be made daily when all its plants start mass production by the end of March.
Consumers can reserve these masks through a WeChat mini-program through the Dong Mingzhu Store, the name of the Zhuhai, Guangdong province-based company's charismatic chairwoman and president. About 100,000 masks are sold each day.
In order to satisfy the surging demand for masks and help contain the outbreak, Zhuhai Gejian Medical Science & Technology, a subsidiary of Gree, was established on Feb 18 with a total investment of 20 million yuan.
"We can produce more than 150,000 masks daily with two manual and six automatic production lines," said Fan Qingqing, executive deputy general manager of Gejian, adding about 1 million masks will be made each day with the enhancement of their production capacity.
Apart from masks, Gejian also produces mask-making machines, goggles, thermodetectors, air purifiers and other protective equipment.
Separately, Midea Group has also entered the healthcare sector. A batch of Swisslog autonomous robots owned by German industrial giant Kuka, which was taken over by Midea in 2016, has been used in the hospitals of Wuhan, capital of Hubei province and the former epicenter of the outbreak.
They will help deliver medical supplies, equipment and food to relieve the burden felt by frontline medical personnel. In 2016, Midea acquired Kuka to boost its competence in the robotics sector.
The whole home appliance industry has been plunged into the gloom by the epidemic. According to Beijing-based consultancy All View Cloud or AVC, the sales of air conditioners, refrigerators and washing machines will fall 35.2 percent, 28.3 percent and 25.1 percent respectively on a year-on-year basis in the first quarter.
"China's medical equipment industry maintained a 20 percent annual average growth rate in recent years. With the expansion of China's aging population, the healthcare and medical equipment sector will witness robust growth," said Zhao Meimei, general manger of the white goods department at AVC.
"It is no surprise that home appliance enterprises are optimistic about the prospects and have a foothold in the healthcare industry," Zhao said, adding it is also a good opportunity to enhance the visibility and influence of enterprises and attract more customers.
The first fully automatic mask production line that is powered by COSMOPlat, an industrial internet platform developed by China's largest home appliance maker Haier, went into operation in Houma, Shanxi province, in February. A total of 100,000 masks were made every day.
Haier's subsidiary, Haier Biomedical, designs, manufactures and sells low-temperature storage equipment for biomedical samples. The firm has donated ultra-low temperature refrigerators, refrigerated containers for medicine and bio-safety cabinets to medical institutions in Wuhan.
Dongguan Konka Electronic Technology Co, a subsidiary of Konka Group Co Ltd, is capable of producing 100,000 masks daily since March 10, a report from the China Business Network said.
Liang Zhenpeng, an independent consumer electronics analyst, said making masks and medical protective equipment is a lucrative business in the short term. But in the long run, household appliance enterprises should not expand production capacity blindly to avoid a backlog when the epidemic ends.