Will coronavirus infection harm Wu's career?
Share - WeChat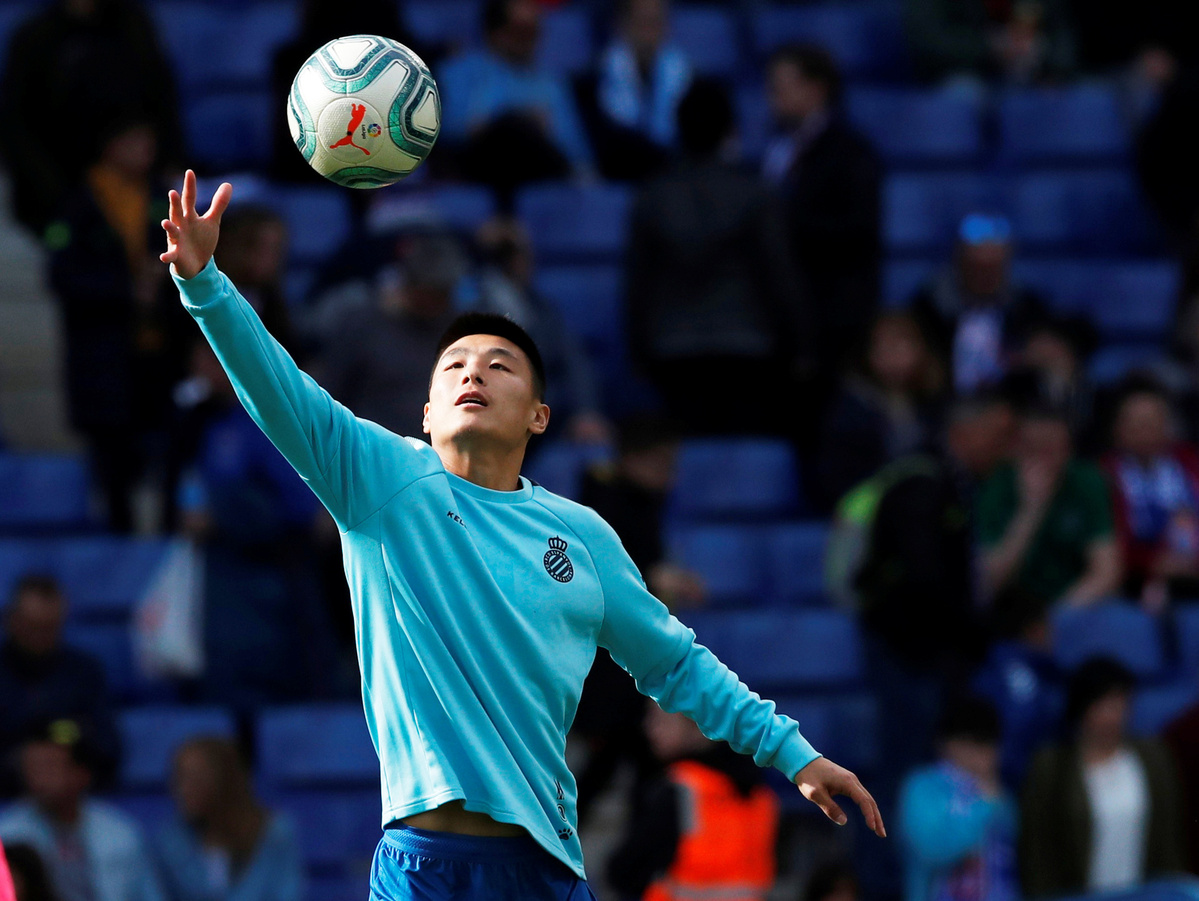 It shocked everyone back home when the Chinese Football Association confirmed Wu Lei had tested positive for novel coronavirus. And the main question on people's mind is if the star striker's career will be harmed?
However, Chinese experts so far are confident about the Espanyol forward's condition.
"In terms of the sequela, if Wu Lei only shows mild symptoms until he's fully recovered, the infection will not cause significant harm to his body and his professional career will not be influenced," said Jiang Weiping, an experts on respiratory disease of Huadong Hospital.
"Whether Wu should return to China for treatment, it depends on his condition. With mild symptoms, the best choice is to stay where he is and have good rest. Considering Wu's physical condition, the best estimate is he could recover in one or two weeks."
Speaking of why the number of infected athletes is growing across the world, Jiang said the decrease of immunity and close interaction with people were the main reasons.
"Soccer is a very intensive sport that could lower player's immunity when they reach their physical limits,'" the expert added. "Also Wu would interact with lots of people on and off the pitch, which would significantly increase the chance of being infected."
With only mild symptoms, Wu remains quarantined at home with his family in Spain. On Saturday, Wu reassured his fans he was fine in a video posted on Weibo.
"I'm in great condition now and all the symptoms are basically gone," said Wu. "I have run a series of tests on my lungs, including a CT scan, and the result turned out to be good. I really want to thank you all for your support and blessings.
"We still haven't completely beaten the virus. Keep washing your hands and stay indoors. I believe we can win the battle against the coronavirus eventually. And I can't wait to return to the pitch."
Sports reporter Hu Minjuan revealed more details of Wu's self-quarantine life on her personal social media post saying: "According to Espanyol insiders, now only 'well-protected' doctors with full gears could enter Wu's home. And Wu has been required to not leave his home."
Hu also wrote that Wu's not alone at home as his wife has been taking care of him. It's not clear if Wu's wife has also been infected. Despite Wu's now showing no symptoms, his children have been taken away by Wu's parents living in another place in Barcelona as a precaution.
"Our biggest hope now is Wu and his family could stay safe and been through this big challenge together," said Lyu Wenjun, Wu's old teammate in Shanghai SIPG. "The SIPG and all the fans community will always support him."