China's Nasdaq-style high-tech board shoots for brighter stars
Share - WeChat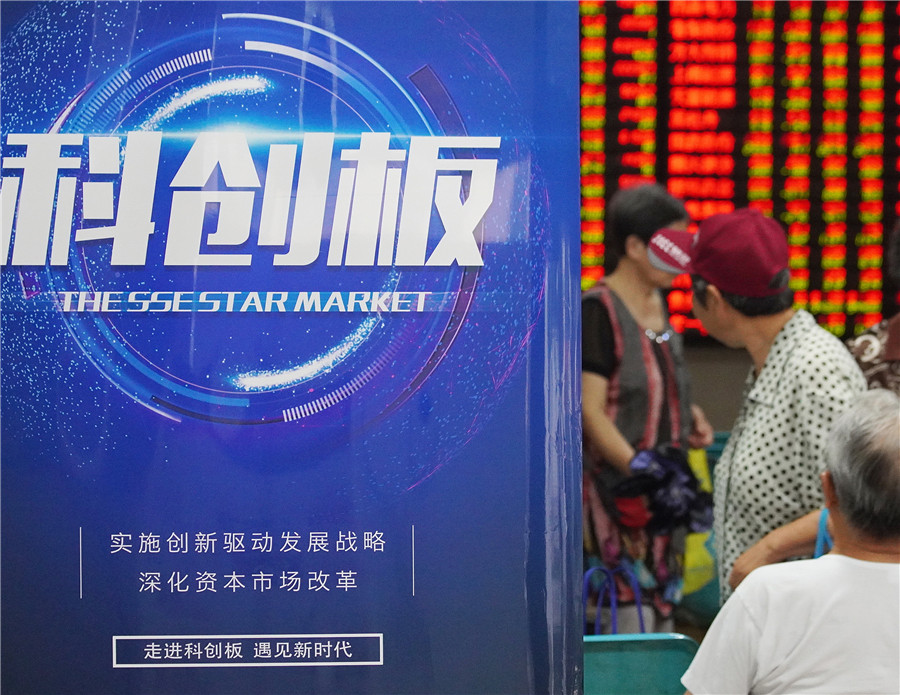 BEIJING -- China's Nasdaq-style sci-tech innovation board, also known as the STAR market, has seen stellar performance and high-profile reforms one year after its very first batch of candidates gave the world a glimpse of how the country wants to reshape the capital market to better nurture industry champions of the future.
From the 13 companies that applied to be listed on the board during the first week of application since March 18, 2019, the number of applicants had climbed to 214 as of Sunday with 92 eventually approved, and the 91 firms listed on the board at Shanghai Stock Exchange (SSE) by last Thursday had raised 108.67 billion yuan (about $15.5 billion).
Since the board started trading last July, share prices of 41 listed firms have doubled, with another 16 more than tripled and six more than quadrupled. Data also showed that 70 of the 90 STAR-listed firms that had released preliminary earnings expected net profit growth in 2019, with the growth rate of 49 companies over 20 percent.
The stable performance of the STAR market met market expectations, buoyed by its inclusiveness and streamlined review process, said Dong Dengxin, head of a financial research institute under Wuhan University of Science and Technology.
Under the current review and information disclosure system for STAR market applicants, it took only four days for the SSE to kick start review process for the first batch of companies with the result due in three months. Progress will be updated online and will leave digital footprints.
Marking the board's anniversary, the China Securities Regulatory Commission (CSRC) issued a new evaluation index system to further define the concept of science and technology innovation enterprise, which is a key qualification for STAR-listed firms.
Industry insiders said the move would further facilitate listing and encourage innovation without raising the bar for applicants.
The STAR market piloted a registration-based IPO system that required strict information disclosures, a step forward in making China's capital market more law-based and market-oriented.
The registration-based system featuring five different sets of standards for listing has made the STAR market more inclusive, said Pan Xiangdong, an economist with brokerage firm New Times Securities.
Meanwhile, the system ensures the quality of STAR-listed companies by underscoring information disclosure, investor protection and penalties for unlawful practices, said Pan.
Among the 214 applicants, 25 have seen their review process terminated, with some revoking application after failing at on-site supervision or letter of inquiry. One other company was denied registration.
China has pledged to continue with registration-based IPO reform with plans to apply the system to the country's other boards, including the A-shares, as was written into the revised Securities Law effective on March 1.
Analysts agree that the adoption of the registration-based system on a wider scale will make it easier for companies to be listed and help steer the capital market to shore up the real economy.
The more inclusive STAR market helped lower financing cost for small and medium innovation companies and provided China's private sector a handy option to raise funds, said Zhang Lei, a board member of Huatai United Securities.
As central banks worldwide brace for a blitz of monetary easing measures to calm pandemic fears, China has taken things in strides with eyes on the long-term, renewing commitment to lowering loan interest rates through loan prime rate reform and installing the registration-based IPO system at ChiNext, a board of growth enterprises.
Official data showed that 98 percent of China's listed companies had resumed work, with the stock market value at a historically low level and liquidity of the market reasonably abundant.
External impact on the financial market will be short-lived and will not change the trend of the steady development of China's financial market, said Li Chao, vice chairman of the CSRC.